Aruba Activities
The Boardwalk Boutique Hotel's team has selected some of Aruba's best activities for you, as Aruba offers an impressive range of activities of every nature. Enjoy the following list of Aruba activities that promise the best possible vacation experience!
Aruba's Treasure Box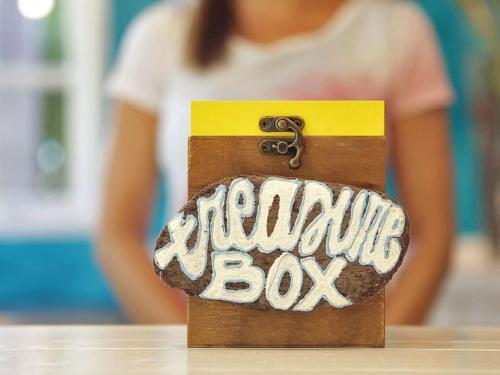 At Boardwalk Boutique Hotel, we are constantly keeping an eye out for the best and most authentic activities in Aruba to offer our guests. Therefore, the Aruba Treasure Box and accompanying online concierge were created exclusively for Boardwalk Boutique Hotel guests. As soon as your booking with Boardwalk Boutique Hotel is confirmed, you will receive a sneak peek of the Aruba Treasure Box when visiting our virtual concierge, highlighting some of the special activities and dining hot spots on the island. As soon as you arrive at our property, you will find the actual Aruba Treasure Box, containing a selection of hidden gems and hot spots on the island, serving as a unique amenity in your private casita. Experience this fun Aruba Treasure Box, exclusively available at Boardwalk Boutique Hotel.
Aruba's Beaches and Beach Activities in Aruba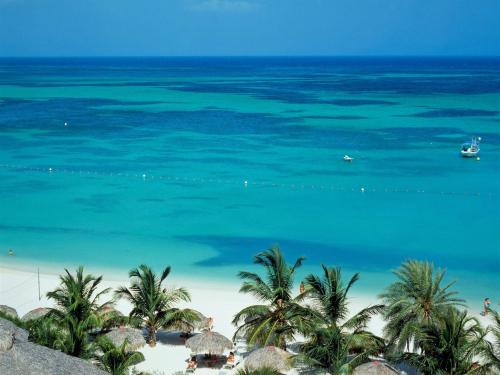 Many avow that the beauty of Aruba's beaches is unsurpassed by that of any beach in the rest of the Caribbean. The island's exclusive beaches offer mile-long stretches of flawless white sand and crystal-clear turquoise waters, combined with consistently comfortable Caribbean temperatures. Aruba's beaches have repeatedly been voted among the top 10 most beautiful beaches in the world throughout the years. Our website provides a wealth of information on Aruba activities and Aruba's top beaches.
Kitesurfing and Windsurfing in Aruba
Aruba has been a celebrated vacation spot among windsurfers and kitesurfers for years. With the island's optimal combination of reliable wind power, stable temperatures, and perfect water conditions, Aruba is the ultimate destination for any skilled windsurfer or kitesurfer, or anyone who yearns to learn. Boardwalk is the perfect wind- and kitesurfing hotel in Aruba, located within walking distance of the most popular wind- and kitesurfing beach, Fisherman's Huts. Next to the beach area designated for our guests, Vela Sports Aruba offers beginner and advanced lesson packages for kitesurfing and windsurfing with experienced certified instructors and up-to-date equipment. Click here if you are interested in learning more about kitesurfing and/or windsurfing while staying at Boardwalk Boutique Hotel Aruba.
Romance in Aruba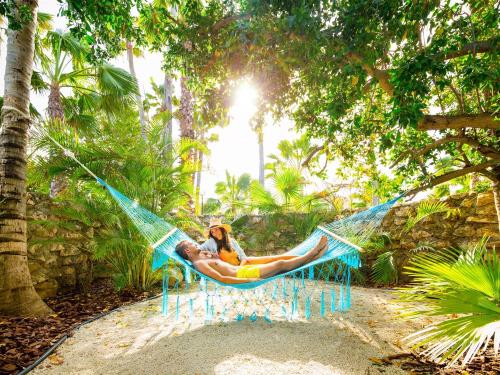 Aruba's exotic beauty truly captures the allure of the Caribbean. With its secluded, pristine white beaches, crystal-clear waters, and unique hidden spots, the island is one of the most attractive vacation destinations to couples worldwide. Boardwalk Boutique Hotel, with its cozy casitas and serene, intimate grounds, is the ultimate romantic setting for couples and honeymooners, withdrawn from the mainstream action of the high-rise hotels. Find out more about what makes Aruba an ideal destination for couples, and what makes Boardwalk an incredibly romantic hotel in Aruba!
Snorkeling and Scuba Diving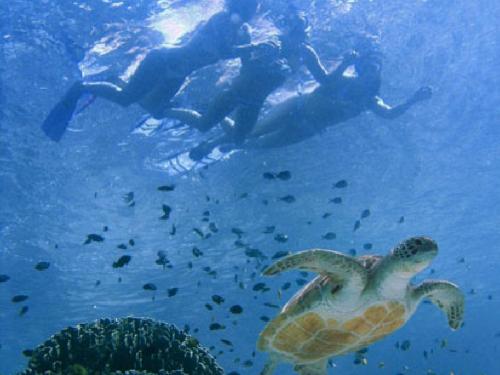 Aruba's water activities are some of the best activities the island has to offer. With its crystal-clear waters and unique variety of marine life, Aruba is the perfect place to do a bit of snorkeling or diving. A few of Aruba's most popular diving locations are the Antilla shipwreck, Barcadera reef, the sunken planes at Renaissance reef, and Baby Beach reef. Some of the top snorkeling destinations are just minutes away from Boardwalk. Click here if you want to learn more about snorkeling and scuba diving possibilities on Aruba.
Watersports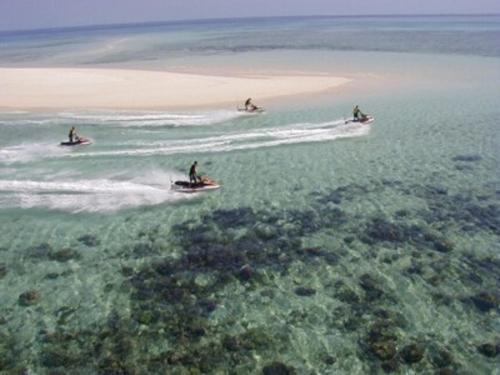 One cannot leave the island without having experienced some of Aruba's exciting watersport activities! Watersports in Aruba offer the opportunity to be active and healthy during your holiday while promising a thrill most can't obtain back home. Just minutes away from Boardwalk Hotel Aruba, several outfitters and schools offer kitesurfing and windsurfing opportunities at Fisherman's Huts. At nearby Palm Beach and Eagle Beach, mile-long stretches of beach present a vast collection of watersport activities, including tubing, flyboarding, jet skiing, parasailing, kayaking, paddleboarding, and so much more! Check it out!
Sailing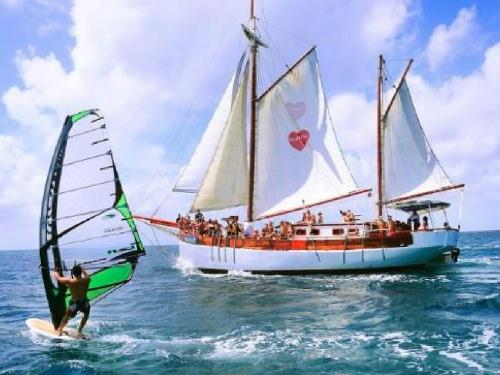 Aruba is blessed with year-round constant strong winds, making it the optimal destination for anyone seeking to sail the sublime waters of the Caribbean without having to rely upon weather forecasts. A wide array of companies offer sailing tours on sailboats and catamarans, equipped with open bars and kitchens. Sailing tours in Aruba offer fresh food, drinks, music, and snorkel equipment. Some companies also offer charters so you can get out there on the water and test your own sailing skills.

Book a trip with one of the companies to enjoy a beautiful sunset sail, a fun sailing and snorkeling adventure, or an unforgettable party cruise. Planning a romantic vacation to Aruba? Boardwalk is one of the most romantic hotels in Aruba, offering our guests an exclusive Romance Package, which includes a breathtaking romantic sunset cruise.
Yoga in Aruba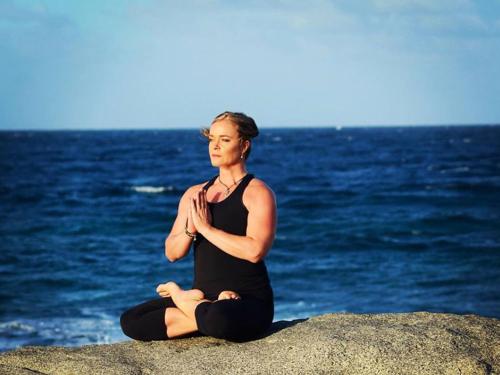 The art of yoga has evolved into a worldwide trend throughout the past years. Yoga is a way to incorporate exercise into your holiday in the utmost relaxing manner! Yoga in Aruba can be best experienced within the quiet serenity of a tropical garden or at the beach. Boardwalk Boutique Hotel Aruba is proud to guide you in choosing a variety of Aruba's yoga offerings to create your own Caribbean yoga vacation.
Several yoga retreats and centers in Aruba offer multiple classes and exercises to relax the body and mind. One of them is Happy Buddha Aruba, where yoga instructor Corinne Voermans offers excellent yoga classes.
Within walking distance of Boardwalk, next to our beach area, you have the opportunity to practice beach and paddleboard yoga at Vela Sports Aruba. Experienced certified instructors are waiting to offer you the most relaxing yoga practice that affords a picturesque view of the clear blue Caribbean Sea. As a Boardwalk guest, you are entitled to a 10% discount on all yoga lessons.
What's close to Boardwalk Boutique Hotel in Aruba?