Aruba's Pristine Beaches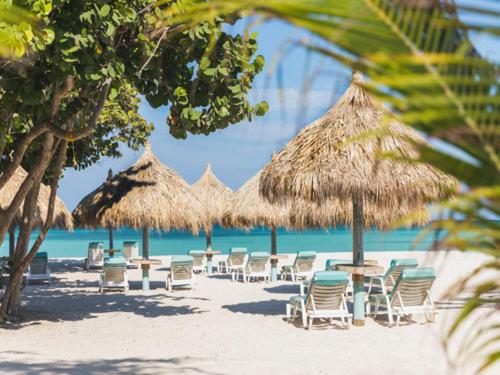 Boardwalk Small Hotel Aruba is located just steps away from Palm Beach. This renowned two-mile-long beach in Aruba is home to glamorous high-rise hotels and dotted with watersports concessions, piers, beach bars, restaurants, and shops. Calm waters make this a comfortable haven for swimmers and snorkelers. Close to shore, the water is very shallow and gradually gets deeper. Boardwalk offers a dedicated beach area on Palm Beach for hotel guests, with exclusive use of complimentary beach huts, cushioned lounge beds, and a freshwater shower.

Palm Beach offers a grand variety of watersport activities to meet everyone's taste. Like all beaches in Aruba, Palm Beach is a public beach, open for everyone to visit. The sand is sugary white without any rocks, making it perfect for tanning and playing. Right across from Palm Beach lies one of Aruba's best shopping malls, Palm Beach Plaza Mall.
Beach Bars in Aruba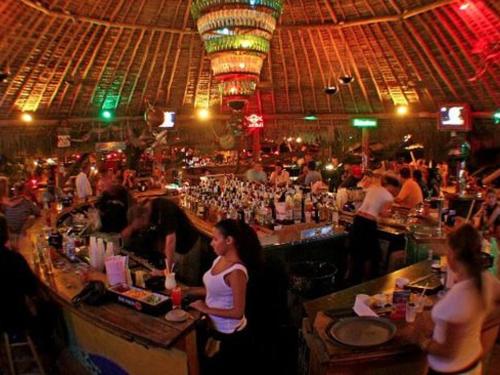 As you walk along the shore of Palm Beach, you will find yourself at "one of the world's best beach bars" according to CNN, Moomba Beach Bar. Moomba is a popular beach bar and restaurant, featuring one of the island's largest beach-tennis courts.

A 2-minute walk further down the beach will take you to Pelican Pier, a hopping beach bar on the water with a fun happy hour, just across from Holiday Inn.

Adjacent to the Holiday Inn you'll find Playa Linda Beach Resort, and right in front of it, just off the paved walkway, lies Aruba's best address for delicious fresh-fruit creations: Eduardo's Beach Shack. Eduardo's is the go-to spot for vegan fare, ice swirls, smoothies, fruit bowls, and healthy breakfast options.

If you are in the mood for a longer beach walk, go all the way to the Hilton and have a small bite or some drinks at Bugaloe Beach Bar & Grill, a funky over-the-water bar with a Caribbean vibe and singing waiters!
Best Kitesurfing & Windsurfing Beach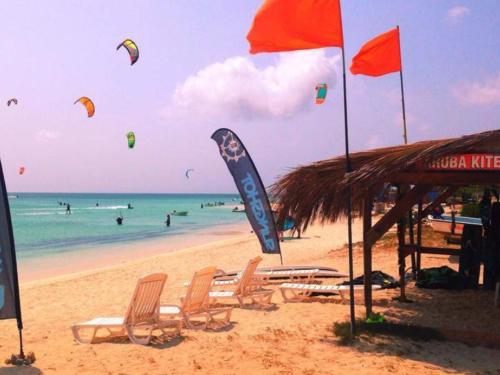 At the most northern part of Palm Beach, you can visit the Fisherman's Huts. This beach in Aruba is the island's most popular wind- and kitesurfing hot spot. Its mile-long stretch of shallow waters makes Fisherman's Huts the ultimate place to learn how to windsurf or kitesurf. Situated right across from Fisherman's Huts, Boardwalk Small Hotel enjoys the reputation of being the best windsurfing and kitesurfing hotel in Aruba. Learn more about windsurfing and kitesurfing here.
Malmok Beach, Secluded Bay with Calm Waters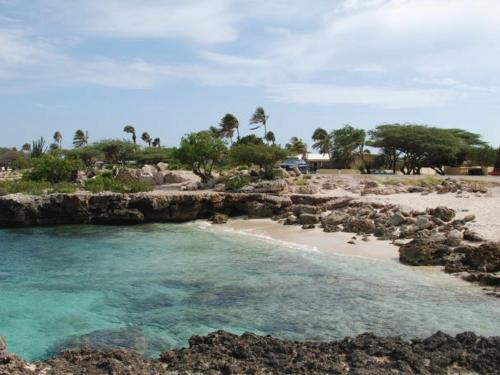 When you drive up to Arashi Beach, north of Boardwalk Hotel, along the way you will discover Malmok Beach, a small beach perfect for sunbathing, snorkeling, and swimming. Malmok offers some beautiful corals, which you will find on the right-hand side, past the main swimming area. Here, catamarans and sailboats anchor for daytime snorkeling just off the shoreline.
Boca Catalina, Intimate Beach for Snorkeling in Aruba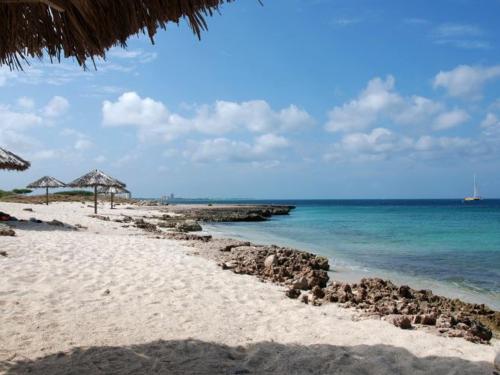 When you continue your drive towards Arashi Beach, you can make a stop at Boca Catalina. This is a white sandy beach offering walk-in access to offshore coral heads teeming with reef fish that make for some of the best snorkeling in Aruba! If you are looking for a private swim, then Boca Catalina, with its crystal-clear water and beautiful shoreline, is the perfect place for you.

Please note that this beach tends to be busier during weekends. It can be tricky to find, so feel free to ask for directions at our front desk. Beach loungers are rented at this beach at times. Make sure to take the complimentary snorkel gear we provide you with. (Please ask for the gear at our front desk.)
Arashi Beach, A Local Hot Spot Great for Snorkeling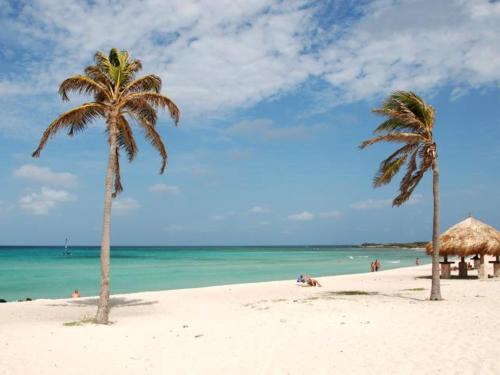 Arashi Beach is the northernmost beach of Aruba, located close to the California Lighthouse and just a few minutes drive from Boardwalk Small Hotel. Beautiful Arashi Beach is not only our favorite, but also an all-time favorite among locals. The beach is spotted with huts offering shade to its visitors, and it's a great place to mingle with the locals or have a nice picnic.

The crystal-clear waters at Arashi make it an ideal spot to snorkel and discover Aruba's abundant underwater life. Make sure to take your snorkel gear (complimentary for Boardwalk guests) and head to the reef located on the left side of Arashi (if you're facing the ocean). We recommend visiting Arashi on weekdays because it tends to get busier on weekends.
Eagle Beach, Voted One of the World's Best Beaches!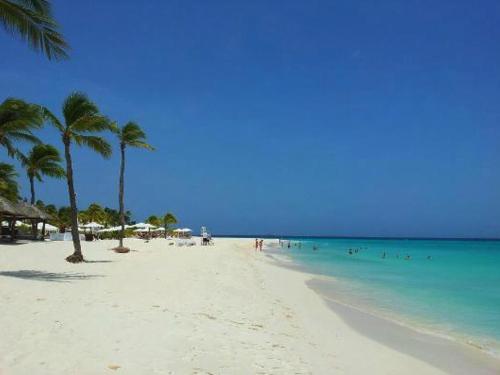 Eagle Beach is known as one of the most breathtaking beaches on the island, and it has consistently been voted among the top 10 beaches in the world! With its sugary white sand and crystal-clear turquoise water, it is truly a must-see for anyone vacationing on the island of Aruba!

We recommend going in the early morning or around sunset for a long and rejuvenating beach walk. It might be one of the best spots to watch Aruba's extraordinary sunsets. If you would like to spend a day on Eagle Beach, we recommend taking Boardwalk's complimentary foldable beach chairs and cooler to spend your beach day in comfort. Or rent a lounge chair at one of the Eagle Beach hotels. Laid-back Matthew's Beachside Restaurant at Casa del Mar offers resort-style lunches and dinners, gorgeous ocean views, and refreshing cocktails.
Baby Beach, Beautiful Bay at Aruba's Southern End
When exploring the southern tip of the island, you must visit Baby Beach, Rodger's Beach, and Coco Beach, which are three of our local gems. Located on the leeward side of the island and protected by a huge outer reef, these beaches are extremely calm.

Baby Beach is a gorgeous, sandy, half-moon expanse hugging a calm lagoon. Its waters are shallow, making it a prime beach destination for families with children, just as the name "Baby Beach" indicates. Swimmers can wade out a long distance and still touch the sea bottom. Baby Beach is also a perfect location for snorkeling in Aruba. Where the bay opens out to the Caribbean Sea, snorkelers will behold a colorful kaleidoscope of coral and tropical fish.
Best Beaches for Body Boarding and Surfing
The northern side of the island is the windward side, which makes for a rugged coast and choppy ocean. There are several beautiful secluded beaches on the northern coast of Aruba, like Boca Grandi, Dos Playa, Daimari, and Andicuri. These beaches are perfect for body boarding and surfing, and also appeal to those who enjoy the thrill of swimming in rough waters. These beaches are only suitable for advanced swimmers and surfers as the currents are strong.
Mangel Halto, A Stunning Snorkeling Spot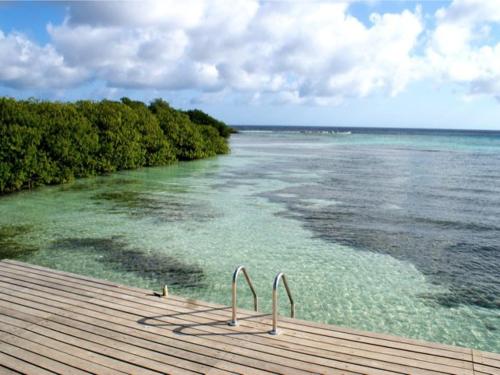 In Savaneta, halfway between Palm Beach and Baby Beach, you will find Mangel Halto Beach. Mangel Halto is a true treasure. An intriguing network of mangroves grow on the shoreline, with sandy clearings leading to the shallow waters rich in sea life. It's a can't-miss snorkeling spot and a truly local hangout.

Next to Mangel Halto you will find one bar, which sells drinks. We highly recommend that you take foldable beach chairs, a cooler, and snorkel gear, all complimentary and available at our front desk. Mangel Halto is approximately 30 minutes by car from Palm Beach, where Boardwalk Small Hotel Aruba is situated.
Aruba's Beaches—Something Fun for Everyone!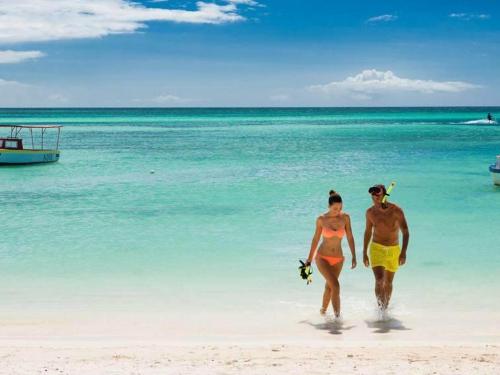 The beaches described above as snorkeling destinations have rocks and reefs, which attract underwater life. Those not described as snorkeling spots feature pure-sand bottoms without coral reefs and are perfect for swimming and watersports.

Boardwalk has complimentary folding beach chairs, beach towels, snorkel gear, and cool boxes available at our front desk for our guests to use throughout their stay. Please use these as you enjoy a different beach every day!