Windsurfing & Kitesurfing in Aruba
Aruba is a completely different place to learn or practice windsurfing and kitesurfing from any other place across the world. The island offers year-round trade winds of 15-20 knots, sunny tropical weather, little rain, crystal-clear flat-water locations, and beautiful sandy beaches. Whether you're a beginner, an expert, or anything in between, you can find a suitable location for your skill level in Aruba.
Plus, Aruba counts a handful of very good kitesurfing and windsurfing schools. All of them are located right across from Boardwalk Hotel at a place which is best known as the Fisherman's Huts. It's an area with turquoise waist-deep waters for hundreds of feet, making it one of the best places to learn either sport at any age. Fisherman's Huts is located north of Palm Beach, right next to Aruba Marriott Resort and The Ritz-Carlton. It is an exciting and ideal windsurfing and kitesurfing spot for beginners to learn the basics and for advanced sailors to blast their way over the water.
Windsurfers and Kitesurfers at Boardwalk Hotel Aruba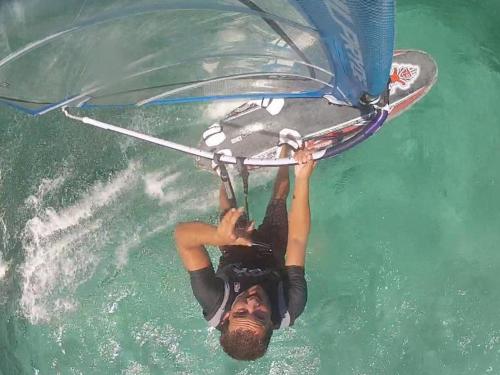 Hence, it comes as no surprise that Boardwalk Hotel Aruba has a long history of attracting windsurfers and kitesurfers looking for a relaxing and active vacation on Aruba. Boardwalk Hotel's proximity to Aruba's best kitesurfing and windsurfing spot makes it the ideal place for active vacationers to stay. Moreover, Boardwalk's casual yet luxurious casitas and ambiance attract kitesurfers and windsurfers of all ages to relax and unwind. Each casita has a private porch with a hammock and charcoal barbeque. From the casitas on the first level, you can even see the kites flying back and forth against the light-blue sky!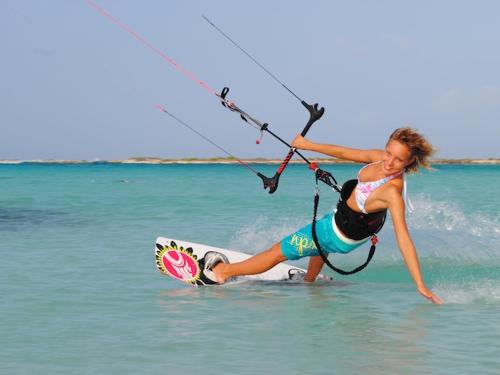 Boardwalk's first owners, Geert and Julia, started the hotel in 1987 when they were actually managing a windsurfing business. Back in the days, the front desk even existed as part of a windsurf shop where you could buy gear, shirts, and other goodies. Since then, Boardwalk has always been associated with windsurfing and kitesurfing. It was even because of kitesurfing that the new owners, Kimberly and Stephanie, discovered and fell in love with Boardwalk. Nowadays, the shop is gone, but Boardwalk Hotel keeps on attracting lots of windsurfing and kitesurfing enthusiasts. Moreover, the hotel is an active sponsor of one of the largest annual kitesurfing and windsurfing competitions of the Caribbean, the Hi-Winds event!
Windsurfing in Aruba
Did you know that windsurfing is a sport you can practice your entire life and that it's for everyone? And that both experienced and true beginners can have a blast practicing it? It just never gets boring as there is so much to learn! And, of course, it's a way to go as fast as you'd ever want (the world record is over 55 mph).
Windsurfing provides a way of connecting you with nature again. It forces you to be sensitive to your natural environment as you skim across the surface of the water. When you start worrying about something, you stop paying attention and SPLASH, you crash. In windsurfing, it doesn't matter if you make mistakes: you will stop moving if you let go of the sail, and when you are ready, you pick up your sail and gain speed again.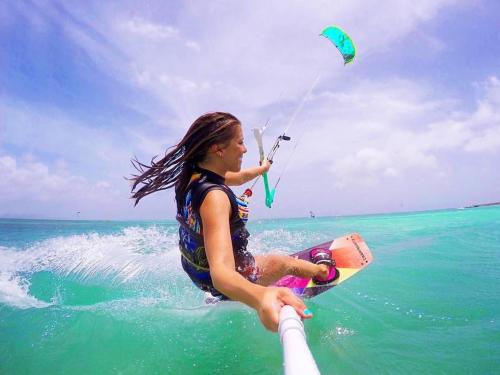 The shallow and vast waters of the Fisherman's Huts offer one of the most beautiful and pleasant spots to windsurfers, no matter whether you are just learning to sail or can rip with the best. No wonder Aruba is among the top-rated spots in the world for windsurfing. Just imagine yourself on Aruba: the board beneath your feet, the sail in your hands, the water in your face, and the wind through your hair...
Learn How to Windsurf or Rent Gear on Aruba
Aruba is a perfect location to either learn the sport or play around on your board. At the Fisherman's Huts, there are a lot of rental shops where you can get the best gear. They also provide you with lessons from professional instructors. Their many years of surfing have taught them a lot. They can teach you everything you need to know. They are good with their customers, they know what they're doing, and most of all, you can see that they love their job. This is also the main site of the Hi-Winds surf competition.
Kitesurfing in Aruba
Kitesurfing is the fastest-growing watersport in the world. The thrill of blasting along, sending a spray of water in your wake, and effortlessly flying 20 feet out of the water has attracted thousands to learn and practice the sport. It's an awesome experience like nothing else on earth! Although it's a relatively young sport, it has developed significantly, and nowadays equipment and teaching methods are safer and more accessible.
With its shallow waters and year-round wind, Aruba is one of the best places in the Caribbean to learn or practice kitesurfing. The best time for kitesurfing in Aruba is January to September, with the northeast trade winds in the 18-27 knot range. The rainy season is not bad at all. The different kitesurfing spots on the island offer different conditions, which is ideal for both beginners and professionals.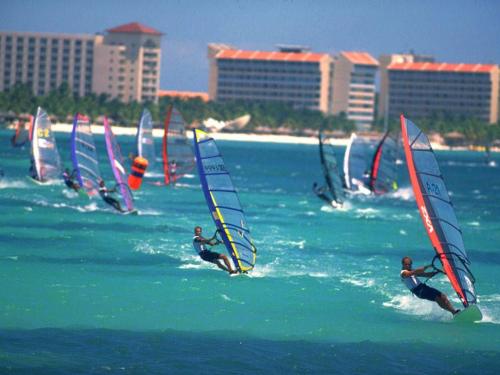 The Fisherman's Huts is home to several kitesurfing schools. It has flat, shallow water and offers ideal circumstances for teaching. Boca Grandi is another kitesurfing spot, located at the southern end of the island. With its waves and constant onshore wind, it's the preferred playground among experienced kitesurfers. The different spots offer different conditions, making Aruba ideal for both beginners and professionals.
Boca Grandi Beach is regarded as the number-one choice for riding in Aruba by many kitesurfers. It is located at the very bottom of the southeast side of the island. Boca Grandi Bay is huge and has a little chop or small waves most of the time. The onshore wind is constant. This kitesurfing playground is preferred among experienced kiters. Several of Hi-Wind's kitesurfing contests take place at Boca Grandi.
Learn How to Kitesurf in Aruba
Although kitesurfing is without a doubt the most fun you can have on the water, it is essential to learn the basics with the guidance of an instructor who can ensure your safety. Most of the kitesurfing schools are located at the Fisherman's Huts, right across from Boardwalk Hotel Aruba. The schools have the latest Cabrinha equipment, and they offer boat-guided lessons for all ability levels.
Hi-Winds Competition Aruba
Founded in 1987, Hi-Winds was a world-renowned competition part of the world tour of the Professional Board Sailing Association. Until 1997, the Aruban government sponsored the event, making it possible to attract the best windsurfers in the world. In 1997, however, the government was obliged to curtail its financial support of Hi-Winds. In response, the organizing committee decided to turn the professional competition into a fun amateur event.
Nowadays, amateur racers from all over the world come to this ten-day competition to have a blast on as well as off the water, making Aruba Hi-Winds the largest and most fun amateur windsurfing event of the entire Caribbean.
Boardwalk is one of the sponsors of the Hi-Winds event. We want to contribute to the sports of windsurfing and kitesurfing in Aruba, as well as make it possible for both beginners and pro riders to enjoy the sports to the max.