SUP Yoga in Aruba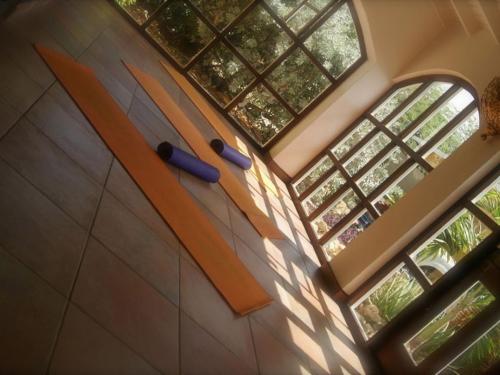 Yoga and standup paddleboarding (SUP) perfectly complement one another. Whether you are a first-time paddler or a seasoned athlete, practicing yoga on a standup paddleboard will enhance your workout by helping you to develop balance and flexibility, as well as achieve overall whole-body fitness.
SUP Yoga classes are offered at VELA Sports Aruba and by Island Yoga. Vela Sports Aruba is located next to Boardwalk's beach area on Palm Beach, steps away from Boardwalk Hotel. As a Boardwalk guest, you can benefit from a 10% discount on SUP Yoga lessons at Vela Sports Aruba.
Besides offering SUP Yoga, Vela Sports Aruba provides SUP Pilates, SUP Bodyfit, and beach bootcamps taught by professional, local teachers with lots of experience. They are all energetic, motivating teachers who would love to take you out for a beachy, sweaty workout!
Yoga in Aruba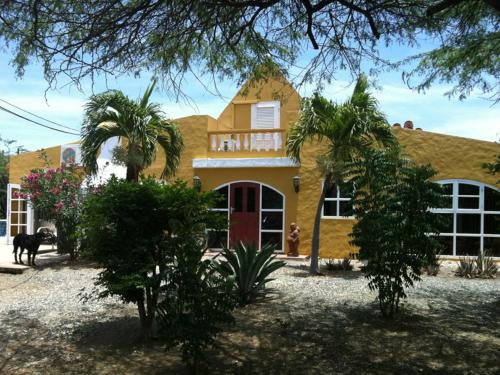 Yoga in Aruba and Aruba yoga retreats are a relaxing and healthy way to spend your vacation in the Caribbean. Experience and enjoy a Caribbean yoga vacation at the intimate Boardwalk Hotel Aruba, tucked amidst a former coconut grove, just steps away from Aruba's beautiful Palm Beach.
For the ultimate relaxation and rejuvenation, you can try practicing yoga Caribbean-style, as Aruba's beaches offer an unexpected yet breathtaking location for yoga in Aruba, especially at sunrise or sunset. Vela Sports Aruba, located within walking distance from Boardwalk, right next to our dedicated beach, offers sunrise and sunset beach yoga sessions on smartly designed yoga platforms. Start your day by saluting the sun, reconnect to the different elements, and relax while listening to the soothing sounds of the ocean. As a Boardwalk guest, you can benefit from a 10% discount on yoga lessons.
Boardwalk Hotel's gardens are also the ideal tranquil and tropical environment to practice yoga.
Several yoga retreats and centers in Aruba offer multiple classes and exercises to relax the body and mind. One of them is Happy Buddha Aruba, where yoga instructor Corinne Voermans offers excellent yoga classes. She is also available for yoga sessions at one of Aruba's beautiful beaches (on request).
The newest addition to the fitness and wellness experience on Aruba, namely SUP (standup padleboard) Yoga, is also offered within walking distance of Boardwalk Hotel.
Yoga Sessions at Happy Buddha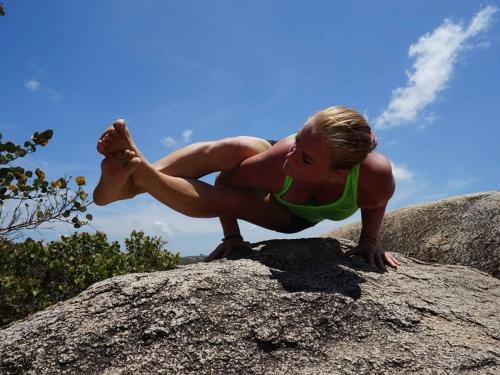 Join Corinne Voermans, one of the top instructors on Aruba, for yoga and/or meditation at her studio, Happy Buddha Aruba, located in the high-rise area.
For more than 10 years, Corinne has been practicing and teaching different styles of yoga (Hatha, Ashtanga, Vinyasa Flow, and Bikram/Hot Yoga). In the Netherlands, she was a well-known aerobics presenter, personal trainer, and Pilates and yoga instructor. Since 2006, Corinne has resided on Aruba and was associated with the first official Spinning center on Aruba, Santosa Health Club. In 2011, she opened the doors of her own yoga studio & boutique, Happy Buddha Aruba, which has been described by visitors as "The Hidden Pearl of Yoga in Aruba."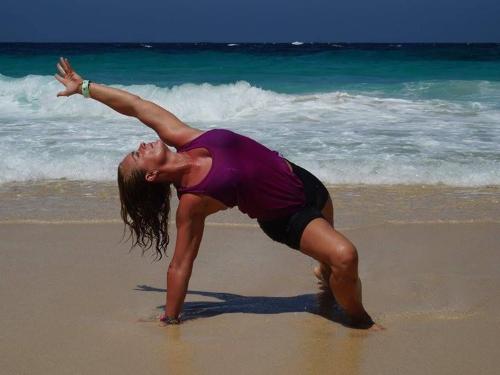 Corinne's yoga studio, Happy Buddha Aruba, is conveniently located in the high-rise area, only 5 minutes away from Boardwalk, on a unique private estate with a beautiful tropical garden. Corinne is known for her challenging classes and inspiring meditation sessions. Over the years, she has developed her own signature class, The Ultimate Series, which is a mix of Ashtanga and Bikram Yoga.
For more information on class descriptions and prices, please visit Happy Buddha's website or call (+297) 592-8738.