Sailing in Aruba
In Aruba, there's a variety of cruises to choose from: full- or half-day cruises combined with snorkeling, sunset cruises, dance party cruises, moonlight cruises, dinner cruises, you name it. Below are those we love the most!
Red Sail's Morning Catamaran Trip
Looking for a fun day activity on the water? Then Red Sail's Morning Catamaran Trip might be it! The Red Sail team will sail out and take you to explore three of the finest snorkeling spots in the area, where colorful marine life is abundant. The morning cruise offers an open bar with cocktails, juices & sodas, as well as a Caribbean lunch buffet served on the boat. Snorkel equipment and instruction (on request) are included. This tour is perfect for the entire family as it is loaded with enough action and fun for every family member! The morning trip departs at 9:15 am and returns at 1:15 pm, and is priced at $72 per person, $39 per child (ages 3-11).
Red Sail's Afternoon Catamaran Cruise
Red Sail also offers an afternoon snorkel sail, including open bar with tasty cocktails and snacks. Dip your mask underwater, kick your fins, and explore the 400-foot-long shipwreck Antilla, which is home to a variety of tropical fish and colorful coral. Along the way, you'll also stop at Catalina Bay, which is ideal for beginner snorkelers and anyone who simply wants to enjoy the most breathtaking vistas our island has to offer. The afternoon snorkel sail includes snorkel equipment and instruction (upon request). The sail departs at 2 pm and returns at 5 pm, and is priced at $49 per person ($29 per child).
Red Sail's Sunset Sail
For those looking for a romantic experience, Red Sail's sunset cruise might be it! You will be sailing on a catamaran along the coastline right around sunset time. While the sun sinks into the Caribbean Sea, you will be served snacks and drinks from the complimentary bar (including beer and cocktails). We recommend this sail for couples or adults only since it is a more relaxing tour with less action for the kids. The sunset sail departs from Palm Beach at 5:30 pm and returns at 7:30 pm, and is priced at $49 per person. The sunset cruise is part of Boardwalk's exclusive Romance Package.
Black Pearl/Blue Melody Cruise
Enjoy a relaxing cruise to several gorgeous snorkeling spots on board either the Black Pearl or Blue Melody, small sailing boats filled with loungy cushions. This particular cruise, also known as the "Afternoon Delight Sailing and Snorkeling Sunset Cruise," begins on the perfect note: with the motor turned off and no loud music playing, passengers are invited to relax in the sun or shade with a nice cold drink while sailing along the beautiful coastline of Aruba. Sounds good? There is more!
The cruise stops at Aruba's most beautiful lagoon, Catalina Bay. Due to the crystal-clear water here, you can see the colorful fish right off the boat. At this time of day, the crowds are gone! At this tropical lagoon, there is an opportunity to go snorkeling (good snorkel equipment is provided). When everyone is back on board, watermelon, more drinks, and award-winning Dutch sandwiches are served. Note that this is not a dinner sail.
Price: $75 per person
Jolly Pirates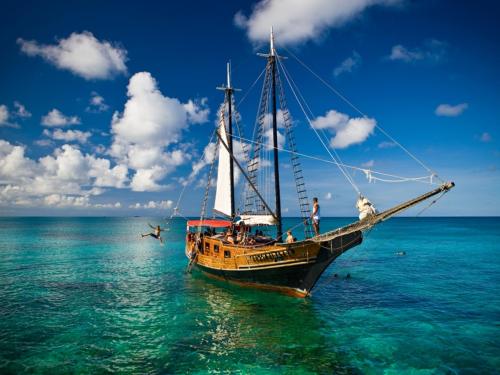 Jolly Pirates offers you the real pirate experience and takes you to some of Aruba's most beautiful snorkeling spots. They're famous for their rope swing and great atmosphere! Ahoy!
Jolly Pirates' morning trip, called "Sail, Snorkel, Swing & Swim," starts at 9 am and returns you to Moomba Beach Club at 1:30 pm. You'll swim and snorkel at three great sites: Malmok, Boca Catalina, and the famous 400-foot-long WWII shipwreck, Antilla. BBQ, open bar, gear, and rope swing included. Price: $57 per person.
Jolly Pirates' afternoon trip, called "Afternoon Snorkel," starts at 2:30 pm and finishes around 5:30 pm. It is a shorter version of the Sail, Snorkel, Swing & Swim trip. The same three sites are visited, with gear, open bar, and rope swing included. Price: $38 per person.
Jolly Pirates also offers a sunset sail from 5 pm until 7 pm, as well as a dinner cruise.
Tranquilo Sailing Trip with Drift Snorkeling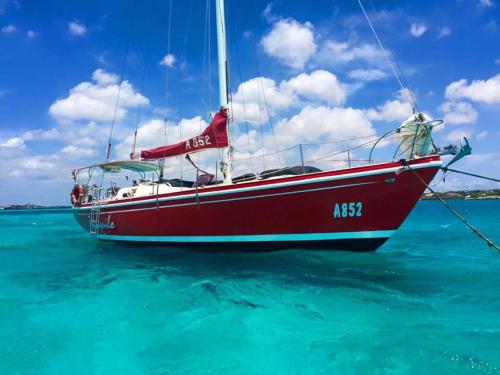 Hosted by Captain Anthony and his dog Buster, Tranquilo is an intimate sailboat that boards up to 16 people. On a 5-hour sailing trip, you will pass by places you would otherwise never see on Aruba. Stops are made at breathtaking snorkeling sites, allowing plenty of time to play in the water. You can enjoy waist-deep snorkeling off Reef Island and drift snorkeling over the unique coral reefs of Mangel Halto. A simple lunch is served, and an open bar is provided. Fishing lines are trolling and drinks are flowing during this lovely sail. If you're lucky, you'll get to see the occasional pod of dolphins or flying fish.
Tranquilo sails on Tuesday, Thursday, and Friday from 10 am to 3 pm. Price: $75 per person. Limited space, so please make reservations. Charters are available on other days at a cost of $155 per hour for 1-6 persons, $15 per additional person over 6 passengers. Snorkel gear is provided.