Local Art at Boardwalk Boutique Hotel in Aruba
Three renowned Aruban artists, Elisa Lejuez, Nigel Matthew, and Fernando Vermeer, created unique pieces of art for each of Boardwalk's casitas. Each casita features different artwork—no two pieces are identical! The artists drew their inspiration from the rich history of Boardwalk's location, namely, the coconut plantation. The artworks contribute to the island's rich heritage and showcase the local talents we are so proud to have on the island. Claudia Ruiz-Vasquez, Boardwalk's designer, led the art project and made sure the artwork seemlessly integrated with Boardwalk's overall design.
Fernando Vermeer, Artist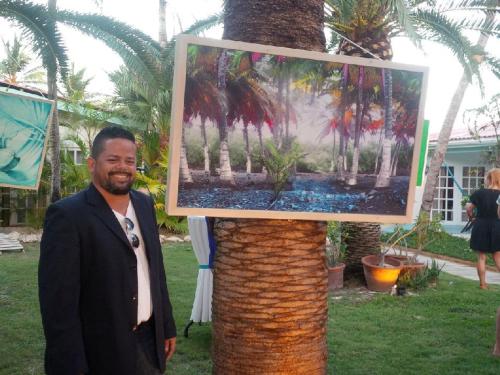 "Boardwalk Hotel is a very high-end hotel offering a down-to-earth island feel. It's all about the feeling of being free to do as you please, walking barefoot and being away from the daily pressure of the fast life, commutes, and working hours. Boardwalk gives you a feeling of a safe home. Love it! The artworks that I created on commission for Boardwalk Small Hotel, collectively called The Boardwalk Palm, are based on old images of Aruba that I digitally manipulated and further enhanced. The art also represents hearing the sound of the wind for me! Sometimes it's quiet and sometimes it gives me the urge to go surfing (when the wind blows at least 20 knots or more)."
About Fernando Vermeer
Fernando Vermeer was born and raised in Aruba. He works at a small family-run business in downtown Oranjestad and is an artist on the side, specializing in digital art and photography. Vermeer studied at the prestigious Gerrit Rietveld Arts Academy in the Netherlands and participated in various local art exhibitions.
Elisa Lejuez, Artist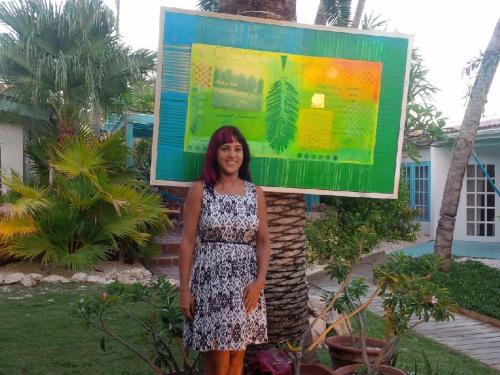 "Kimberly and Stephanie approached me almost 3 years ago when they took over Boardwalk Small Hotel and renovated their lobby and reception area. The twins had seen other work I created and wanted me to come up with an artwork based on abstract horizons and circles, which would also include driftwood. I created a piece that is inspired by the sun and used warm colors since Boardwalk is a tropical hotel close to the ocean and breathtaking sunsets. For the most recent collection, I was commissioned to create a few artworks based on the rich history of Boardwalk's property land, a former coco plantation and important site for locals. Many youth camps, family parties, and camping events were held here, and the older generation of Arubans has very fond memories of this place. Therefore I used historic letters, layouts, and old images of the plantation as a basis for my artworks. The bright colors reflect the fun Caribbean flair of Boardwalk and their signature colorful casitas."
About Elisa Lejuez
Elisa Lejuez was born in the Netherlands from a Curacaoan mother and Dutch father. From an early age, she expressed her sensitive observations in numerous sketches and drawings. With this sensitivity, she developed a great instinct for colors and shapes.
In 1991, she started studying, and her student days were colored by inspiration and a drive for success. Elisa graduated in 1996 from the University of Fine Arts in Arnhem, the Netherlands, and a year later she specialized in arts at the Post University of Fine Arts in Arnhem. In 1998, Elisa obtained her master's degree in arts.
Living and working on the island since 2000, Elisa Lejuez is an established artist in Aruba with her own art studio (open to visitors on request) and participates frequently in national art exhibitions as well as international exhibitions in New York City, Curacao, and Amsterdam.
More information can be found on her website: www.elisalejuez.com
Nigel Matthew, Artist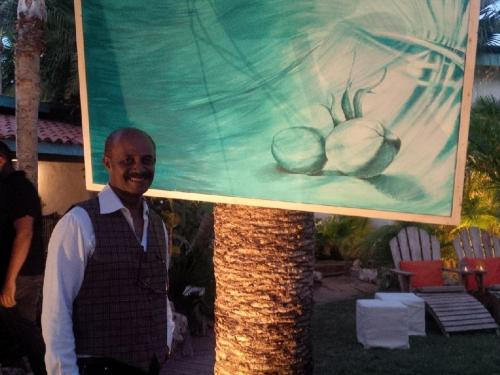 "The Boardwalk paintings were inspired by memories of the former coconut plantation, Plantage Tromp, as the Boardwalk property was called back in the day. The artworks should contribute to the beauty and harmony of the Boardwalk casitas, which were an additional inspiration for the artworks' theme and choice of color.
They consist of large spaces with a dominant monochromatic color inspired by the leaves of the coconut trees. Graphical images of coconuts are placed in the composition to maintain balance of color and shape. One artwork is inspired by an element from our local fauna, the iguana. And another artwork is inspired by the sky and the beach. A sprouting coconut and a seagull became the eye-catchers."
About Nigel Matthew
Nigel Matthew was born and raised in Aruba. He studied art & art education at the Koninklijke Academie voor Beeldende Kunsten in The Hague and graphic design at the Gerrit Rietveld Arts Academy in Amsterdam, the Netherlands.
Nigel has been in the field of art education for many years as an art teacher as well as a principal. Privileged to be one of the first few professional art teachers on the island, he was able to stimulate a great interest and love for art within many of his students.
He has participated in many group exhibitions in countries such as the Netherlands, Venezuela, Barbados, Bonaire, Curacao, and Aruba.
Nigel is still employed as an art teacher at Colegio San Nicolas in Aruba and continues to love his job. He is married and has 3 children and 8 beautiful grandchildren.
Claudia Ruiz-Vasquez, Designer
"I knew this property for a long time as I was friends with the previous owners. To quote Michelangelo, 'The stone tells me what I must sculpt.' I believe in hearing from within what the property is saying. Boardwalk Small Hotel told me: genuine, tropical, Caribbean laid-back luxury, feeling at home away from home.
When I was approached to do the overall design for the property, my inspiration and drive for Boardwalk was to show the tourist a real Aruba, meaning the barefoot and relaxed experience of the simple and authentic Aruban outdoor life that includes beach walks, sunsets, and beautiful gardens.
The vegetation was for me extremely important. Therefore, I enhanced it by using its natural textures with colors such as neutral shades derived from the old stone walls and the bright sharp colors of the flowers, combined with whites and natural muted tones to bring balance. From the driftwood signage to the hammocks, all is connected. The vision was to make Boardwalk stand out as a small boutique-style hotel full of dynamics, a timeless hidden jewel for the savvy traveler to enjoy.
The acquisition of authentic local art for Boardwalk's casitas was a natural step to take: I believe as a designer it is my obligation to support and provide platforms for artists to be showcased. Bringing local art and unique pieces to all casitas and working with my artist friends was absolutely fantastic."