A Family-Run Hotel in Aruba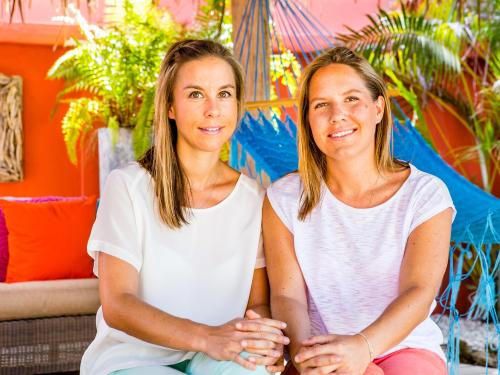 Boardwalk Boutique Hotel Aruba is a locally owned and family-run hotel in Aruba by Belgian twin sisters Kimberly and Stephanie. Born and raised in Aruba for the first six years of their lives, the young twins moved to Belgium in the early nineties. They never skipped their yearly vacation to Aruba and always stayed in close connection with their native soil.
In 2008, while on vacation kiteboarding in Aruba, the sisters discovered the hidden gem across from the surfers' beach of Fisherman's Huts, Boardwalk Boutique Hotel Aruba. The two instantly fell for this tropical oasis of what was once a working coconut plantation (see photo), and a few years later, when they learned the small property was up for sale, they knew that their island was calling them back.

This family-run hotel in Aruba received a major overhaul, including a full refurbishment of all 14 casitas and adding 32 new casitas in island-chic style and bright Caribbean colors.

Kimberly and Stephanie warmly welcome you to Boardwalk Boutique Hotel Aruba.