Bird Watching in Aruba
Aruba's birdlife
Soothing, relaxing, connecting with nature…these are some of the attributes many find in the activity of bird watching. It's a growing hobby worldwide, and here in Aruba with some 236 registered species of birds locals and visitors to our island are captivated with "birding" opportunities. Aruba's semi-arid climate, diverse flora and fauna, and unique landscapes of beaches, reefs, mangroves, marshes, rolling countryside, and lushly landscaped resorts are havens for species that take up permanent residence, as well as those species just passing through for rest and refueling before journeying on to North or South America.
In 2010, Aruba Birdlife Conservation was officially established with the aim of protecting the biodiversity in general, and birds in and around Aruba, in particular. The foundation is working towards official protection status for several areas of the island inhabited by birds, as well as areas frequented by birds for feeding and breeding. This year, the foundation launched its new Aruba Birdlife Conservation Website where information can be found on bird watching and conservation on Aruba.
Aruba' Shoko Owl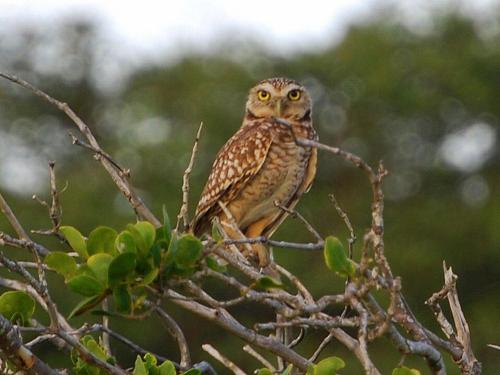 Last year, Aruba's beloved Shoko Owl (athene cunicularia arubenis), a beautiful and rare species of owls, was declared to be our national symbol. The government added the bird as the fifth national symbol along with our flag, coat of arms, national anthem, and the official Aruba logo. This burrowing owl is only found in Aruba, and those lucky enough to spot these cute creatures will likely see them during the early morning and early evening hours bobbing, weaving, and winking on the doorstep to homes dug in the ground.
Birdwatching at Boardwalk Hotel Aruba
On Aruba there are four important bird areas, which cover just 610 ha, but between them they support over 30,000 seabirds and a number of other significant bird populations. One of these state-owned important bird areas is directly adjecent to Boardwalk Hotel Aruba and offers great opportunities for birdspotting. Others are just a few minutes by car away and are called "Tierra del sol salinas", "Bubali Wetlands" and "Oranjestad Reef Islands". San Nicolas Bay Reef Islands is another one, but is located on the other side of the island. More information on birdwatching on the island can be found on Aruba Birds Website