Watersports in Aruba
One cannot leave Aruba without having experienced some of the islands vast opportunities in watersports. Watersports offer the opportunity to be active and healthy during your holiday whilst experiencing a thrill most can't obtain back home. Below an overview of some of many watersport activities available on the island of Aruba.
Deep Sea Fishing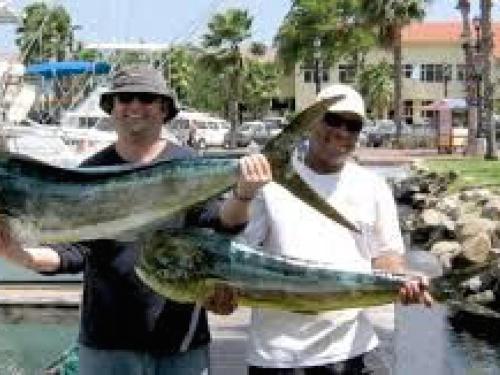 What sounds more fun than eating fish you caught yourself? It is an unforgettable experience to catch your own "Catch of the Day" with Deep Sea Fishing and then grill it on your charcoal BBQ at Boardwalk Small Hotel or let an affiliated restaurant prepare your catch. There are many charter boats available for half-day or a full-day deep-sea fishing trips. The trips usually include drinks, tackle, bait and a knowledgeable captain and crew. A four-hour trip starts at $400USD (for a group of 4). Please note that the Caribbean Sea might be rough at times, seasickness is very common on these trips.
The Palm Island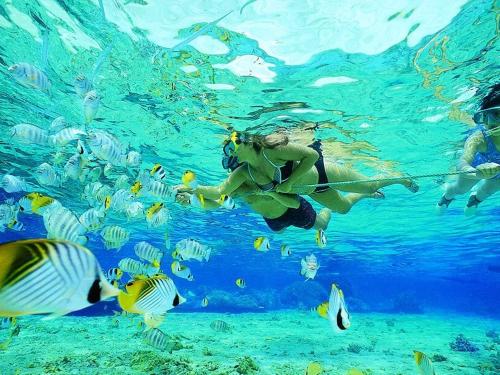 Sometimes you just need to escape the routine of the hotel scene. Switch it up with unlimited food and beverage, boundless activities, and unrestricted relaxation on a unique coral island just off the shore of Aruba. Have a blast with limitless banana boat rides or become one with the elements at one of the beaches that offer snorkeling in waters teeming with Blue Parrotfish. De Palm Island, Aruba's premiere and only all-inclusive attraction, accommodates visitors of all kinds from those looking for family-oriented fun to those seeking out romance and privacy. On this private island you'll find nice coral reef formations and marine life. A smooth ferry ride (9:00am and 1:00pm) from the mainland takes you to your 'vacation paradise'. Swim, snorkel, take a walk on the ocean floor without getting your face or hair wet with SEA TREK or try SNUBA (= SNorkling & scUBA diving) exclusively featured on The Palm Island. The difference between Scuba and Snuba diving is the loss of the heavy weight air tank you usually carry on your back during the dive. You are connected on air tanks floating on the surface; that is why you only can dive to a max.depth of 8 meters below the surface. Tempt your palate with freshly prepared island cuisine and try their frozen cocktails; just to name some of the features of the all-inclusive program.
Parasailing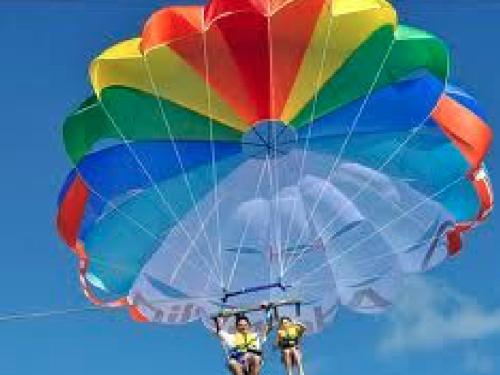 Enjoy parasailing over Aruba's waters. Ascend and descend from the parasail boat that reels you out and back in. Several operators are all located at the high rise hotel water sport centers.
SUP - Standup Paddle Boarding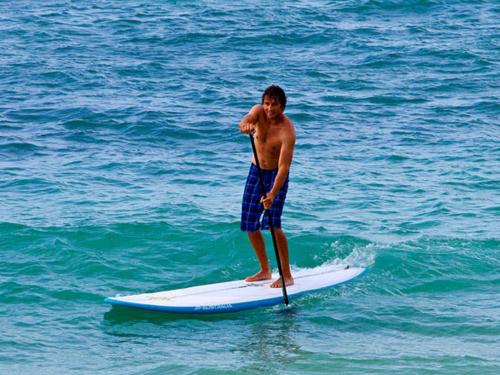 SUP - stand up paddle boarding - is the newest water fun sensation. This sport is excellent for people who like calm and relaxing sports, but still want to get their workout! Paddle while you stand on a surfboard as you enjoy the dozens of different shades of blue or beach views! As a Boardwalk guest you can rent SUPs at 20% discount at Vela Sports Aruba, right across from Boardwalk Hotel, next to our beach. You can also rent SUPs at $25USD per hour at Aruba Active Vacations, right across from Boardwalk Hotel. Another fantastic experience is to paddle board on an inland stream filled with mangroves. For more information, please visit us at the front desk.
Surfing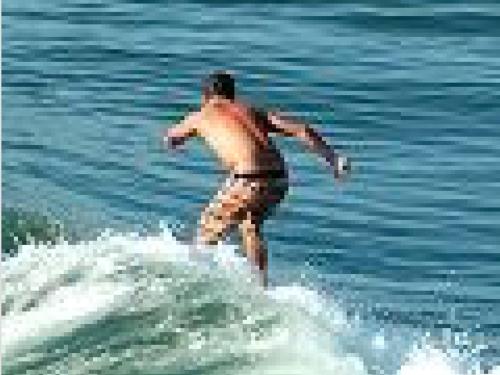 There's some surfing on the island at Wariruri, a little bay about 3.5 km. south of the Alto Vista Chapel on the North Shore. Waves are wind generated, it's a beach break, so no perfect surf but still a lot of fun. Throughout the winter months we can get some good swell, and the spot to surf then is the reef at Arashi by the lighthouse. This is a reef break and when it's going off there's nice lefts and rights. Surf boards can be rented on-island, just visit us at the front desk.
Atlantis Submarine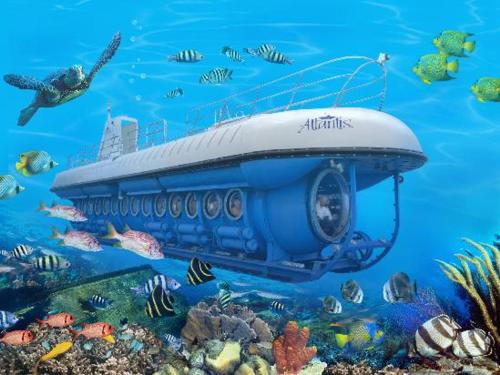 Explore Aruba's thriving reefs in air-conditioned comfort and under normal atmospheric pressure, aboard the 65-foot US Coastguard approved Atlantis submarine; Atlantis VI. A chance to visit the underwater wonderland in complete safety without getting wet. Total tour time is 2 hours; 1 hour reef dive that descends to a maximum depth of 150' right in the heart of the spectacular Barcadera reef, and 1 hour cruise on the "Dorado" catamaran to get to and from the dive destination. Operating 6 days a week (not on Sundays) and with hourly dives. For more information or reservations you may check with us at the front desk.
Seaworld Explorer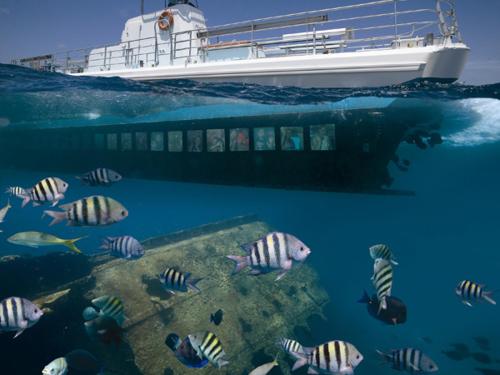 This is the world's first semi-submarine; the explorer does not dive down but stays on the surface, you are seated in an underwater observatory beneath the explorer where you remain in open air. Goes to shallower reefs where you pass through beautiful coral formations, and to the Antillea, the famous German shipwreck sunk during W.W.II. Operating Monday through Sunday, 3 times a day; 9.30 / 11.30 / 01.30, and will take about 1,5 hour. For more information and reservations you may check with us at the front desk.
Windsurfing in Aruba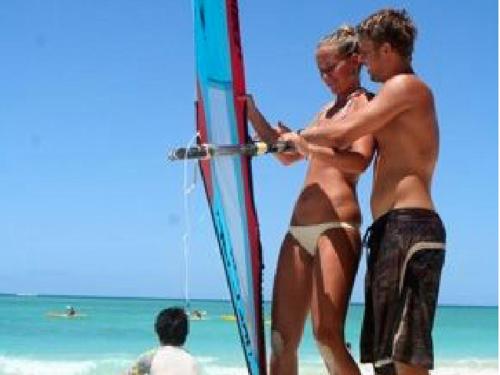 Aruba is a perfect location to either learn the windsurfing or play around with your board. At Vela Sports Aruba, located right across Boardwalk next to our beach, you can get the best windsurf gear. They also provide you with beginner and advanced windsurf lessons taught by experienced instructors. As a Boardwalk guest you are entitled to a 10% discount on windsurfing lessons at Vela Sports Aruba. Also at the Fisherman's huts there are a lot of rental shops where you can get the best windsurf gear. They also provide you with lessons from pro instructors. Learn more.
Kitesurfing in Aruba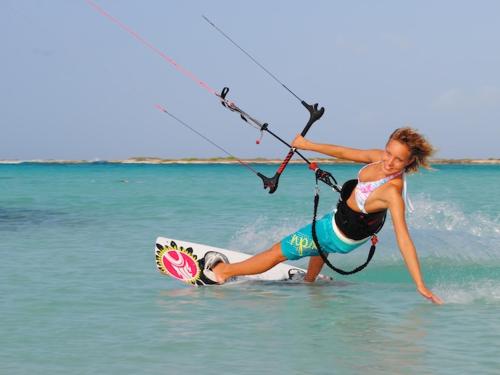 With its shallow waters and all year round wind, Aruba is one of the best places in the Caribbean to learn or practice kitesurfing. The island has all year round wind, beautiful beaches and shallow waters.



The best spot to learn kitesurfing in Aruba is located steps from Boardwalk Small Hotel, namely the Fisherman's Huts beach. It has flat shallow water and offer ideal circumstances for teaching. Vela Sports Aruba, located right across Boardwalk next to our beach, offers beginner and advanced lesson packages, taught by IKO certified instructors and offering a unique boat-service. As a Boardwalk guest you are entitled to a 10% discount on kitesurfing lessons at Vela Sports Aruba. Learn more.