A family run hotel in Aruba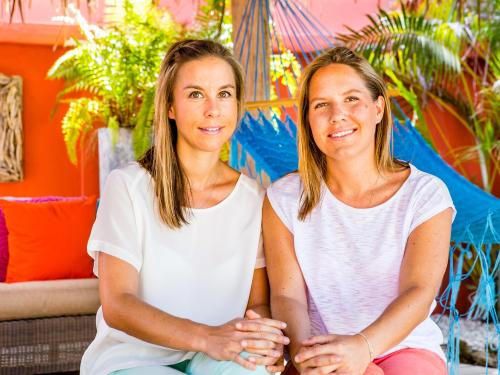 Boardwalk Small Hotel Aruba is a locally owned and family run hotel in Aruba by Belgium twin sisters Kimberly and Stephanie. Born and raised in Aruba for the first six years of their lives, the young twins moved to Belgium in the early nineties. They never skipped their yearly vacation to Aruba and always stayed in close connection with their native soil.
In 2008 – while on vacation kite boarding in Aruba- the Belgium twin sisters discovered the hidden gem across the surfers' beach of Fishermans Huts, Boardwalk Small Hotel Aruba. The Belgium twins instantly fell for this tropical oasis of what was once a working coconut plantation (read the history below) and a few years later, when they learned the small property was up for sale they knew that their island was calling them back.

Under their leadership, this family run hotel in Aruba received a major overhaul in 2013, including a full refurbishment of all 14 casitas in island chic style and bright Caribbean colors. In August 2019 new accommodations, including casitas, a lodge, a pritave cottage and multiple suites will be added in a similar, Caribbean style with a unique, laid-back ambiance.

Kimberly and Stephanie warmly welcome you to Boardwalk Small Hotel Aruba.
Our historic coco plantation and the history of Palm Beach, Aruba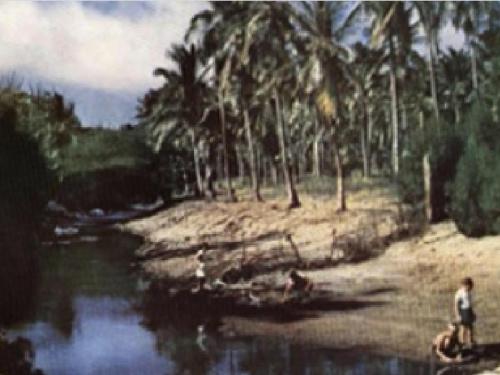 Boardwalk Hotel is located on one of Aruba's most historic coco plantations, and connected with the very interesting history of the
Palm Beach area in Aruba
.
The first known inhabitants of the island of Aruba were the Caiquetio Indians of the Arawak tribe from Venezuela. During the Pre-Ceramic period, 2500 BC - 1000 AD, this Indian tribe fished, hunted, and gathered food, using tools made of roughly flaked stones and shells. These tools were found back in the coastal areas known today as Malmok and Palm Beach, indicating that these Indians lived and hunted here.
In the late 1800's the families Luydens and Tromp already owned a small palm tree plantation near the shore by the name of Plantage Tromp. It's the same terrain that currently houses Boardwalk Hotel. It wasn't until 1917 that a few local men also started planting cocos palms and date palms, closer to the ocean, on the beach. They gave the area a new name: Palm Beach, named after the many palm trees they planted. The area became a popular location for coco plantations.

Until the early 1950-ies the palm tree plantations thrived, when they had to make way for a main road through this area, connecting Oranjestad with the beach area, the J. E. Irausquin Boulevard, and for developments of hotels and beach clubs like Palm Beach Club, the Jewish Country Club and Basiruti. After the opening of the first highrise hotel on Palm Beach in 1959, today known as the Hilton Aruba Caribbean Resort & Casino, the landscape of Palm Beach drastically changed and most coco plantations dissappeared, making way for more hotels and in later years also shopping malls.

The longest 'surviving' coco plantation, with still a main building and some trees intact, is the former Plantage Tromp. It remained open till the 1970-ies and also served as a popular destination for Aruba's Scouting Club and for family gatherings and special celebrations. Plantage Tromp was sold in the early 80-ies and has served as Boardwalk Small Hotel ever since.
History of Palm Beach News clipping 1968, Aruba