Boardwalk Best Boutique Hotel Aruba in the press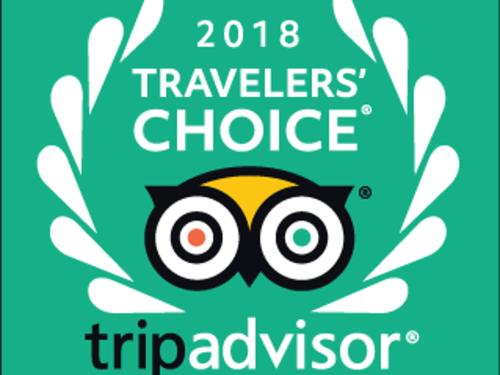 Boardwalk Small Hotel Aruba has been ranked the #2 best hotel in Aruba on TripAdvisor for six consecutive years and is winner of the TripAdvisor Travelers' Choice Award, Top 25 Hotels for Best Service - Caribbean for 4 consecutive years.

Boardwalk Hotel Aruba is among the recipients of the 2018 Experts' Choice Award from TripExpert. Based on 1M+ reviews from 85 different publications, the award recognizes the best hotels around the world; fewer than 2% of hotels worldwide receive this award.

Travel writers and journalists of amongst others USA Today, National Geographic Traveler and The New York Times named Boardwalk "Best Boutique Hotel in Aruba", "Best hidden Gem in the Caribbean" and "Recommended lodging" for its tropical surroundings, personalized service and "warm, artful touch". In December 2016 Boardwalk ranked #2 of Best Boutique Hotels in the Caribbean, receiving the Readers Choice Award 2016 from Caribbean Journal.

Boardwalk received the 2017 Expert Travel Award based on excellent reviews from travel experts of Lonely Planet, Fodor's and Frommers. And Boardwalk Hotel received a 9.2 score on the Booking.com Guest Review Awards 2017.
USA Today - April 2018
In April 2018 USA Today selected Boardwalk Hotel in the Aruba Honeymoon Guide as one of their Six Appealing Resorts for Couples in Aruba. Read the article here.

Trekbible.com - April 2018

This travel blog did a round-up article on Things to Do in Aruba and included many sites, experiences and accommodations, such as Boardwalk Hotel. Read the full blog here.

Departful.com - August 2017

Canadian, Toronto-based travel magazine Departful listed Boardwalk Small Hotel as 'no better place to rest after island thrills' in a write up on adventure in Aruba.

"I was so impressed with your operation, the beauty of the grounds and the experience overall". Read the article here
Het Laatste Nieuws – February 2017

Boardwalk Small Hotel was listed as favorite lodging in Aruba by Belgium newspaper Het Laatste Nieuws.
A Taste for Travel – February 2017

Canadian travel platform A Taste for Travel listed Boardwalk Small Hotel as preferred lodging in Palm Beach, Aruba during a girls getaway for Valentines.

"If you want to be closer to the famous Palm Beach action, yet not sardined in with the masses, then Boardwalk Small Hotel is the spot. It's a lovely tropical boutique oasis right across the street from the tourist strip with its own beach access, amenities and service." – Sue Campbell @suectravel - Online article here

Metro – January 2017

Daily newspaper Metro ranked Boardwalk Small Hotel #2 on the list of 8 Toppers in Aruba - Online article here Travel blogger Rebecca of mytravelboektje.com mentioned: " Een kleine groep fantastisch mooie bungalows in het noorden van het eiland. Boardwalk is het ideale hotel voor stelletjes en jonge ouders. De huisjes zijn prachtig ingericht. Ze hebben een mooi zwembad en een eigen strandje met heerlijke bedden op een van de mooiste plekken van het eiland. Op loopafstand zitten allerlei winkeltjes en restaurantjes, dus ook de locatie is helemaal top."

Jamie Magazine – January 2017

The Dutch edition of Jamie (Oliver) Magazine loved the colorful, tastefully appointed casitas of Boardwalk Small Hotel and never wanted to leave – "Bij Boardwalk voel je je meteen thuis. De casita's zijn zo kleurrijk en smaakvol ingericht, dat je er niet meer weg zou willen. Extra leuk is de treasure box die je in elk huisje vindt: een doosje gevuld met verschillende must-visit-tips van locals."
About.com – January 2017

Boardwalk Small Hotel was featured in a round up article on About.com listing the latest developments in Aruba like the new beach service of Boardwalk on Palm Beach. Read the online article here

Bart's Boekje – January 2017

"Het Boardwalk Hotel is echt je van het!" Dutch travel platform bartsboekje.com listed Boardwalk Small Hotel as the place to be in Aruba – read the full article here

Caribbean Journal – Readers Choice Awards – December 2016

Boardwalk Small Hotel ranked #2 on the list of Best Boutique Hotel in the Caribbean by readers of Caribbean Journal and is the ONLY small hotel listed in Aruba that is featured on this Caribbean Best Hotels list - Online article