Bloggers & Vloggers: How to apply at Boardwalk Boutique Hotel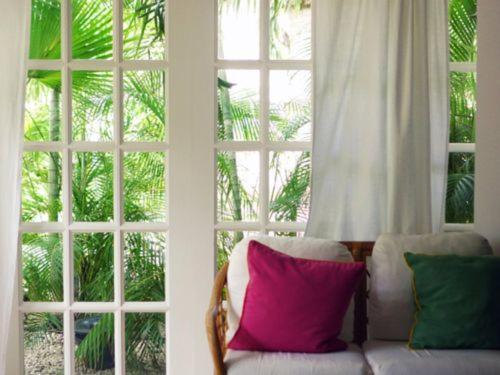 Are you a blogger, vlogger, social media influencer (Facebook, Instagram, Twitter, YouTube), or passionate travel journalist looking for unique experiences? Make sure to email your request to [email protected] To speed up the process, let us at least know:
your platform(s) with links and views/likes/page visits/followers
your audience
your main goal/focus/interest for the trip/blog/article
number of rooms and nights needed for your stay
preferred travel dates
your deliverables or exposure offerings for Boardwalk Boutique Hotel
your contact info where we can reach you (preferably online)
Bloggers Who Stayed at Boardwalk Hotel Aruba in 2019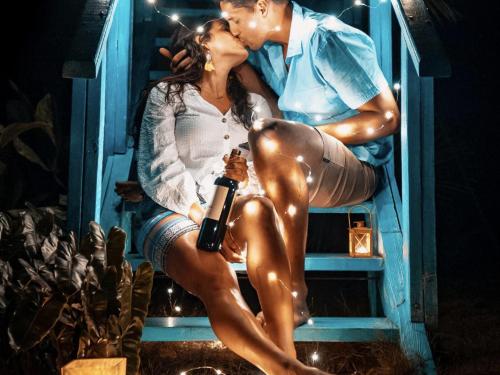 Amanda & Mark - The NYC Couple - April 2019
Aruba's varied accommodations certainly offer something for everyone, but the couple specifically chose Boardwalk Boutique Hotel, explaining, "We've stayed in plenty of large chain hotels and they are all pretty much the same. Sure, they are beautiful, but we were looking for something unique and different. Boardwalk fit the bill! With every casita being unique and the staff knowing us by name, they made us feel at home…we couldn't have asked for a better experience."
Although the couple spent a lot of time discovering the island, Boardwalk was the perfect oasis to come back to, reveling in the intimacy and coziness of the hotel's environs. "The casitas come fully loaded and it felt like we were at home; if we wanted to stay in and drink wine on the balcony, maybe even cook up a romantic late-night dinner, this is the place to be!"
Bloggers Who Stayed at Boardwalk Hotel Aruba in 2018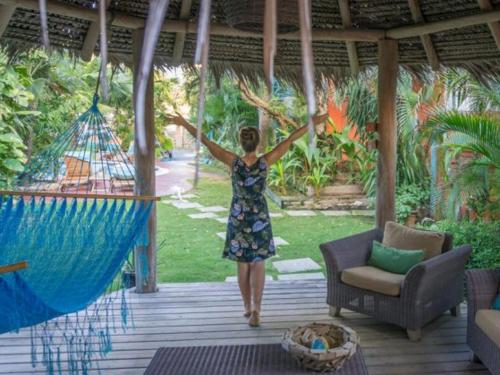 Annalee of thesaltwaterwife.com (Jan 2018)
"
Ever since we honeymooned in Aruba in 2014, I've been able to highly recommend it as a place that's not only extremely affordable, but easy to travel. After all, who doesn't love an affordable Caribbean vacation?
"
Read Annalee's full report on her honeymoon in Aruba
here
.
Bloggers Who Stayed at Boardwalk Hotel Aruba in 2017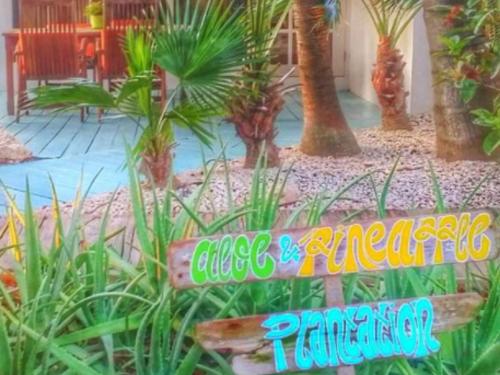 Natrice of theculturedlens.com (Nov 2017)
"Boardwalk Hotel's quiet property, extremely friendly service (the staff will wave and greet you by name when passing you on the property), and inviting atmosphere make it a must-stay accommodation."

Read about her "hotel crush" on Boardwalk Hotel here, as well as a full report on her stay in Aruba, investigating Aruba's unique culture.

Marcella and Daniela of visitaruba.com (July 2017)
"Located on a former coconut plantation, every square inch of the property (both interior and outdoors) is charming, authentic, vibrant, cozy, and intimate…it is pure paradise!"

Read their full blog here: https://www.visitaruba.com/blog/traveling/boardwalk-hotel-aruba-a-little-gem-in-paradise
Siobhan of theywanderlust.com (June 2017)
"Happiest when at the beach with the softest white sand and turquoise, crystal clear water? Aruba has some of the most beautiful, powdery white, sandy beaches in the Caribbean, with two of its beaches (Eagle Beach and Palm Beach) ranked among the best beaches in the world! Imagine chilling underneath swaying palm trees with a cocktail in your hand, surrounded by the whitest sand and clearest ocean! YES, PLEASE!"
Read Siobhan's full blog here: http://theywanderlust.com/2017/06/23/5-reasons-why-you-need-to-visit-aruba/
Rona of BatiBleki 8AM Buzz (June 2017)
"Scaling things down to small makes them irresistibly cute. I recently spent 24 hours of happiness at the Boardwalk Small Hotel and would like to tell you that romance is well and alive and living at the Boardwalk."
Read Rona's full blog here: https://batibleki.visitaruba.com/8am-buzz/romancing-the-trees-at-the-boardwalk-small-hotel/
Jennifer of jenonajetplane.com (March 2017)
"I got the Aruba blues the moment I left! I had a wonderful stay at your hotel; everything was absolutely perfect."
Read Jennifer's blog here: http://jenonajetplane.com/review-boardwalk-small-hotel-aruba/
Nina of AFAR.com (2017)
"Many travelers associated Aruba with mass tourism, all-inclusive resorts, and cruise ships. I was determined to uncover the less explored side of the island and ironically found the perfect base camp for my adventures right in the shadows of Aruba's high rise hotels."
Read Nina's blog here: www.afar.com/places/boardwalk
Bloggers Who Stayed at Boardwalk Hotel Aruba in 2016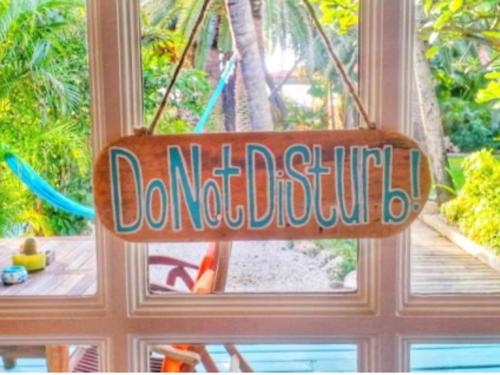 Tara of whereistara.com (September 2016)
"So in September I had the amazing opportunity to visit Aruba! I had only previously ever been to Cuba in the Caribbean, so I didn't really know what to expect. But if you've been reading my blog or watching my YouTube channel, then you'll know that I LOVED it. Part of the reason why I enjoyed myself so much was the gorgeous casita I stayed in during my time there. So, let me tell you all about the Boardwalk Small Hotel."
Read Tara's blog here: http://www.whereistara.com/review-boardwalk-small-hotel-aruba/
Sofie of wonderfulwanderings.com (July 2016)
"When you drive along Aruba's western coastline, you'll mostly see high rise resorts and other fancy but more anonymous hotels. The Boardwalk Small Hotel Aruba is exactly the opposite. The Boardwalk Hotel isn't one building with many rooms. Instead, it consists of separate fully equipped and air-conditioned apartments and studios, or "casitas," that all have their own private patio with barbecue and hammock."

Read Sofie's blog here: https://wonderfulwanderings.com/boardwalk-hotel-aruba/
Jenna of jennasilver.com (May 2016)
"What I absolutely LOVE about Aruba is that there are always new things to explore. Last weekend I stumbled upon this breathtaking, historical gem close to Hadicurari Beach. In this post, I'll be giving you a peek into the good life at Boardwalk Hotel Aruba!"
Read Jenna's blog here: http://www.jennasilver.com/2016/05/02/boardwalk-hotel-aruba/
Anne de Buck of yourlittleblackbook.me (August 2015)
"
Hier wil je logeren op Aruba: ontdek het Board Walk Small Hotel. Zoals jullie weten zijn we gek op boetiekhotels– en resorts. Kleinschalige hotels met een eigen karakter wat ze uniek maakt. Het Boardwalk Small Hotel op Aruba is hét adres voor iedereen die graag naar dit mooie eiland wil, maar niet in een resort met honderden kamers wil logeren. Je vindt dit hotel in de wijk Noord. Op loopafstand van het hotel vind je veel restaurants, winkels en onder andere het populaire Moomba beach."
Read Anne's blog here:
http://www.yourlittleblackbook.me/nl/boardwalk-small-hotel-aruba/&a
Blogger Weekend at Boardwalk Small Hotel Aruba (September 2014)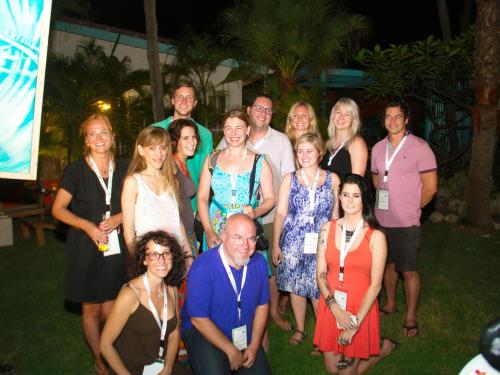 In September 2014, Boardwalk Small Hotel organized a "Blogger Weekend" for international travel bloggers to unveil the best Aruba has to offer.
Boardwalk Hotel hosted a group of 15 international bloggers from the UK, the Netherlands, Sweden, Chile, Canada, the US, Brazil, and Colombia. It was the first time ever for an entire hotel in Aruba to close its doors for the purpose of hosting bloggers only.
Treasure Boxes—Boardwalk's unique in-room guest amenity—were handed to all bloggers, offering a selection of the best hot spots and hidden gems in Aruba for them to enjoy and explore. It gave them a sense of direction to get off the beaten path and explore Aruba from a different viewpoint.
Their blog and video posts are full of great Aruba tips and recommendations. Their discoveries and adventures in Aruba can also be followed on social media via #BWBW2014, #boardwalklife, and #discoveraruba. Watch their adventures on video here: https://www.youtube.com/watch?v=LeVjA5wiEoY
Juan Diego of quellevar.travel, Colombia (September 2014)
"El Boardwalk es un hotel pequeño, de acogedoras cabañas llamadas por ellos "Casitas", con espacios llenos de detalles de buen gusto y una estética caribeña dominada por el color aguamarina y el blanco. En él hay que resaltar el ambiente íntimo diseñado para la tranquilidad de sus huéspedes, aspecto que cautiva en un destino de grandes hoteles y resorts, como éste."

Watch Juan Diego's video here: https://www.youtube.com/watch?list=PLyarJQjfw8tgZ26s16rm3HapZwMwV439G&v=PLUY4dSxKGQ
Ian of johnnyjet.com (September 2014)
"All stays at Boardwalk Small Hotel Aruba come with what's called an Aruba Treasure Box, a Boardwalk original. The box—a literal wooden box—will be waiting in your casita upon your arrival stuffed with a selection of Boardwalk-approved local activities, dining options, and more. Culled from preferences you'll have indicated online, it's just another arm of the effort to inform and see through the best possible Aruban guest experience as more than just idle hosts."

Read Ian's blog here: http://www.johnnyjet.com/aruban-hotel-treasure-boardwalk-small-hotel-aruba/#ixzz3LiaY3sH8
Bloggers Who Stayed at Boardwalk Hotel Aruba in 2014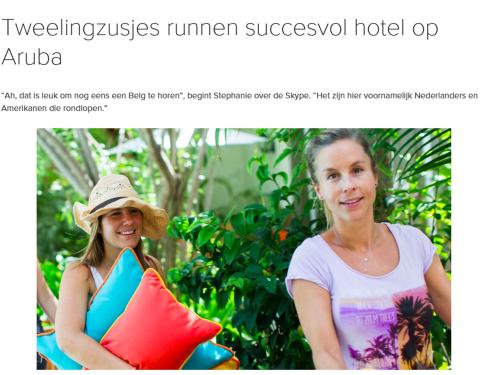 Sylvie interviewed one of Boardwalk Hotel's owners, Stephanie, about her experience of moving from Belgium to Aruba and running a small boutique-style hotel on the One Happy Island of Aruba. The article is in Dutch. For full article, click here.