Boardwalk Boutique Hotel Aruba proudly announces Eduardo's Beach Shack as new on-property F&B partner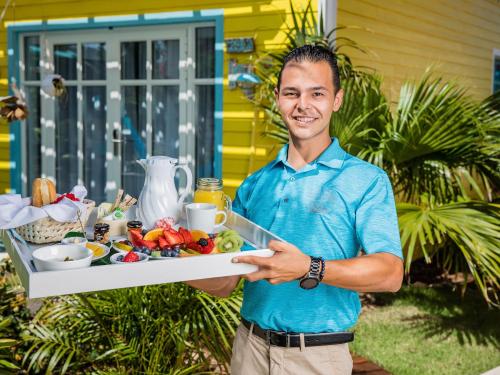 The partnership of Boardwalk Boutique Hotel with Eduardo's Beach Shack was such a logical step. Two family-owned, local companies with a small footprint joining forces in what we both do best: bringing great & friendly service with a good, consistent product that leaves people feeling nourished and relaxed while in paradise.
We support the sustainable movement to contribute to a better planet and thrive in providing people with choices in every dietary requirement. And we fully embrace the authentic, colourful Caribbean character in everything we do and represent.
So you get to enjoy the best of both worlds: healthy, nourishing food and beverages provided by Eduardo's Beach Shack on one of Aruba's most relaxing settings, in the privacy of your own Caribbean casita at Boardwalk Boutique Hotel.
Bon appetit, we are ready to serve you!
Continental Breakfast
Seasonal fruit ,
Home-made crunchy muesli probiotic yoghurt with fresh berries baguette, croissant & pastry with preserve (ham, cheese, jam & butter).
Aruba Ariba Breakfast
Folded scramble eggs roasted breakfast potatoes sausage, bacon, baguette & muffin with seasonal fruit bowl .
Eduardo's Breakfast
Açai bowl (frozen blend of Acai berry and banana)
granola, seasonal fruits & bliss ball (dried fruit & nut treat)
Vegan Beach Bowl
Tofu scramble roasted breakfast potatoes, black beans ,corn, leafy, greens, tomatoes avocado & salsa
Dushi Package
Fluffy waffles topped with berries, banana with a side of Nutella &
preserve ( jam, maple syrup & butter)