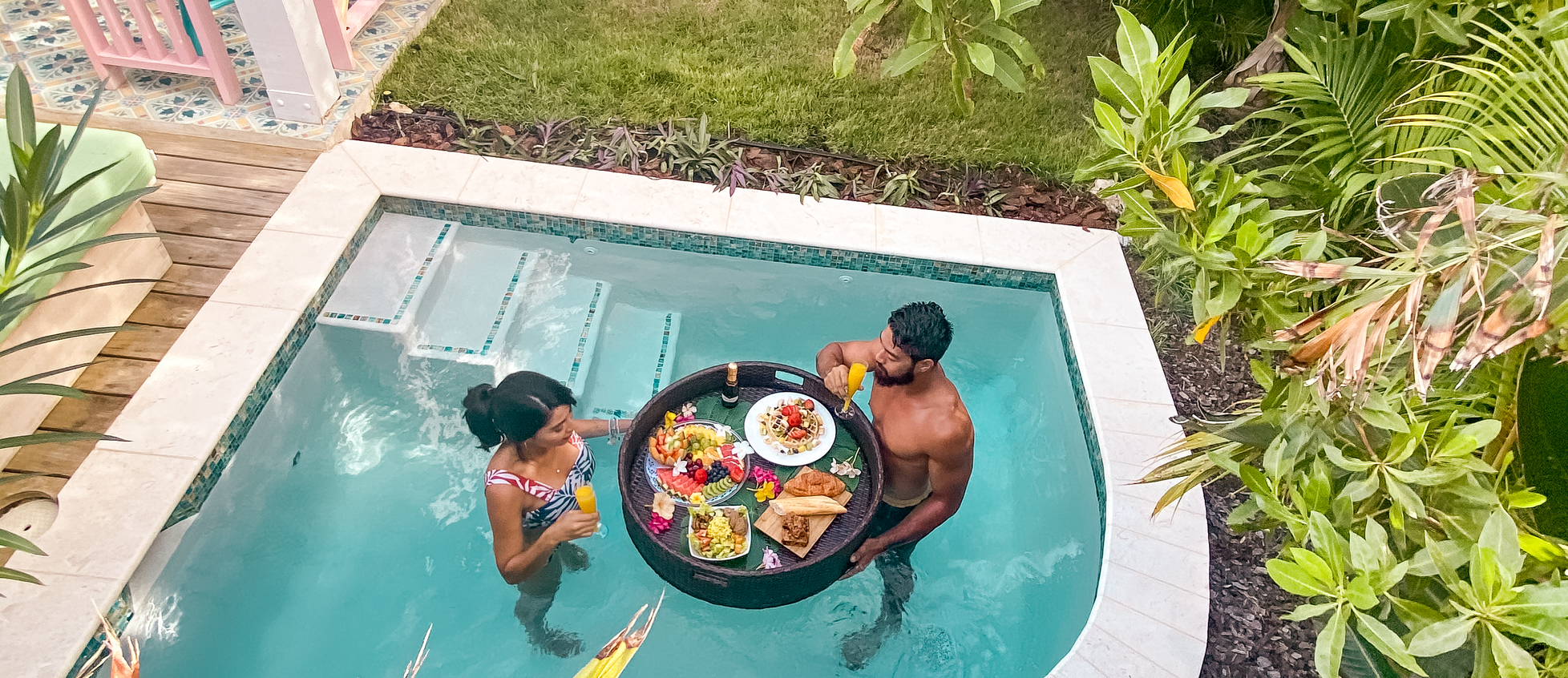 The Making Of - Floating Breakfast in the Pool
It all started a couple of years ago. As we were planning the expansion for our current boutique hotel, we decided to create a private plunge pool at one of the standalone casitas and envisioned serving a floating breakfast in that private pool. Now wouldn't that be great? We parked the idea yet cherished the dream.
Fast forward to 2020. The private plunge pool got installed and guests of our standalone Plunge Pool Casita were enjoying the private garden and plunge pool at all times of day. We saw posts appear on social media of our guests sitting on the pool edge, enjoying their breakfast and morning coffee, and we decided it was time to dust off the idea of a floating breakfast.
Our local partner Eduardo's Beach Shack handling all food & beverage offerings at Boardwalk Boutique Hotel was immediately on board and kept bringing the floating breakfast to our attention as a must-launch new service. Then, in our enthusiasm, we teamed up with local vendor @sunsetshackaruba who wanted to use the 'floating breakfast' concept in their upcoming photoshoot which took place at our Plunge Pool Casita. So, we'd better come up with that floating breakfast. ASAP.
In no time we researched all available options for floating trays that could carry multiple plates with breakfast items and all roads seemed to lead to Bali. Okay, let's ship them. Well, scratch that idea. The float sizes we needed were much too big to be shipped to Aruba by FedEx. When it was time for the photoshoot we had to be creative.
On the day of the shoot, one of our regular 'Boardwalk-blue' trays got used in the shot. The tray was kept afloat with a water noodle that was glued and stapled underneath. Also, the tray obviously wasn't made for use inside water so with left-over insulating materials from our expansion project we kept the pool water out from below. Still, the model made it look like a truly floating breakfast service was delivered to her. Don't you think?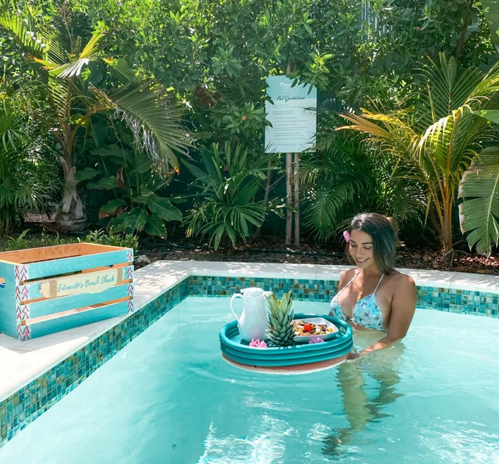 The making of our very first floating breakfast for a local photo shoot
What might have looked nice and real on Instagram, wasn't operational or realistic in our day-to-day hotel operations so we continued our search for practical and professional floating trays. All roads led us to Bali again yet this time we had luck on our side. Experience Officer Nikita of Eduardo's Beach Shack still was determined to realize the floating breakfast.
Nikita happened to be in Australia and had access to the Bali-made trays 'down under'. So, off she went to Aruba with some floating trays as additional checked luggage. And voila, we can now offer you a genuinely floating breakfast, on a waterproof and sturdy tray in a variety of sizes and shapes. Mind you, all the way from Bali, via Australia to your vacation address in Aruba. Doesn't that sound exotic?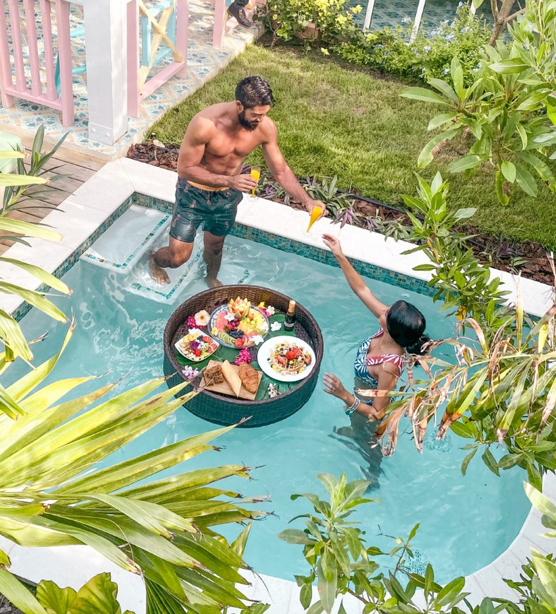 The real deal, the floating breakfast tray in full use at Boardwalk's Plunge Pool Casita
The floating breakfast is as exotic as it sounds, despite the origin of the floating trays. This unique breakfast service is exclusively available to guests staying in the Plunge Pool Casita. A floating breakfast package includes healthy fresh juices, a tropical fruit platter, pastries, choice of two main courses and coffee or tea. The package can be upgraded with Prosecco or mimosas and is available for (minimum) 2 adults per order.
All food & beverage offerings at Boardwalk, including all breakfast items for all guests, are freshly prepared and provided by the team of Eduardo's Beach Shack. Eduardo's is widely known on the island for its healthy and vegan offerings and the best fresh smoothies in Aruba. Which means that vegan and healthy food options are easy to come by at Boardwalk, perfectly matching today's craving for better selfcare, stronger focus on health, wellness and dietary restrictions.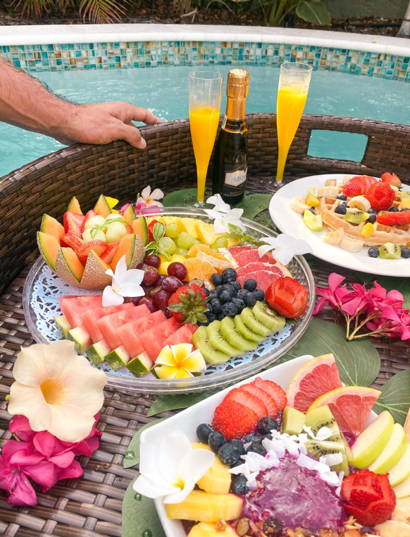 The healthy and sumptuous floating breakfast at Boardwalk Boutique Hotel makes for a true wow-factor
All of Boardwalk's hotel guests can choose from a variety of savory and healthy breakfast packages, cold pressed juices, açai bowls, protein bowls and fresh fruit smoothies. A walk-up window is available on property, a small snack and coffee corner is available in the Lobby and guests can also order room service and enjoy breakfast in the privacy of your own Casita. Bon Apetit! And to you, lucky Plunge Pool guests: happy floating!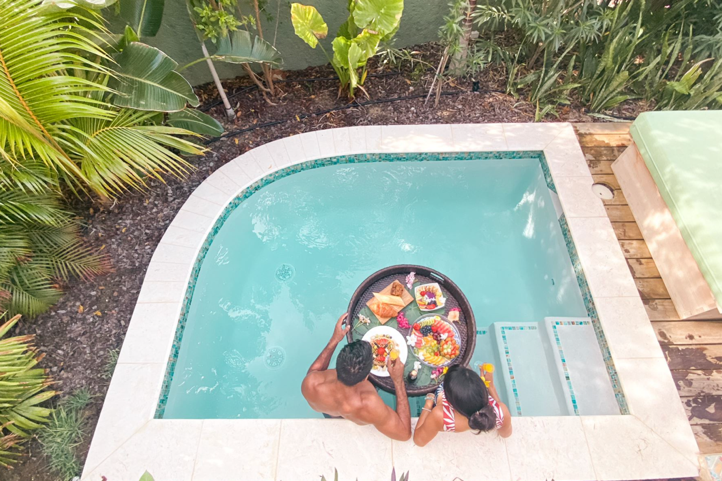 Recently featured in 'A taste for travel', 20 brunches you do not want to miss in Aruba.