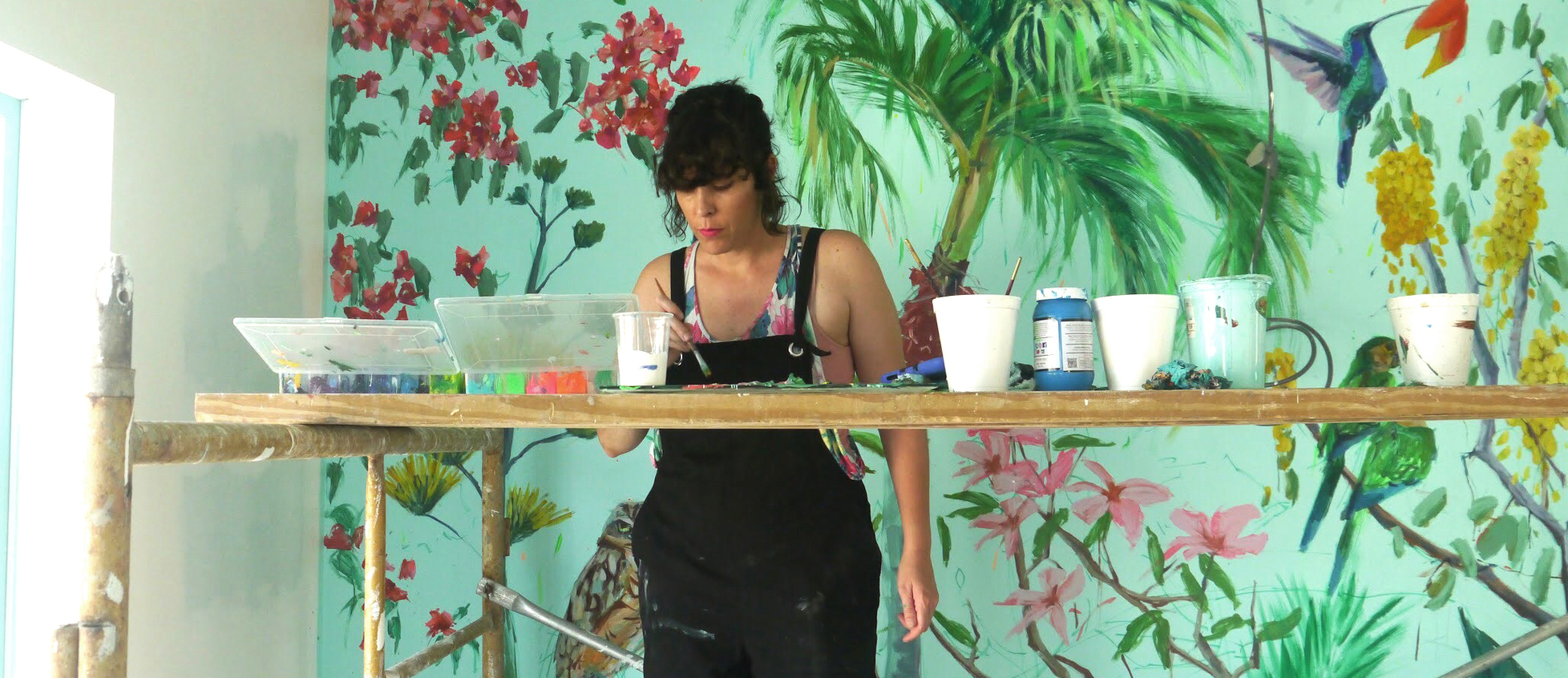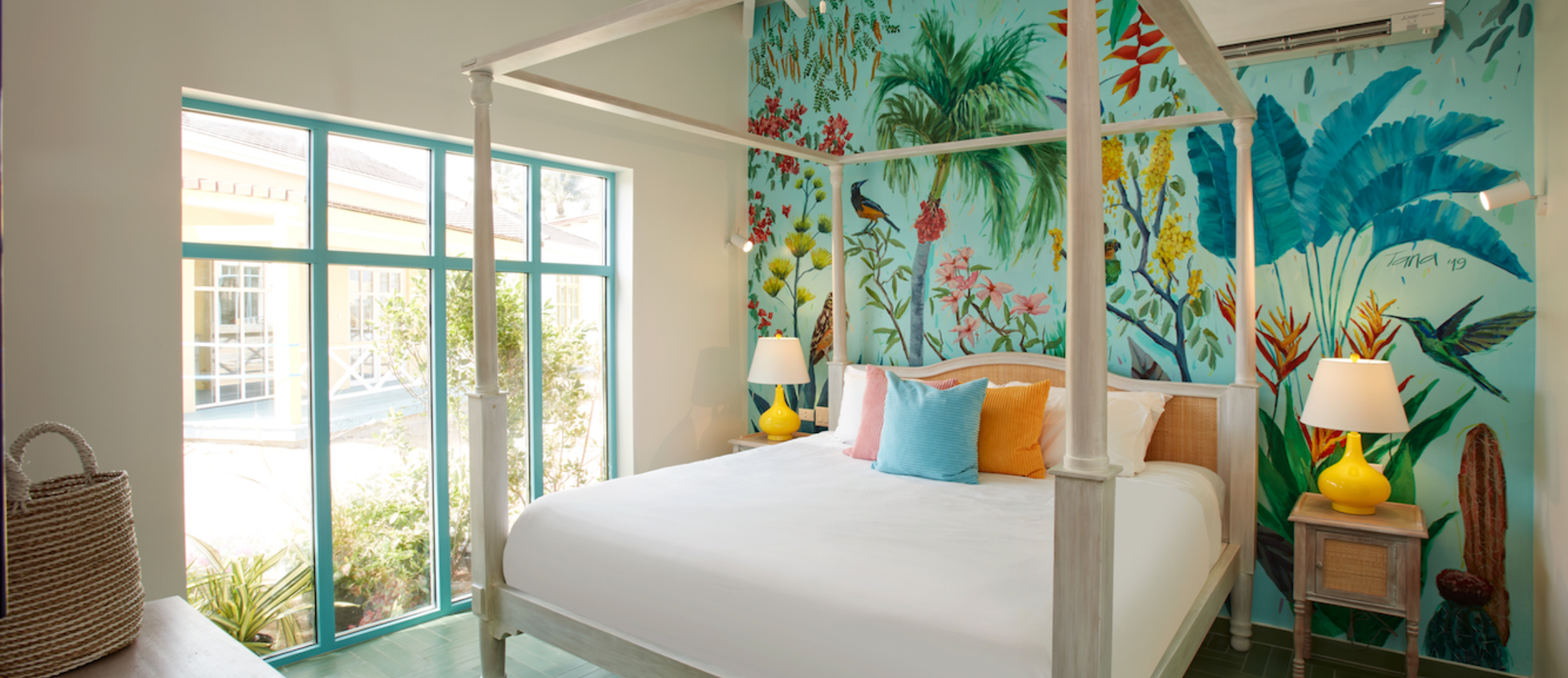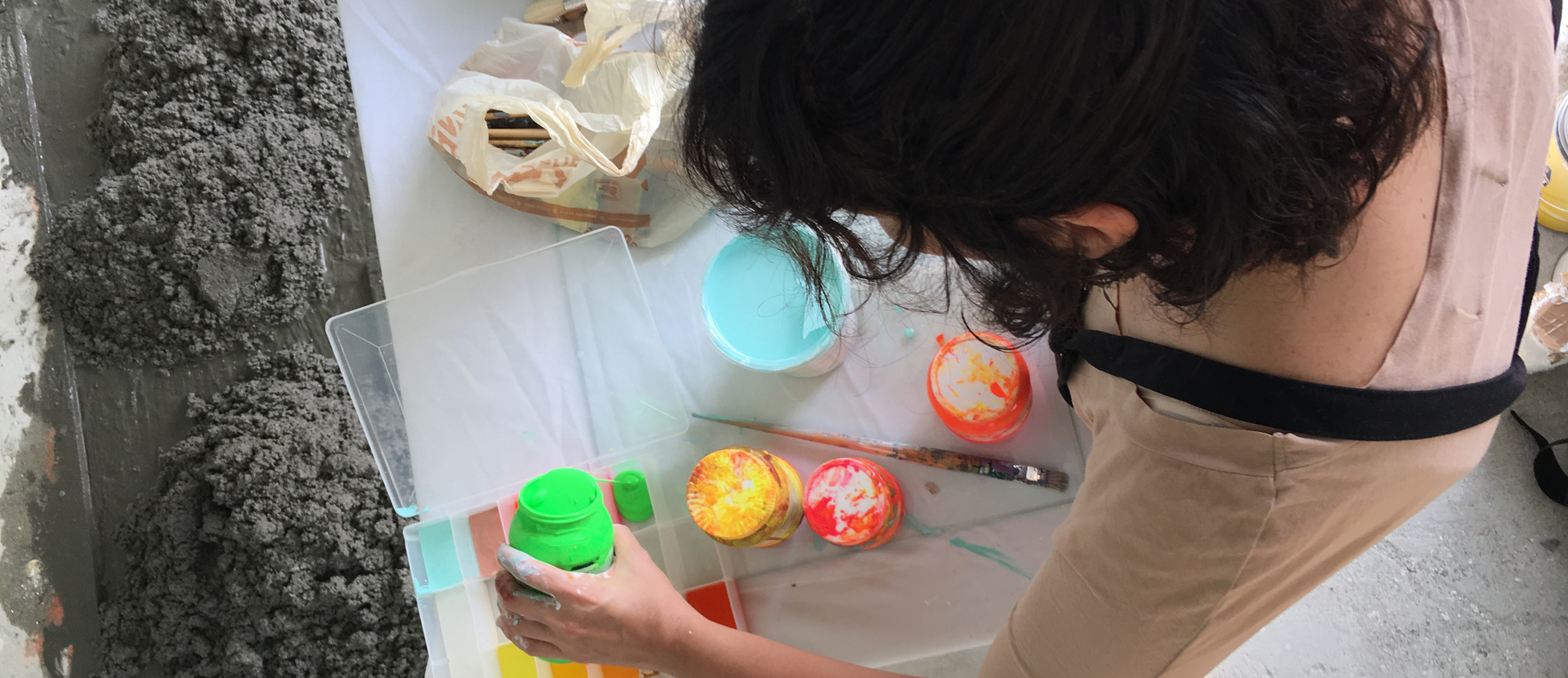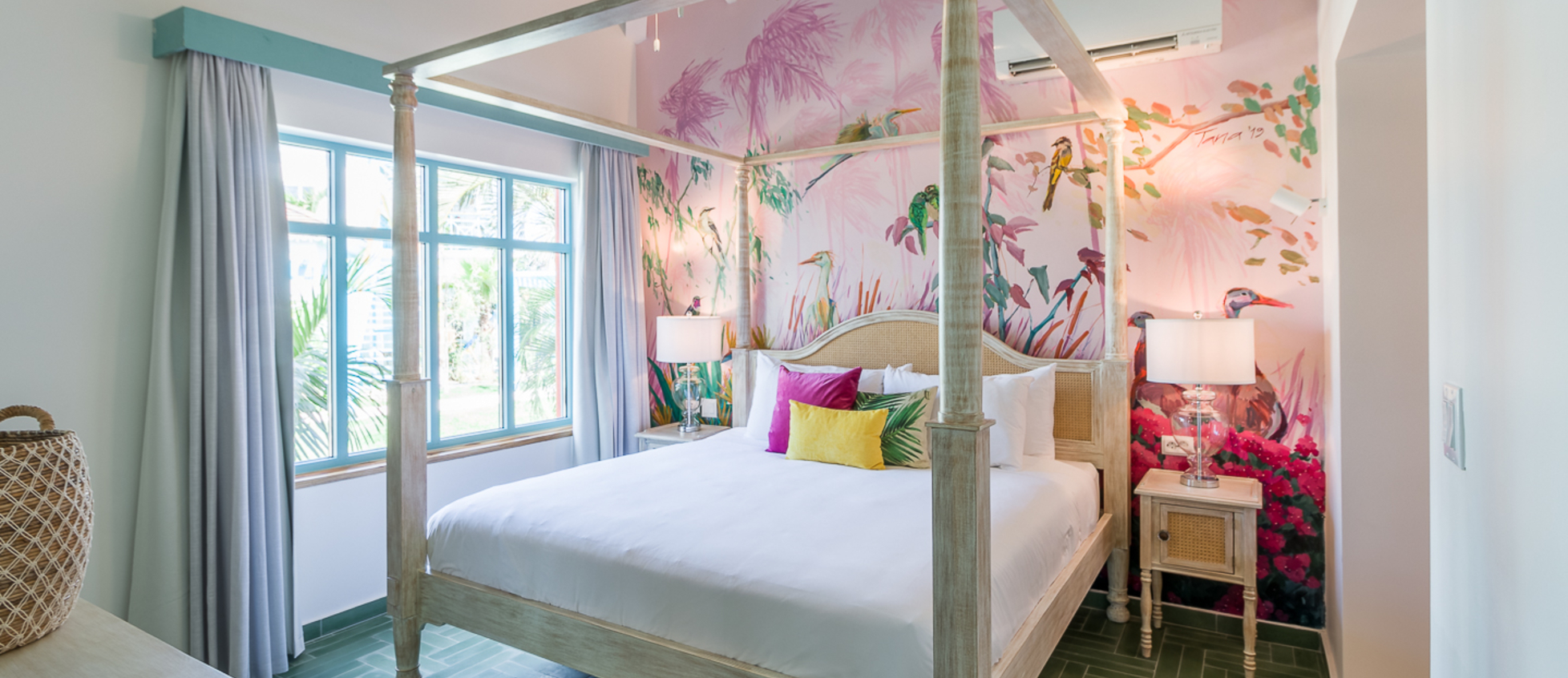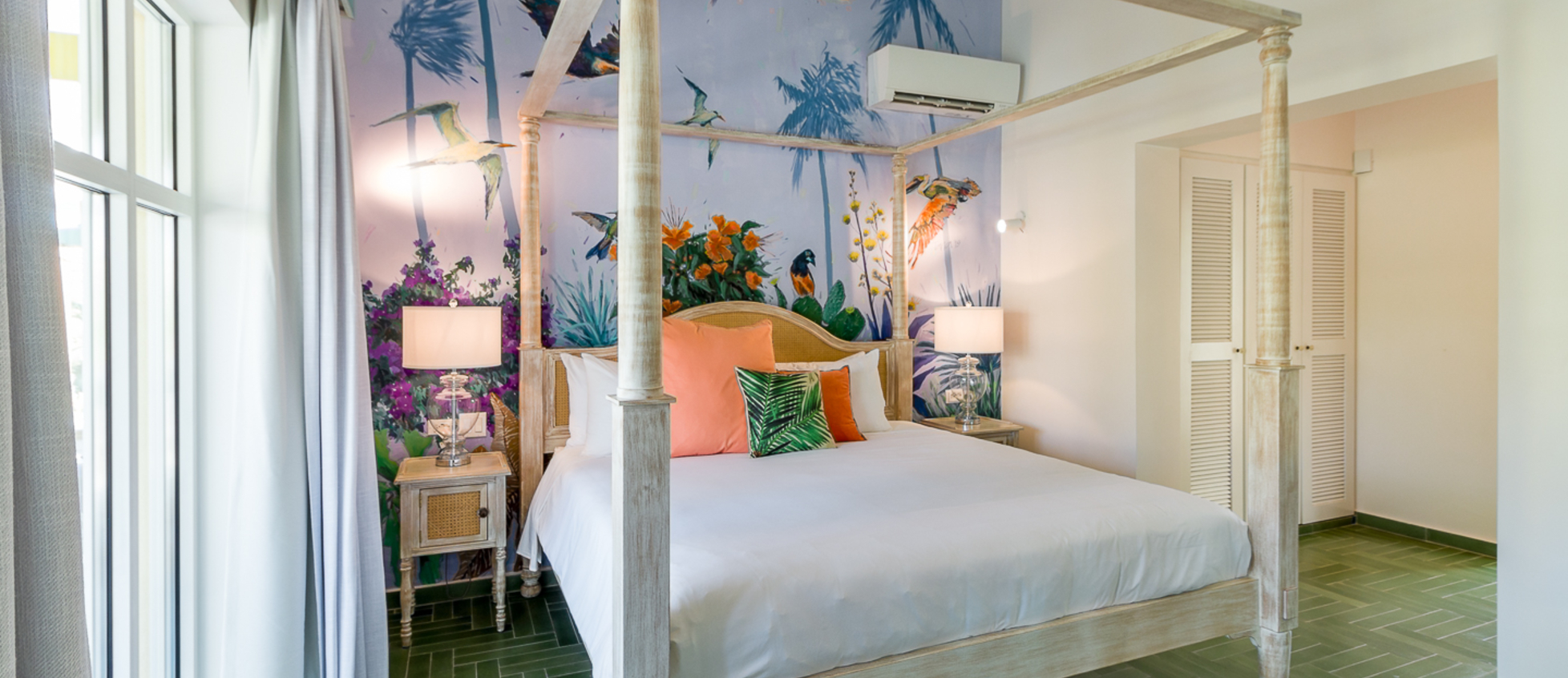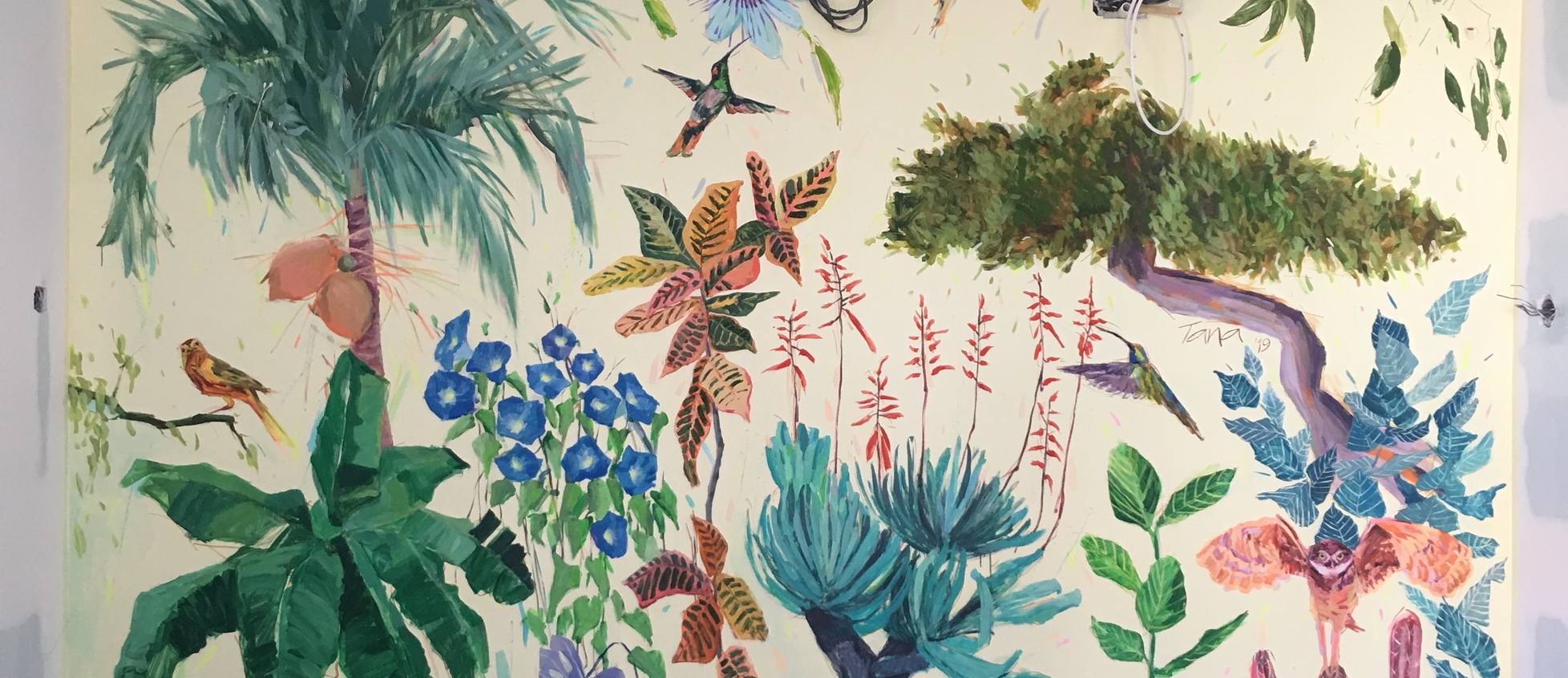 Hand-painted murals by Tana Gaxiola
At Boardwalk Boutique Hotel we have always made art an essential element in our casita design. Our boutique hotel offers a total of 46 casitas, private vacation home-style rooms, of which 4 are Deluxe Coco Casitas. These Deluxe Coco Casitas are studio suites that come with a tropical hand-painted mural reflecting Aruba's fauna & flora.
During the design phase led by conceptual designer Claudia Ruiz Vasquez, Boardwalk's owners, twin sisters Kimberly and Stephanie Rooijakkers, were looking for stylish, possibly hand-painted wall paper, but could not quite find the right type for what they envisioned. Until one day they stumbled upon an Instagram post featuring tropical and exotic murals that were hand-painted by Mexican artist @tanagaxiola. This was no coincidence… this was a match! Just a few months later Tana Gaxiola and her husband Hector landed in Aruba and spent the next 6 weeks at Boardwalk Boutique Hotel creating 4 unique murals.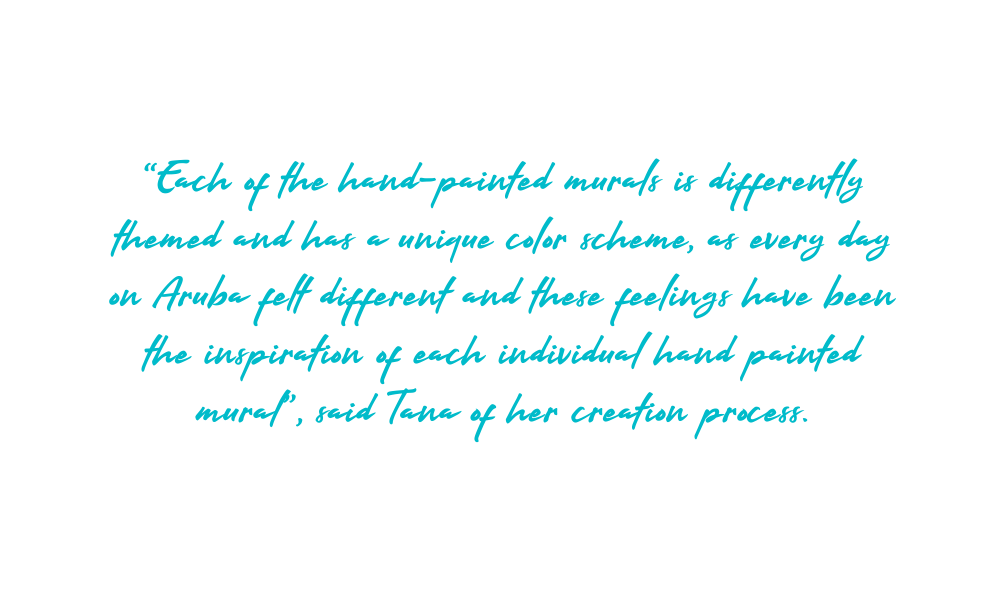 During their first weeks on Aruba, the Mexican couple explored the island, and with the help and insider tips of our hotel's local team members, they discovered Aruba's gorgeous beaches, Arikok national park and Aruba's bird sanctuaries. Tana took hundreds of pictures of birds and spent much time observing the island's flora, fauna and local bird species and wildlife. Based on her images, Tana integrated many details typical to Aruba's nature in her murals for the Deluxe Coco Casitas.
The making of
Turquoise Mural
Tana started her murals by selecting a base color as each mural was going to have a different color. The turquoise mural is inspired by Aruba's crystal clear blue waters and the island's unique Aloe Vera plants, both elements very much present on the island. The painting includes typical birds of the island such as the trupial (black with yellow chest), prikichi (Brown-throated Parakeet), humming bird and Aruba's indigenous shoco owl (Burrowing Owl), the island's national symbol. Cacti, coco palms, bird of paradise plants, manila palm, bougainvillea, golden shower and agaves are just some of the flora reflected in this mural.
Yellow Mural
A soft yellow backdrop forms the basis of the second mural. The inspiration for this mural came from Aruba's rough and desert like landscape where tall cacti and desert plants reign. This painting also shows Aruba's famous divi divi tree (fofoti), karawara tree (orange flower), crotones, banana tree, lilies, monstera and cacti.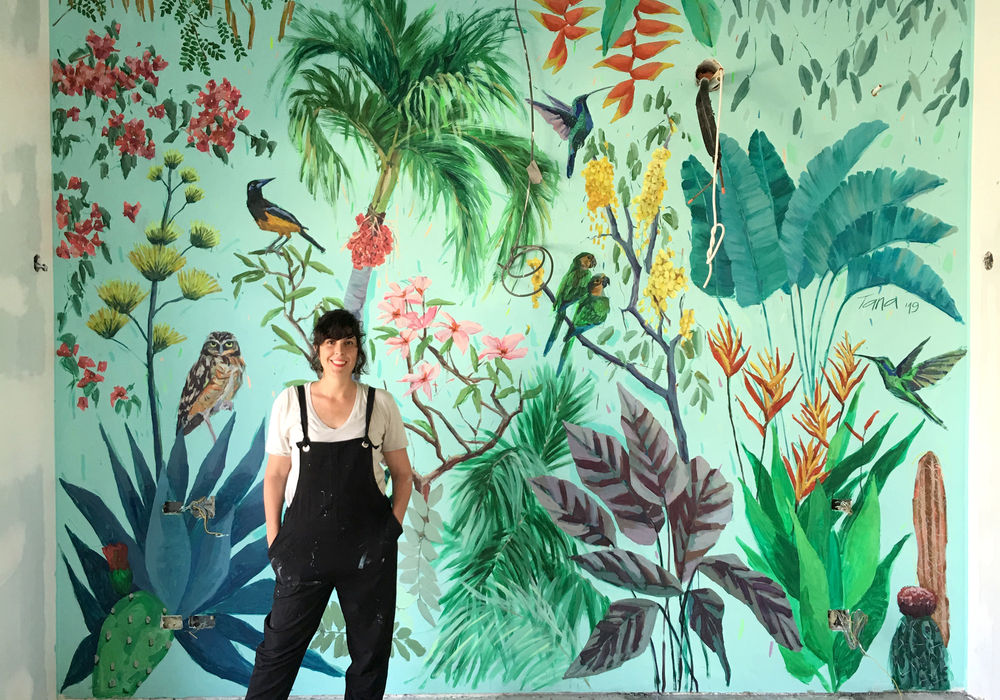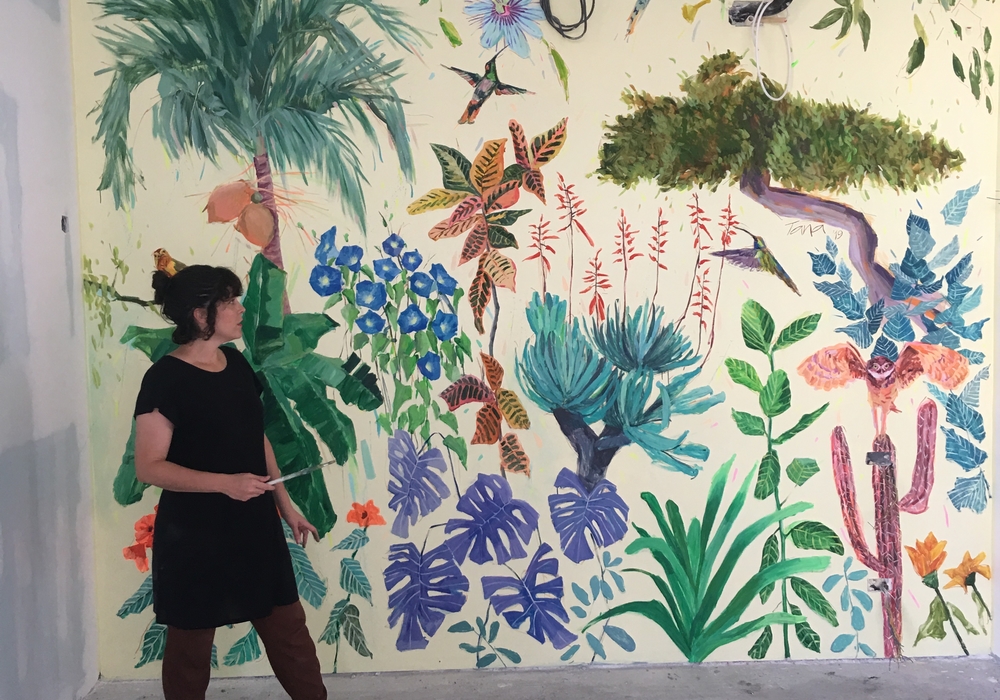 Purple Mural
Aruba's sunsets are breathtakingly beautiful and, can paint the sky yellow, orange and sometimes even purple. Hence, it is no surprise that one of Tana's murals would reflect Aruba's spectacular sunset. This purple mural portrays Palm Beach's signature coconut trees and the orange sun that sets in the ocean. Many of Aruba's birds such as the Pelican, Warawara (known as Crested Caracara), Egret and Trupial can be spotted in this mural. The Trupial draws extra attention because of its bright colors and can often be spotted in the gardens of Boardwalk Boutique Hotel (and their singing voice is very beautiful as well, make sure to tune in).
Pink Mural
The sensations of Aruba's unique bird sanctuaries and wetlands made this mural a romantic beauty. Aruba's warm tradewinds sway through the palms and birds roam the sanctuary freely. Just so you know – our boutique hotel is located adjacent to a wetland that is home to a variety of birds, and Aruba's largest bird sanctuary Bubali Plas is located on a mere 5-minute drive by car.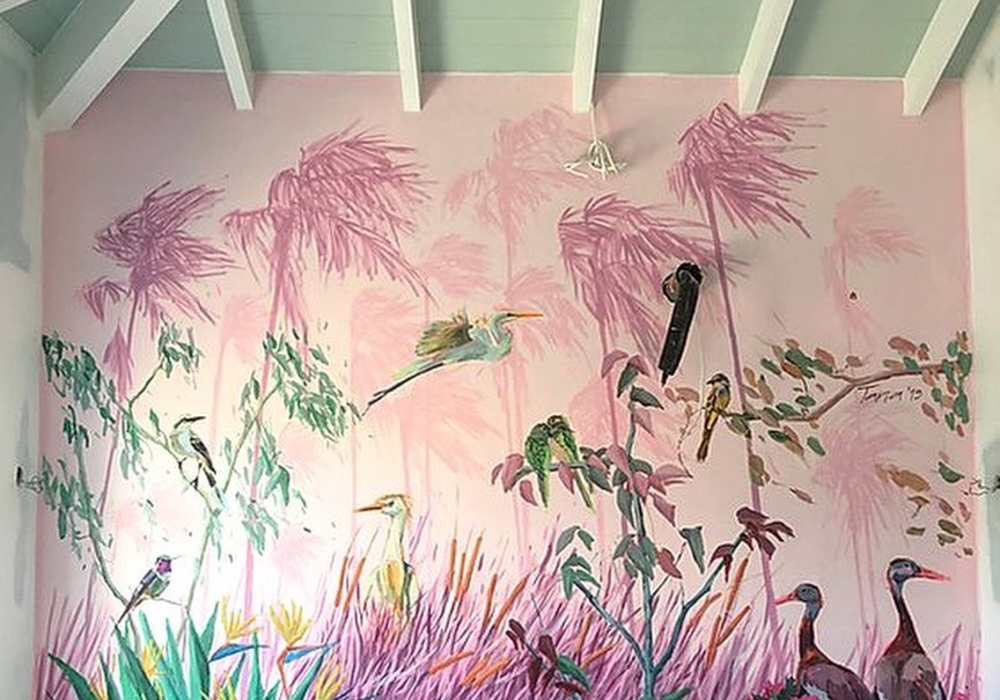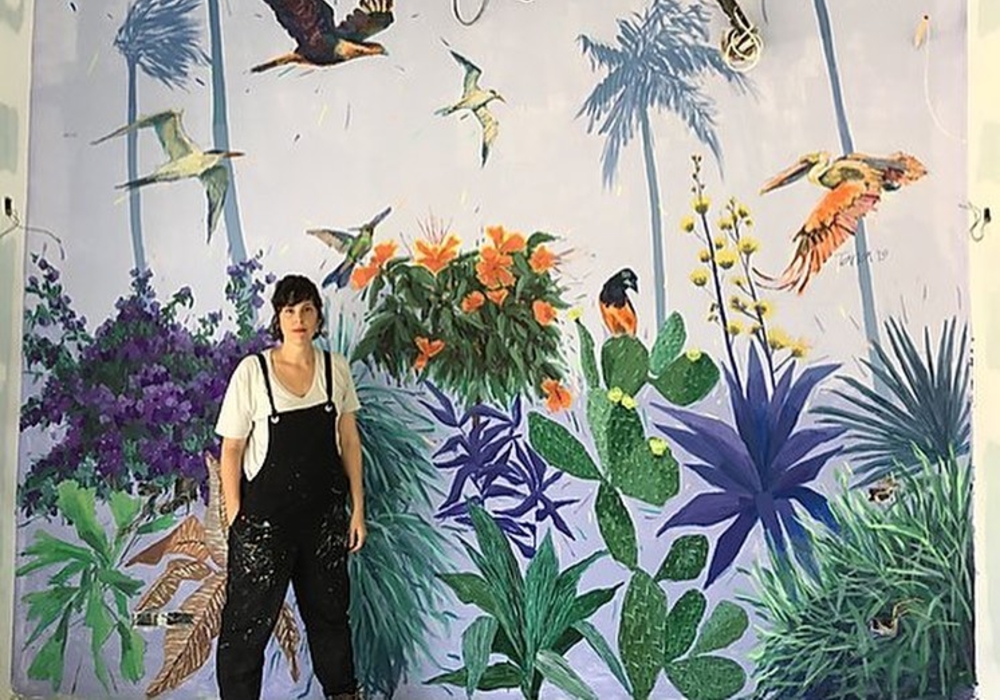 Travelling abroad for work, Aruba's climate and getting to know new people excited me the most about this project', said Tana who had never been to Aruba before. She spent a short time on the island and mentioned that the people are happy, a delight to work with, super helpful and she felt right at home on this sunny island. All we have to add is that we hope that all of our guests who get to experience a stay in one of our 4 Deluxe Coco Casitas will get their own personal pleasure out of these unique murals, the energy and light they bring to the room, and in general will appreciate this work of art. A true labor of love and tribute to our One happy island, Aruba
About Tana:
Tana Gaxiola born January 24 in 1979, Culiacán Sinaloa Mexico - studied Fine Art at the Complutense University in Madrid, where she specialized in procedures and pictorial techniques and developed her extraordinary painting skills. You can follow Tana and her latest artistic creations on Instagram @tanagaxiola.