Find below an overview of all job opportunities at Boardwalk Boutique Hotel Aruba
Lead Front Desk & Concierge Agent 
The ideal candidate is an experienced hospitality professional with knowledge in front desk operations and possesses a passion for Aruba and is service-oriented.
This regards a full time position (40hrs per week)
Front desk lead - lead a team of 3 front desk agents (8hrs of the 40hrs per week)
Continually monitor front desk team's compliance of all existing and new policies and procedures. Develop and/or update policies and procedures when and if necessary
Organize brief weekly trainings & information sessions (real life and digital) for the front desk team on guest communication, concierge information, hotel news, new or adjusted operating procedures, hotel specials, etc)
Regularly evaluate team members (together with the assistant hotel manager) performance
Approve front desk team's schedule & overtime pay. Control overtime and schedule staff according to hotel occupancy, holidays & special events
Analyze daily shift handover, glitch reports & survey results & implement improvements where possible
Evaluate front desk team's email communication with guests, seek out opportunities to elevate the guest experience and set up email templates to guarantee a consistent extra-ordinary service.
Serve as the liaison between front desk and other departments (marketing, reservations, F&B, accounting, operations) to guarantee smooth communication between departments
Manager on duty 1 week per month
Verify inventory & approve invoices of lobby shop items
Set up concierge information program, Boardwalk curated selection of concierge tours & activities. Train the team on Boardwalk's recommended island venues/ activities/dining options.
Collect and manage concierge commissions
Recruit & train front desk intern
Front Desk & Concierge Agent (32 hrs of the 40 hrs per week)
Front Desk Agent; including responsibilities such as 
Prepare for arriving guests and take special care of VIP's, guest requests & guest preferences
Welcome guests at our interactive lobby and make them feel at home while performing check-in and check-out tasks 
Inform guests about payment methods and verify their credit card data 
Manage online and phone reservations, maintain updated records of bookings and payments 
Communicate and coordinate with Housekeeping, Maintenance to ensure all casitas are clean, tidy and fully-functioning to meet and exceed guest expectations.  
Communicate and coordinate with F&B team to ensure all F&B related bookings and requests are known, processed and or delivered to guests in timely manner
Prepare VIP, repeat and special guest amenities and welcome notes
Report & Respond to guest complaints and find & implement/follow up on the appropriate solution 
Review if all guests requests and complaints are resolved and or handled by shift end
Daily communication with F&B partner on pre-booked F&B items and other F&B related requests
Manages bills & invoices of guests and 3rd parties
Review & approve on all daily posting journals by shift end
Concierge Services, including responsibilities such as 
Meet and exceed guests' expectations by anticipating the services they might require at the hotel or on island
Pro-actively seek out a guest's interest and provide suggestions on the islands best venues, activities and points of interest
Make reservations or appointments for guests who want to avail themselves of local activities, entertainment or services 
Act as the point of reference for guests who need assistance or information and attend to their wishes and requirements 
Be knowledgeable about Boardwalk's curated selection of restaurants & activities, local hangouts and locations & match them to the needs of specific guest's desires and wishes
Leverage Boardwalk's concierge tool to elevate the guest's experience, build customized guest itineraries and gain a better understanding of a guest's interest and experiences.
Use Boardwalk's technology stack to communicate and follow up with all departments, communicate with guests, process guest requests and reservations, etc.
Report & Respond to complaints and find & implement/follow up on the appropriate solution 
What skills and characteristics are we looking for? 
Natural affinity with hospitality, drive to care of our guests
Min 3 years experience in a similar position with Hotel operations
Our boutique hotel requires the talents and skills of an experienced, fun, sociable Front Desk Lead
Degree in Hotel/Hospitality Management or relevant field
Creator of guests' experiences from the 1st contact moment at the hotel till far beyond tour guests departure (via phone, email, regular mail, etc) 
In love with Aruba and its unique spots to sell and recommend. Constantly on the look out for the best experiences Aruba has to offer 
Polite, friendly, homey and excellent written & oral communication skills 
Multi lingual; English in writing and speaking is a must. Dutch, Spanish and Papiamento are welcome 
Ability in multitasking, prioritizing and time-management 
Technology Savy. Boardwalk team works with the latest hospitality technology stack
Vaccination in this guest-facing role is highly recommended and considered a plus. Boardwalk Boutique Hotel Aruba is a smoke- & drug-free work environment. Application letter and resume can be sent to jobs@boardwalkaruba.com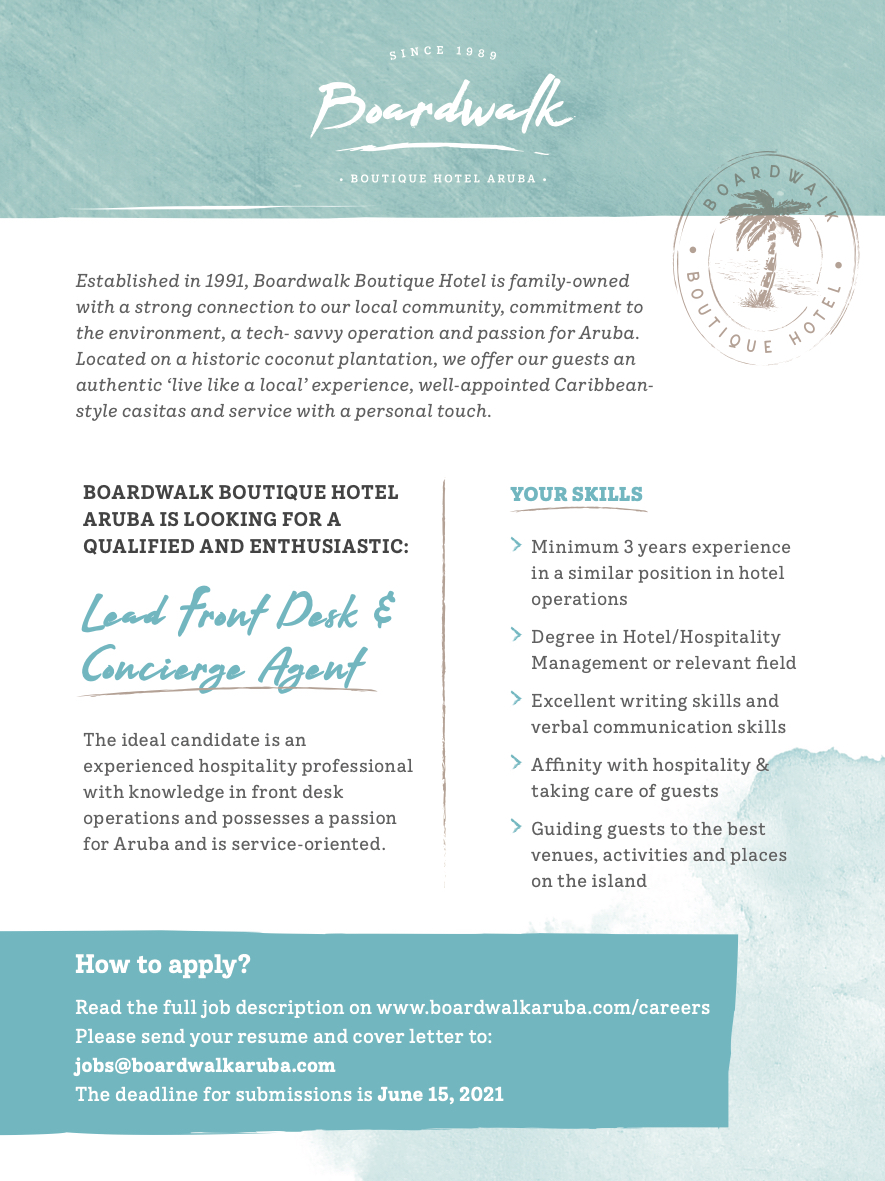 About us
Boardwalk Boutique Hotel Aruba is a family-run and locally owned hotel, founded in 1989. Our small team of dynamic and dedicated professionals deliver memorable vacation experiences at a truly unique boutique hotel in Aruba, while having tons of fun at the same time. Are you interested in a career in hospitality, are you a local expert and do you want to become part of the Boardwalk family?