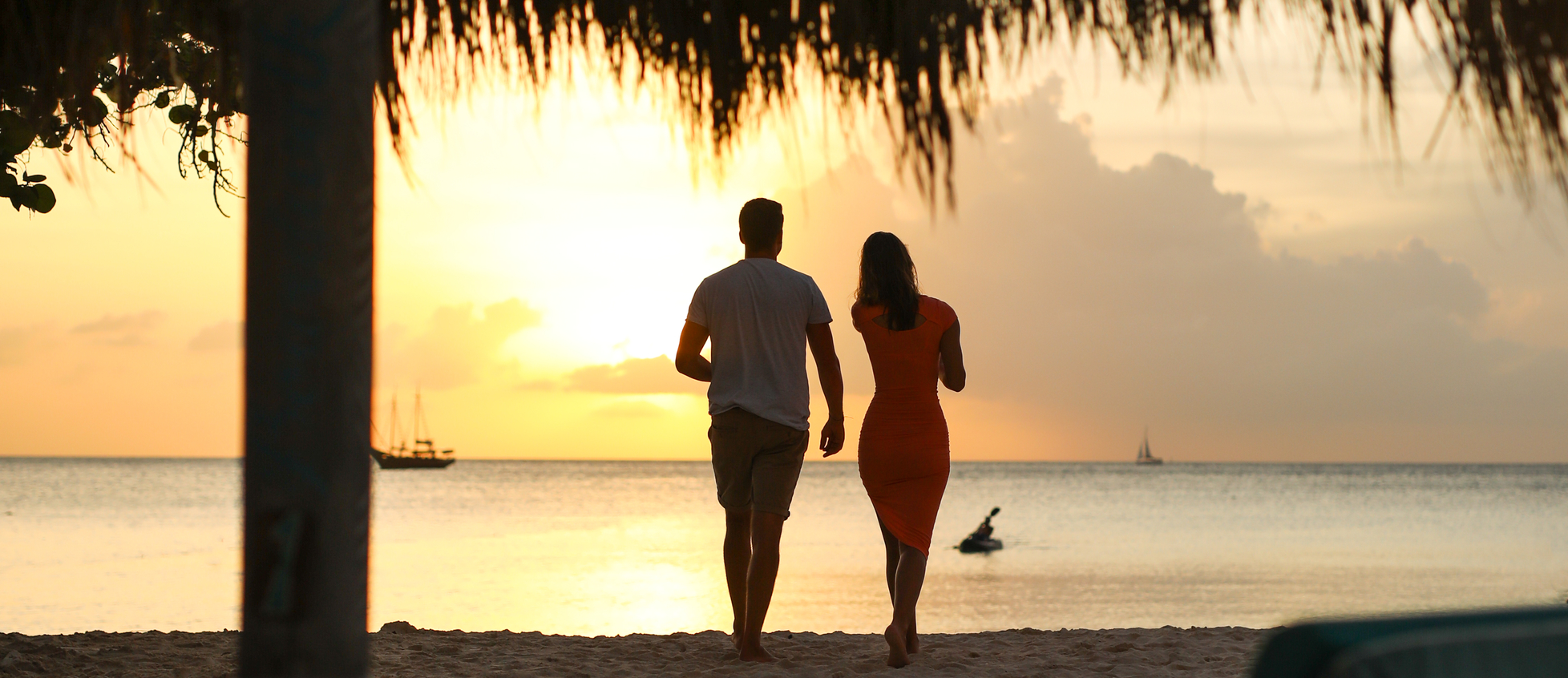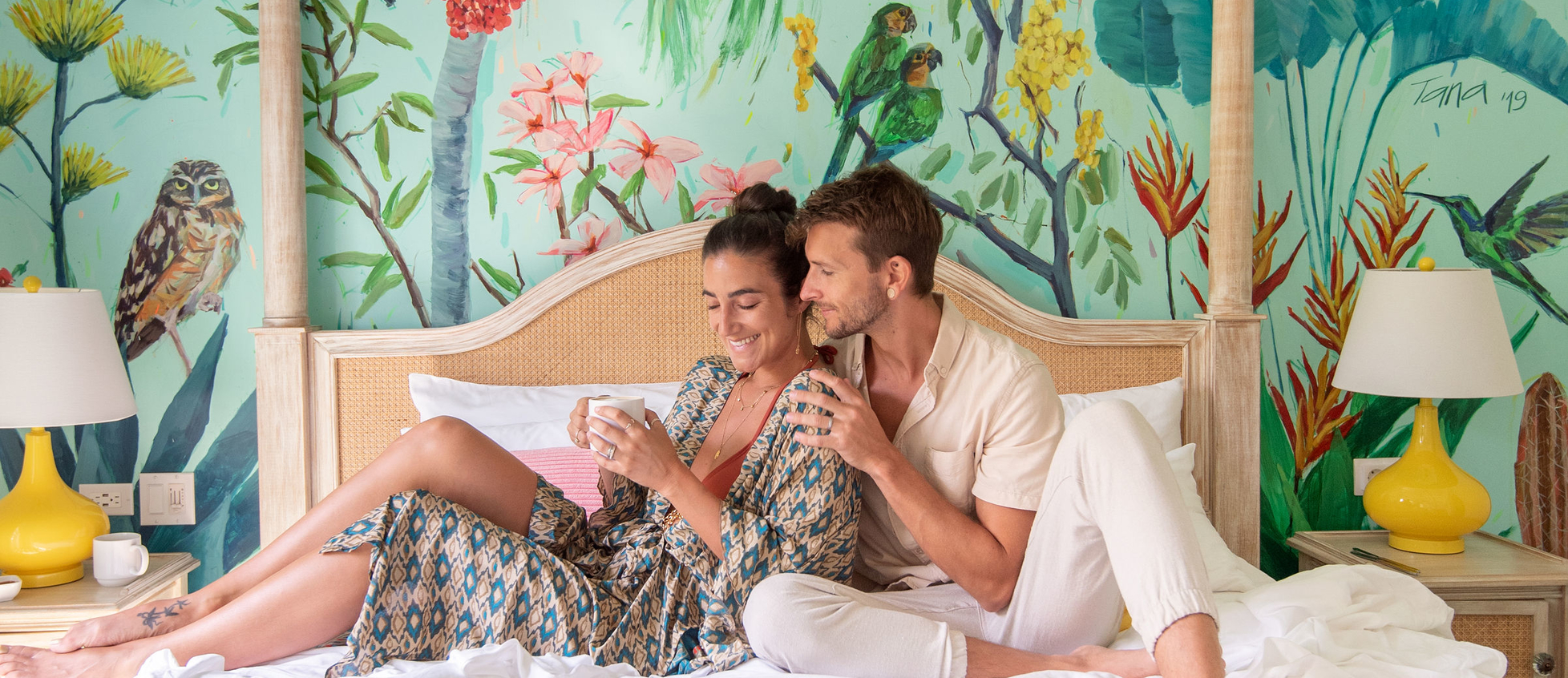 Romantic Aruba
Aruba has a long-standing relationship with lovers and romance seekers of all ages. With its pristine white sands and dreamy beaches, perfect weather conditions, mesmerizing sunsets and wide array of romantic sites and activities for couples, Aruba is the best Caribbean destination for a fun-in-the-sun, romantic getaway and might even be the perfect backdrop for your micro-wedding or elopement! 
5 reasons Boardwalk Hotel Aruba is best for couples 
ultimate privacy, offering semi-stand alone and stand alone cottages with private patio in a secluded setting
intimate nooks everywhere you look, and private pool and beach seating areas with daybeds and lounge chairs
dreamy, lush gardens that are truly unique in Aruba, creating a most romantic setting
special romantic amenities like an outdoor shower, private plunge pool, floating breakfast
catering to couples, honeymooners and romance seekers with a Romance Package, Romance Treasure Map and the best local scoop on activities for couples in Aruba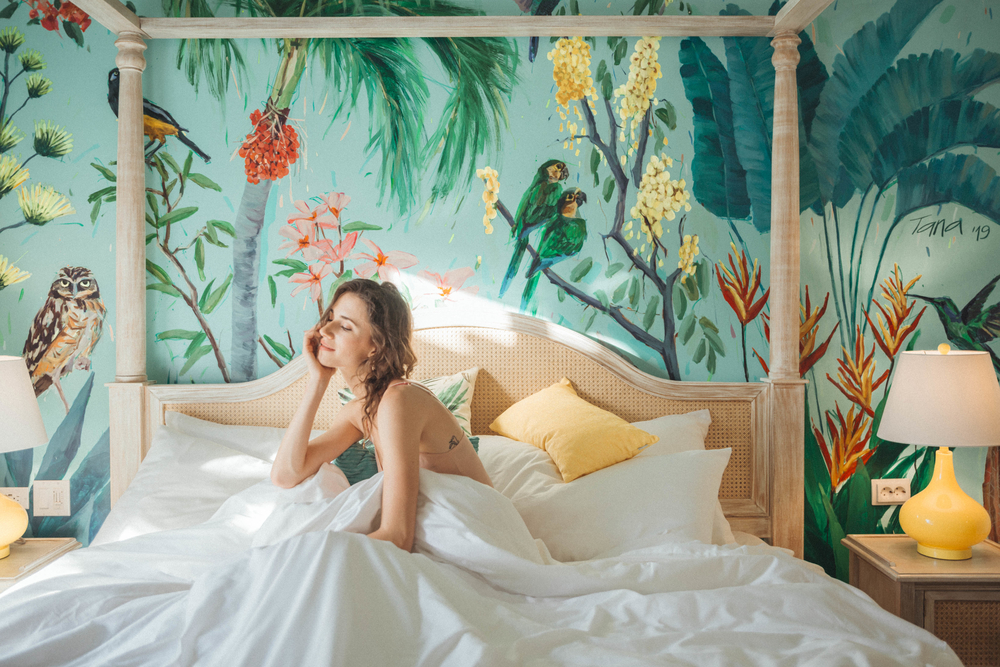 Aruba activities for couples 
If you need more convincing why Aruba is your best bet for a romantic vacation, we've collected a few of our favorite romantic activities for couples in Aruba, offering Aruba island tips for couples and lovers.
A Pristine Plunge at Mangel Halto
This beach is tucked along the southwestern coast in the area of Pos Chikito/Savaneta. The Mangel Halto (translated: tall mangroves) area comprises of a secluded beach embraced by a dense network of mangrove trees, various beach huts providing plenty of shade for lounging and picnics and a wooden sundeck with ocean access.
A narrow clearing in the mangroves leads into an inviting expanse of shallow, aquamarine water, made remarkably placid by the protective barrier reef further out. This coral reef, easily reached by a short swim from shore, makes for excellent snorkeling and diving.
Mangel Halto also marks the starting point of a private SUP paddling tour that can be arranged with a local guide, navigating you along the coastline towards a hidden lagoon surrounded by mangroves. A must try!
San Nicolas Street Art
Sleepy San Nicolas with its pure local vibe and authentic character, transformed over the past year to Art Capital of the Caribbean due to over forty stunning murals and 3D artworks. Private tours of San Nicolas' vibrant downtown area and an open-air art works are available by local guide Tito Bolivar of Aruba Mural Tours San Nicolas. Let Tito paint you the story of San Nicolas' rich history and its transformation into a colorful canvas.
After the tour, have a refreshing drink at either Charlie's Bar, Aruba's most famous (and oldest) watering hole, or drive a little further south towards Baby Beach and sip cocktails overlooking the Caribbean from the infinity pool at Rum Reef.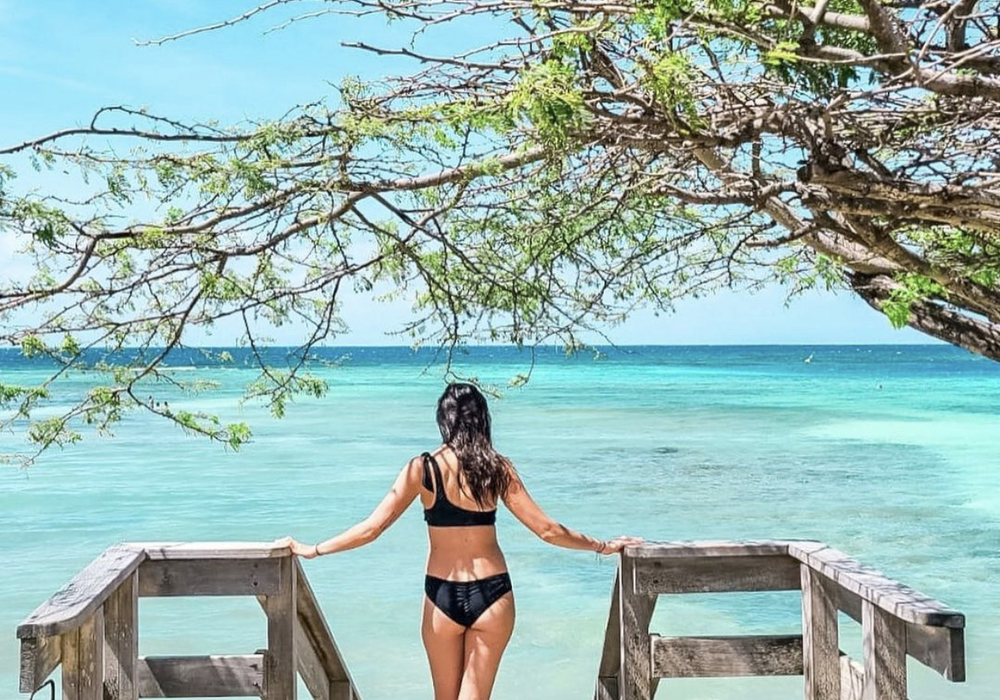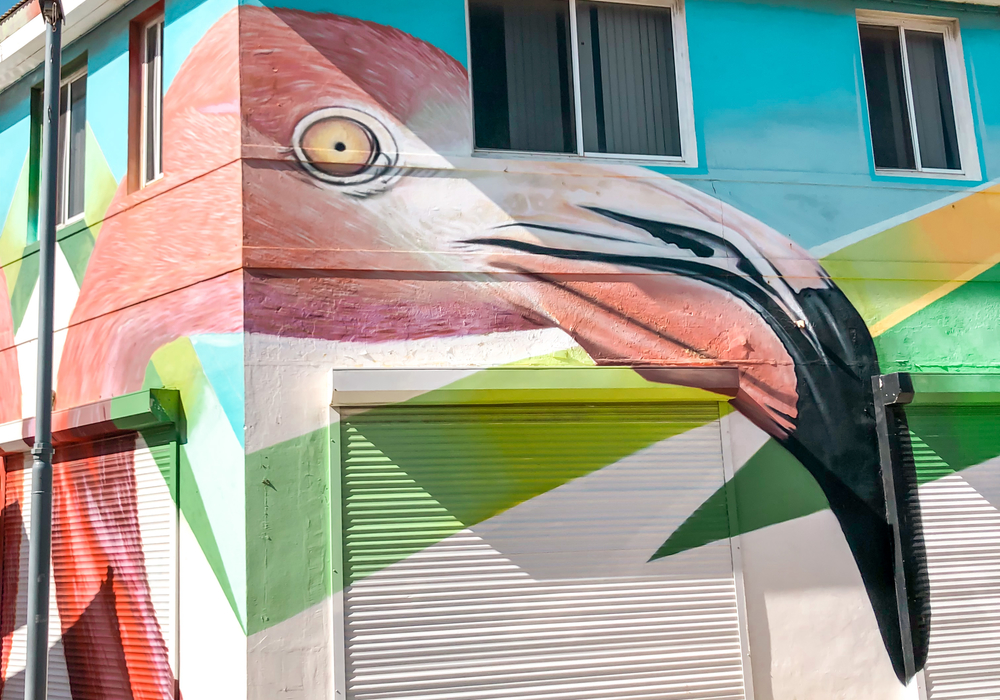 Early Morning Beach Walk
You don't have to be on your honeymoon in Aruba to appreciate this amazing experience; it's a great activity for couples of all ages at any given stage of life. Start the day with an early morning beach walk, preferably at sunrise when the ocean colors from a soft purple, to pink, to turquoise over the course of a most magical hour. The best part? At this hour (between 6-7 am) you'll have the beach all to yourself.
We recommend taking a beach walk on dreamy Eagle Beach. The mere 10-minute drive from Boardwalk is sooooo worth it. Park in the designated area where you see the red Eagle Beach sign on the rock wall, then walk in southern direction towards Aruba's widest beach area. You'll be surrounded by pristine, white sands, ahhh... paradise found! ☀️?
Private boat tour
Are you celebrating your honeymoon in Aruba and are you looking for a romantic, relaxing, and intimate sailing experience? The Black Pearl offers just that. This smaller wooden sailboat offers the most comfortable seats on the water, where you sit 2 by 2 in lounge seats fitted over a wooden base. The atmosphere is quiet and low-key, no crowds and no loud music. They will set sail to take you on a romantic trip including snorkeling and watching Aruba's sunset. It's simply wonderful.
Recommendations for a romantic sunset sail include Montforte (deluxe experience), Tranquilo (an intimate sailing boat that can be booked privately for snorkeling and sunset sailing tours, and even for a private sunset dinner on board) and Red Sail Sports (a more intimate charter offering snorkeling and sunset sails on a catamaran for smaller groups).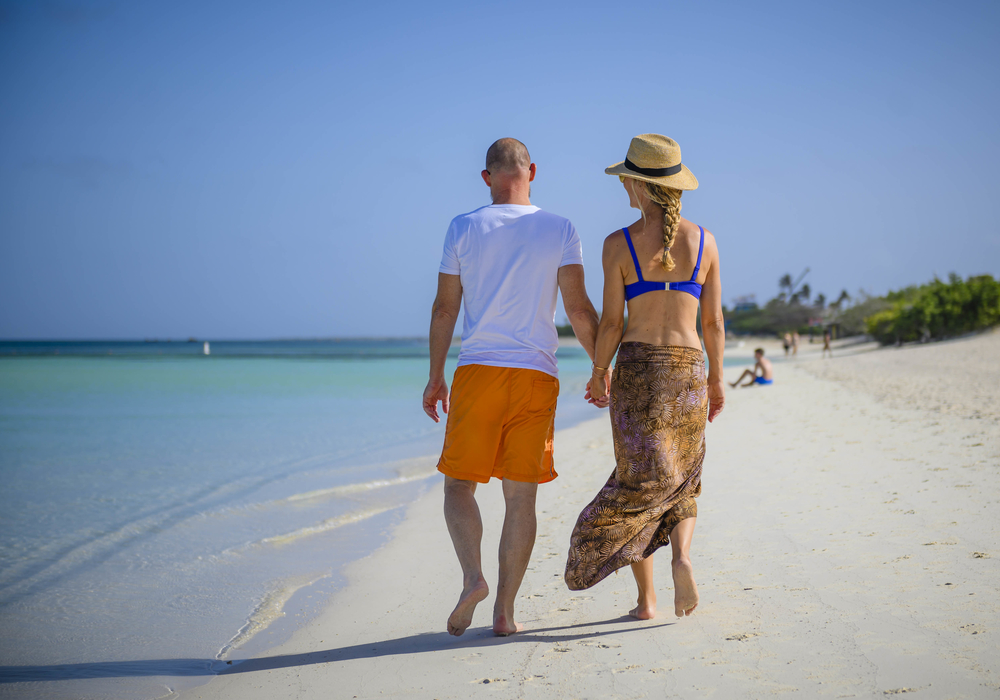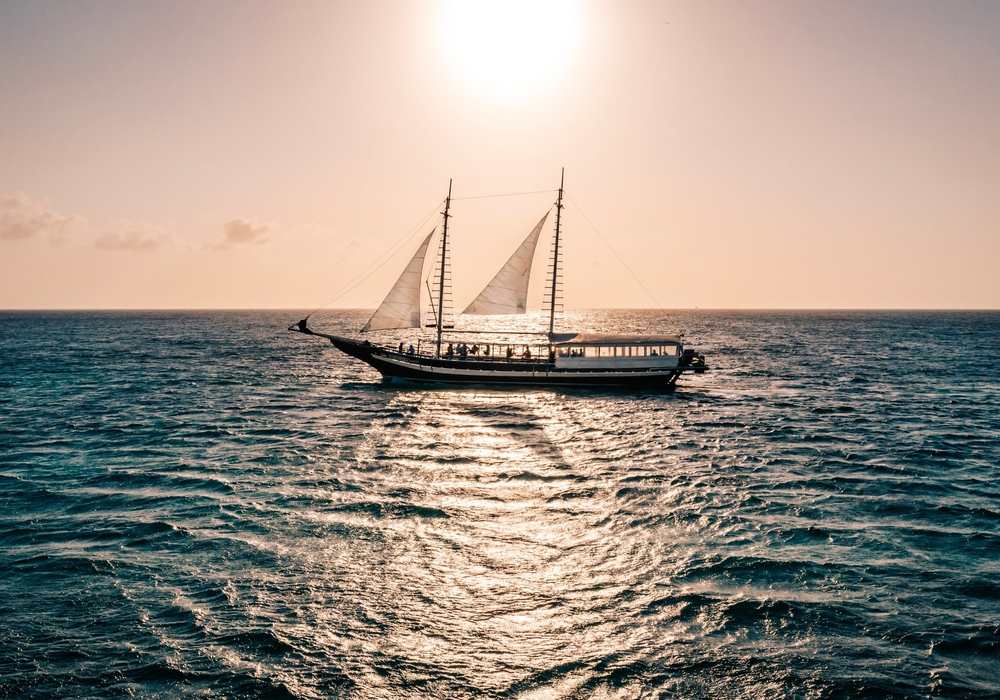 Hammock Heaven
While you can indulge in hammock heaven in just about any given nook and corner at Boardwalk, from your own swing set at your private patio, to oversized hammocks in public spaces throughout the hotel premises and on our dedicated beach area on Palm Beach, there is nothing like swaying in the overwater hammock over our main pool during our daily Cocktail Hour.
Soothe and snooze to the gentle breeze and relaxing tones of our curated playlists while sipping a refreshing local brew or tropical cocktail. Other poolside favorites are the private lounges with day beds, excellent for some quality time together, and the oversized floats in the water. All made for daydreaming, Club Tropicana style.
Wellness Therapies
There are plenty of activities for couples in Aruba to choose from and a couples' massage often tops the list of Aruba's most romantic things to do. You can enjoy a couples' massage at a Balinese-style Spa on Eagle Beach overlooking Aruba's widest stretch of pristine white beach, or on the overwater deck of a flamingo-flocked private island. If you wish to stay closer to "home", Boardwalk conveniently offers Spa services as well to enhance your on-property indulgence.
Choose from our intimate, indoor treatment room located at the ground level of Boardwalks' 360 Palapa Lodge, opposite the fitness room. Or opt for the comfort and privacy of our own casita, either indoors or on your patio. All on-site Spa treatments including couples' massages, are provided by local partner Aruba Wellness Therapies.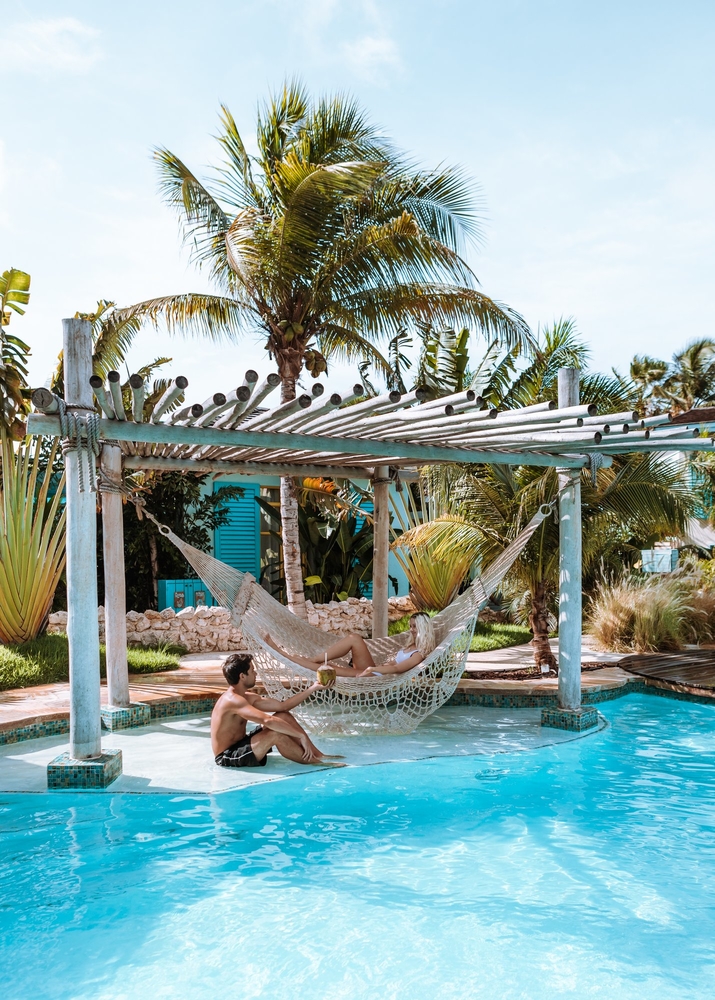 Couples' photoshoot
Boardwalk is often praised for its unique setting amidst some of the lushest gardens on the island, and its colorful architecture resembling a small Caribbean village. Why not take advantage of this photogenic location and use our property as the blooming backdrop for a special couples' photoshoot in Aruba.
Other locations on island will work miracles for your photos as well, like the pristine white sands of the California Sand Dunes, Aruba's famous sunset on Palm Beach and the rocks that dot Arashi's shoreline. All above-mentioned locations are conveniently located within a 5-minute walk to a 5-minute drive from Boardwalk.
Floating breakfast in a private pool
For a most romantic start of the day, Boardwalk serves a floating breakfast exclusively in the private pool of hotel guests staying in the Plunge Pool Casita. This sumptuous floating breakfast includes healthy fresh juices, a tropical fruit platter, pastries, choice of two main courses and coffee or tea and is delivered on a floating tray for in-water consumption. For an extra festive touch Prosecco or mimosas can be added to the package. It doesn't get more exclusive and romantic than this!
The private pool is conveniently located in the secluded and lush garden of the Plunge Pool Casita, a fully stand-alone casita and comes with an oversized hammock for two, and a daybed for intimate poolside lounging. The entire setting has romance written all over and is an ideal option for the best Aruba honeymoon experience!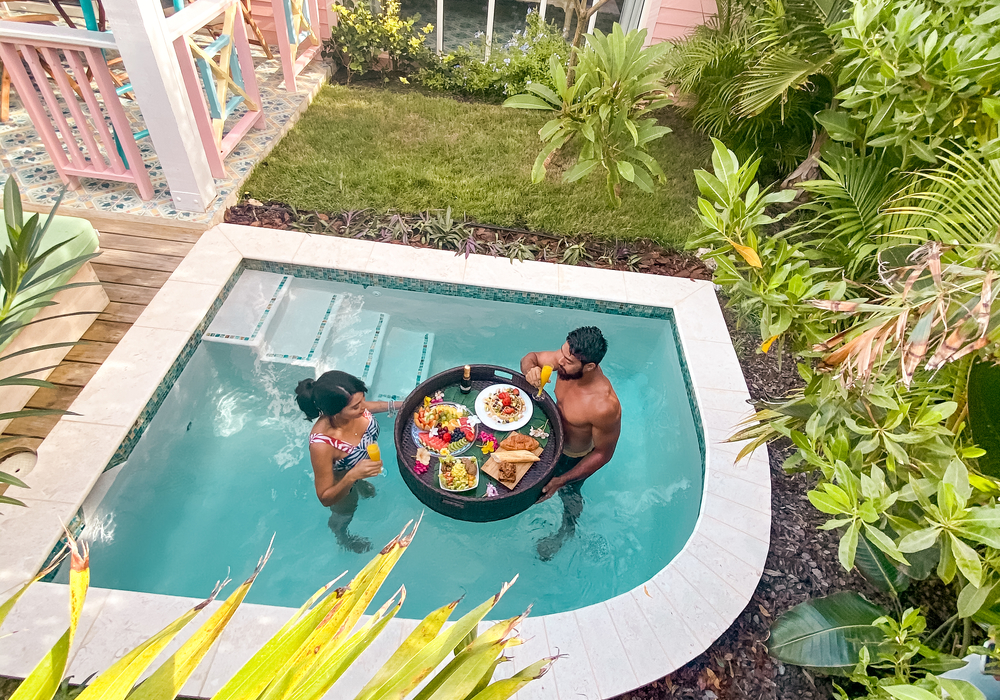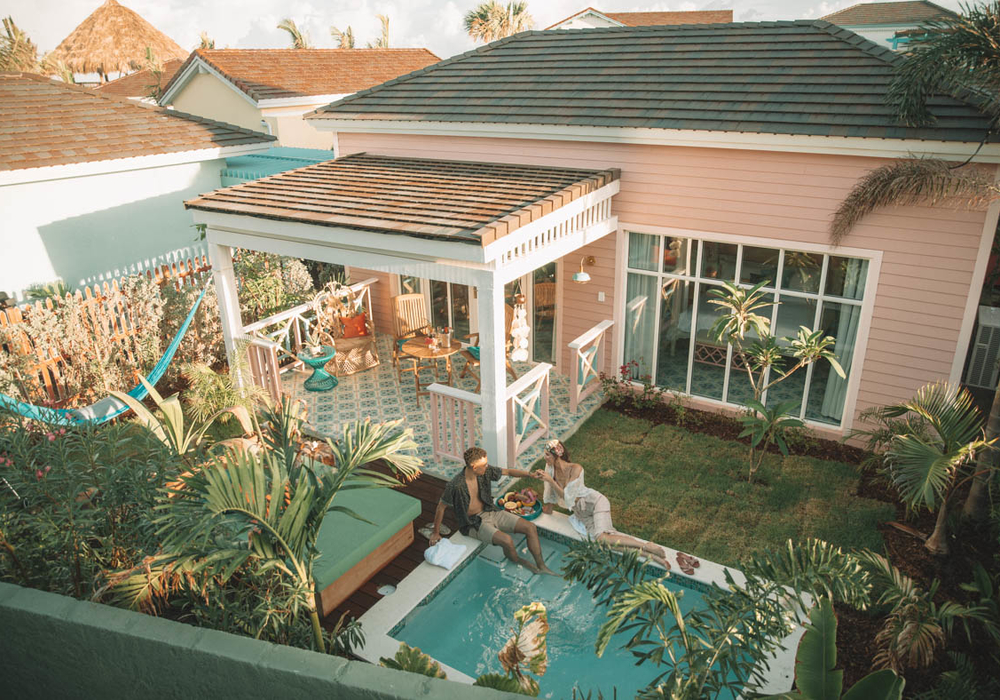 Sunset drinks at Boardwalk Beach
Tucked between the larger Marriott and Ritz-Carlton Resorts you will find a slice of beach referred to as 'Boardwalk Beach', a dedicated area on Palm Beach with palapas and lounge chairs reserved exclusively for our hotel guests. It's a tranquil gem with unobstructed views overlooking the turquoise waters in front of Fisherman's Huts and a perfect location to watch the sunset. Bring some chilled drinks (do as the locals and sip straight from a beer bottle) and take in the wonderful colors of sundown.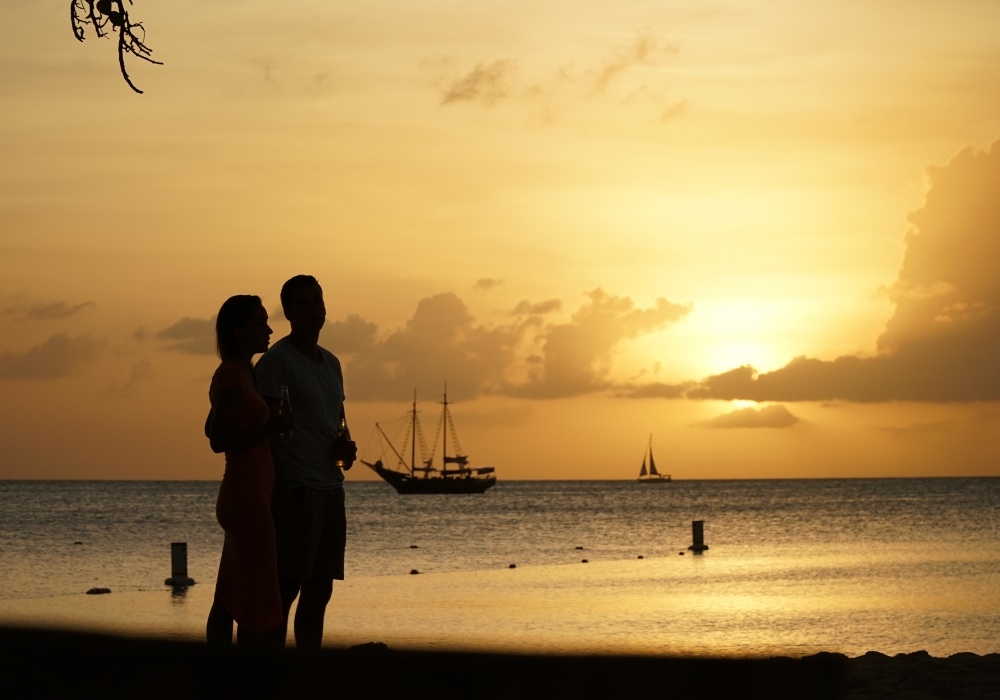 Boardwalk's Ultimate Romance Package
Guests of Boardwalk Boutique Hotel that are looking for romantic things to do in Aruba, are celebrating their honeymoon in Aruba or have a special event or anniversary to celebrate came to the best hotel in Aruba for couples!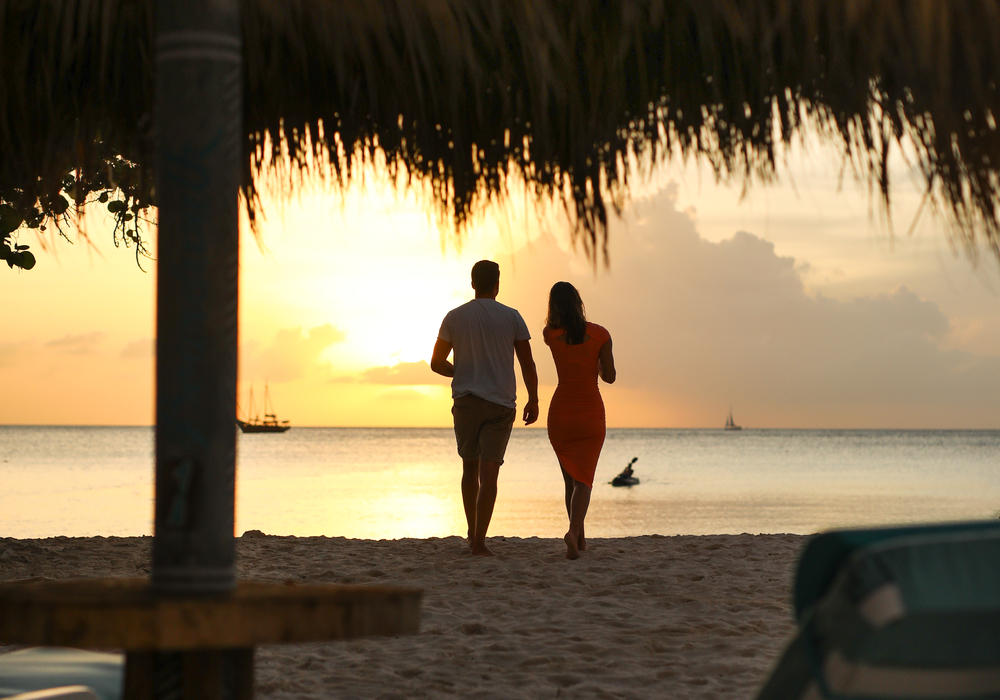 First of all, many of our private casitas are very well suited for a most romantic stay in Aruba, varying from a Palapa Lodge with 360-island views from a bathtub to a Private Plunge Pool casita with private pool in a secluded garden and a Coco Casita Deluxe featuring an outdoor shower for bathing under the stars and a hand-painted mural to wake up to. You can enhance your stay, or even better: totally surprise and wow your loved one by booking the ultimate Romance Package. It's a Boardwalk Hotel classic we've been offering our guests as an add-on for a decade, success guaranteed. This package includes a romantic breakfast tower for two with sunrise sip cocktails, served on your private patio by The Coco Café, an oceanfront dinner at Barefoot Restaurant or a 45-minute couples massage by Aruba Wellness Therapies. You'll be granted a late checkout at 1:00 pm for additional convenience. Click here for details.