Boardwalk Hotel Aruba's Sustainability Policy
At Boardwalk Hotel, we recognize that our hotel's activities could potentially negatively impact the environment and our local community if not properly managed. Therefore, we have a sustainability policy that applies to all full-time, part-time, and temporary employees, as well as to guests staying at Boardwalk. This policy plays an essential role in showing Boardwalk Hotel's commitment to sustainable hotel practices and eco-friendly operating procedures.  
The focus of this policy is to guarantee that all employees are aware of - and comply with - rules and standards implemented at Boardwalk Hotel to sustain and further enhance our sustainability efforts and practices. Boardwalk Hotel's commitment is to ensure that throughout all departments, we will maintain our standards of sustainable practices and enforce our efforts in our day-to-day operations on the property with our staff and guests.
We are committed to continuous improvements measured by annual bench-marking assessments and strive towards minimizing our carbon footprint by implementing sustainable initiatives to improve the hotel's performance, reducing energy & water usage and minimizing waste production. 
Firstly, the way Boardwalk was built and runs its daily operations includes many sustainable considerations and practices. Just to name a few; Boardwalk implemented 100% LED lighting, ultra-inverter air conditioning units, water-saving toilets, mobile keys and strived for a paperless office.
Secondly, part of Boardwalk's mission is to support the local community by using local vendors and products whenever possible and in accordance with fair-trade principles, promoting local restaurants, activities and cultural events, by our food donation program and much more. Moreover, by educating our guests on nature protection, adopting local trees, giving local flora and fauna a home in our gardens, promoting Aruba's heritage by means of treasure maps, social media history posts and recommendations we protect and preserve Aruba's nature and heritage so it does not go to waste.
Thirdly, Boardwalk is a family-run company that is built on strong values of trust and respect. This is reflected in our work environment, where we ensure healthy work conditions. Boardwalk's commitment to human rights and labor standards guide our employee interactions with our guests, colleagues, management, our suppliers and most importantly, our community. 
Lastly, Boardwalk's Do-Good program intends to inspire our guests to contribute to Aruba's local community and environment. In this way, our guests can participate in one or more of the initiatives and make their vacation even more memorable!
Boardwalk Boutique Hotel Aruba was recognized in April 2021 with Gold Certification status for its green hotel operations by TraveLife, an internationally recognized sustainability certification program. Eco-friendly, fully insulated casitas with 100% LED lighting, powered by solar energy and water-saving faucets are some examples of Boardwalk's green efforts, along with paperless and almost plastic-free hotel operations. We are thrilled to announce that Boardwalk has received its second Travelife certification for 2023 and 2024.
For our entire sustainability report click here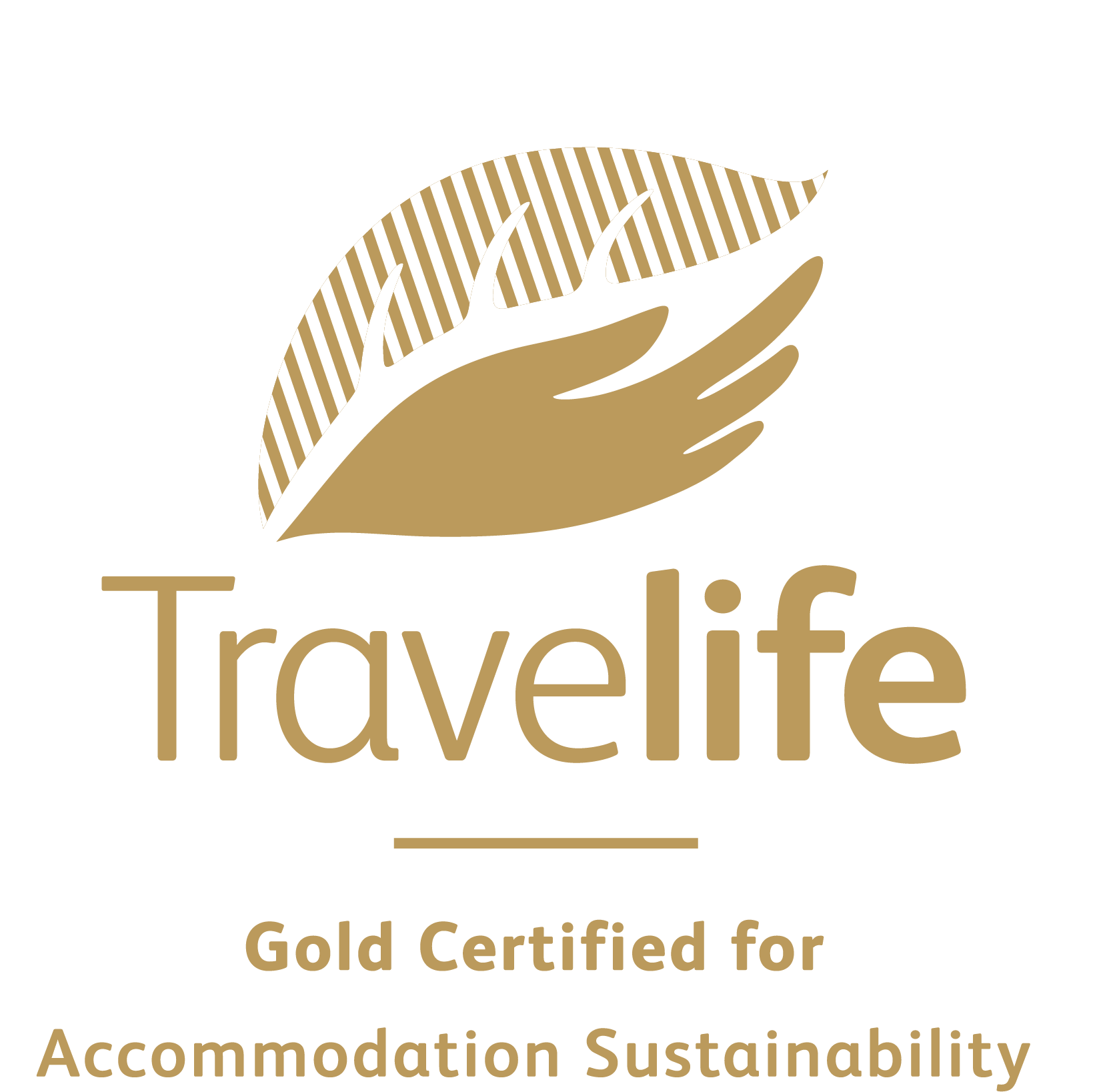 Boardwalk Hotel Aruba's Sustainable Construction Process 
Today, Boardwalk Hotel consists of 46 casitas and has a strong connection to its location, a historic coconut plantation. As the Hotel expanded in 2019 by adding 32 new casitas, a main focus was to keep the unique character and lushness of the property intact. Even before the construction phase of a new pool and the 32 additional casitas were completed, Boardwalk invested heavily in the lungs of the property by adding a total of nearly 2300 plants and trees, showcasing Aruba's unique and diverse flora. Most plants & trees are local and many provide edible fruits such as pineapple, bananas, pomegranate, papaya, moringa, sea-grape, aloe, etc.  
During the construction process, the hotels' priority was to build as sustainable as possible, making use of high-quality, solid and quickly assembled materials, while keeping the authentic character of the hotel intact. Insulating materials like Nudura, Insuldeck and Thermochip were used for respectively the walls, floors and roofs of all 32 newly built casitas.  
Most local partners involved in the hotel's construction project worked with these insulating materials for the first time in Aruba, a unique accomplishment in our sustainable construction process. Therefore, as part of the sustainable building practice, a team of international trainers have shared their knowledge with local construction workers on these innovative building materials, so they can continue to implement these practices in Aruba on future projects. 
The majority of partners involved in the construction process, the concept creation and design of the hotel are local companies and partners, using local materials when and where possible. In addition, art on display in the casitas is made by local artists or sourced by local art foundation Arte Sano.