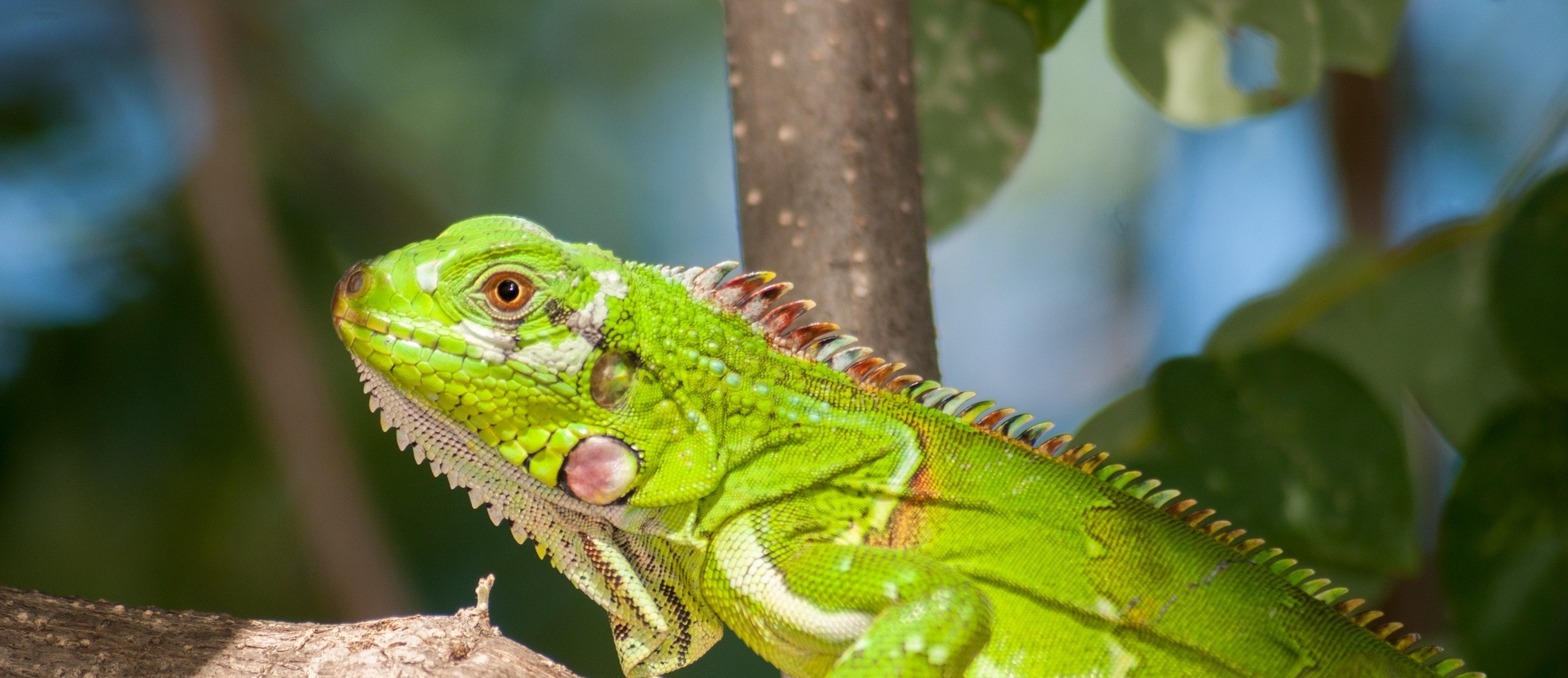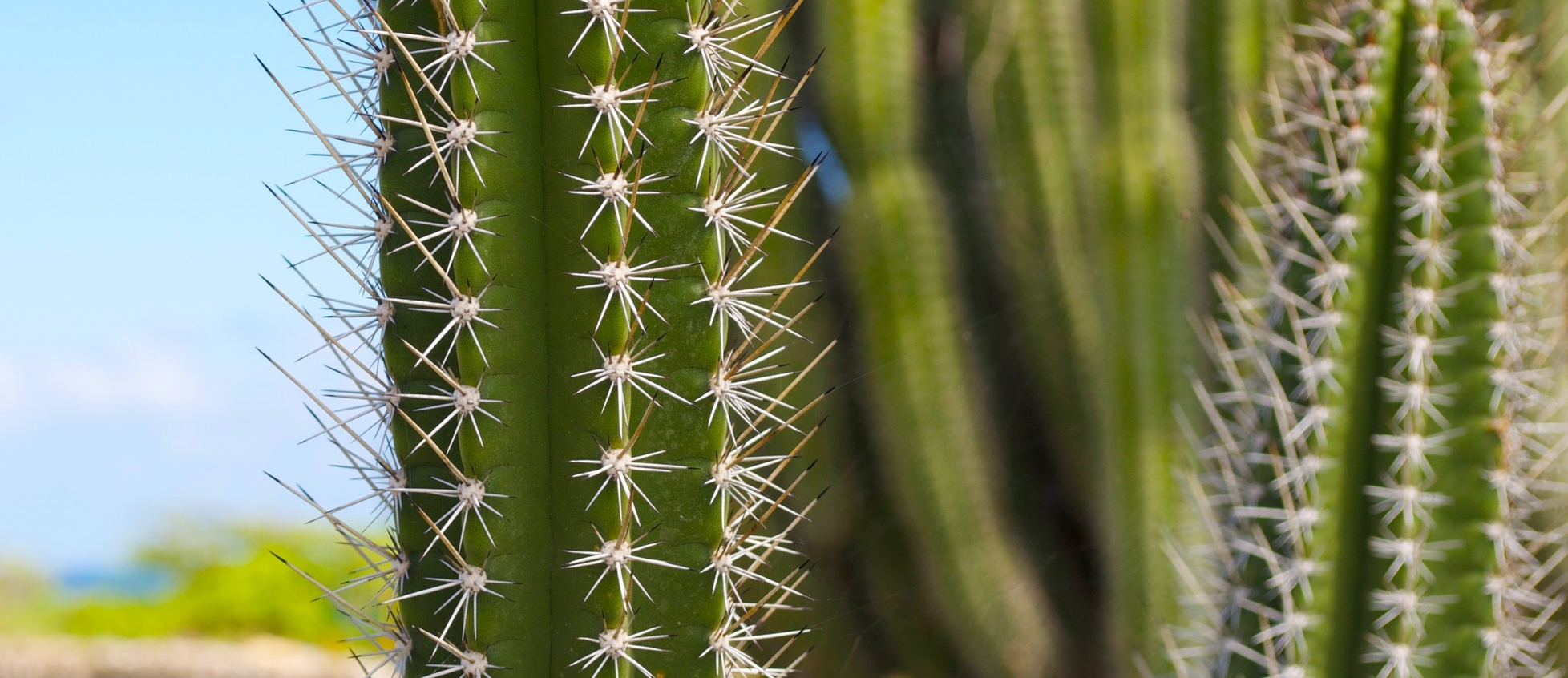 Aruba's Nature Through the Lens of Armando Goedgedrag
Aruba, known for plentiful sunny days and a desert climate, might not come to mind as a place to find an abundance of tropical greens in an almost 'garden of Eden'-like setting. Yet, that's exactly what you will encounter at Boardwalk Boutique Hotel. A semi-jungle. A lush paradise.
Armando Goedgedrag, a local visual artist, gifted painter, professional photographer and avid nature-lover, recently enjoyed a 'staycation' at Boardwalk, with his camera within reach to capture our hotel gardens and its abundance of Aruba's flora and fauna, its birds, butterflies and colorful creatures. In a nod to Earth Day 2022, please enjoy a virtual walkthrough of Boardwalk's gardens reflecting many elements of Aruba's unique nature, as seen through Armando's lens.
Photo credits: all images (except header and yuwana image) by Armando Goedgedrag, @artmando_multimedia here
Cododo Blauw
The Cododo Blauw, or Aruba's whiptail lizard in turquois blue, is a favorite amongst the stray cats that found a permanent home on our grounds, as they make excellent playing partners to chase around. You will see this small lizard all over our property; no surprise as they are considered the most abundant lizard species on Aruba. These whiptails won't go unnoticed due to their vibrant blue (blauw) and turquoise colors, beautiful patterns, and exceptionally long tail.
Aruba's whiptails are omnivorous, eating both insects and plant matter, which they can find in abundance at Boardwalk's gardens. At the same time, whiptails help our gardening team a hand, as they contribute to the dispersal of seeds for certain species of plants by eating the fruit and excreting the seeds in a different location.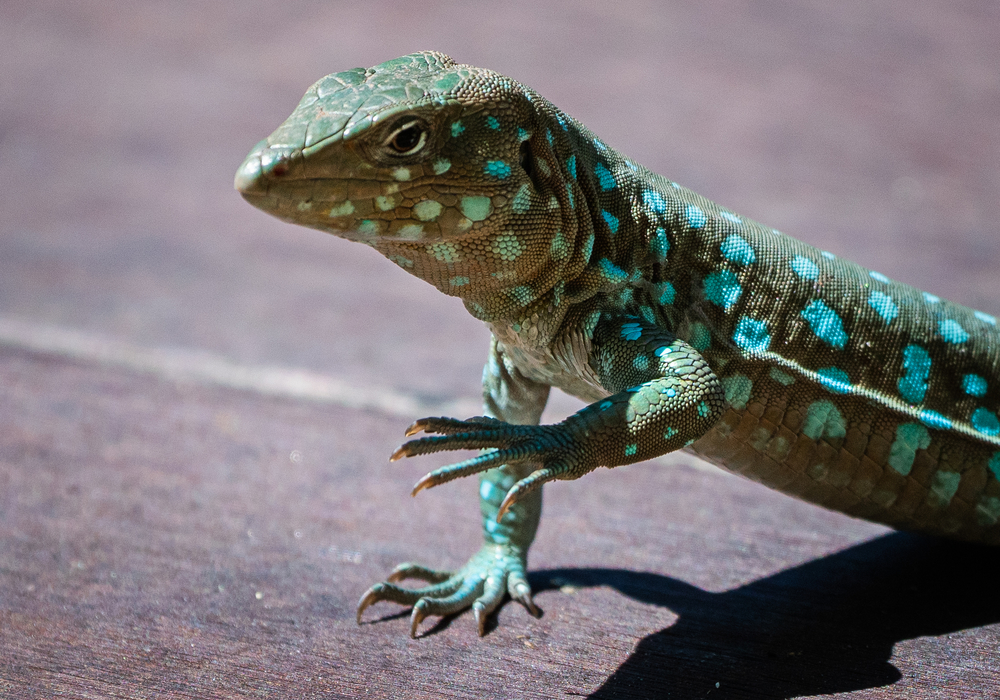 Yuwana
The Yuwana is a green iguana, the largest lizard around on Aruba and has an almost dinosaur-like appearance with its rough skin and massive body. From head to their tail-tip adult iguanas can reach a total length of up to 6 feet. When in danger or experiencing stress or threats, iguanas change to a camouflage color, adjusting to their environment. Typically, you can tell the age of an iguana by the shade of green of their skin; a bright green iguana is young; a dull-colored, more greyish green iguana is old.
Iguanas are vegetarians and feed themselves with all kinds of foliage and certain fruits. Please do not feed iguanas when you encounter them, especially not left-over meat, and such, as iguanas literally can't stomach that. In addition, iguanas tend to get less shy when food is involved and might populate your patio, pool deck or beach area when not careful.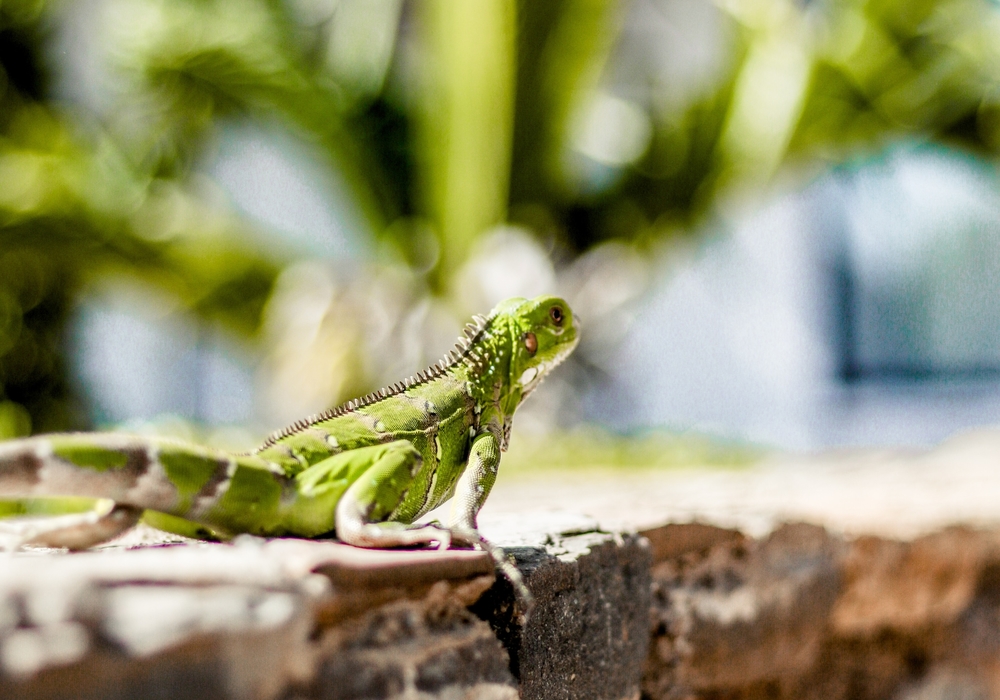 Trupial
One of our prettiest and eye-catching garden residents is the Trupial or Troupial, and the first bird to sing at sunrise. The orange troupial has a beautiful deep orange underbelly and is known for its beautiful and typical singing voice. Fun fact: a children's choir in Aruba is named De Trupialen (the Troupials), and now you know that is not a coincidence or random name.
The troupial is the national bird of Venezuela and a resident breeding bird in Aruba. Don't let their gorgeous song and appearance fool you, as they are known as nest pirates and food robbers. When an opportunity presents itself, they will put all etiquette aside and take what's not theirs.
In observance of Earth Day, Boardwalk produced a unique video in which the viewer takes the perspective of a trupial when flying over our lush grounds. Have a look here.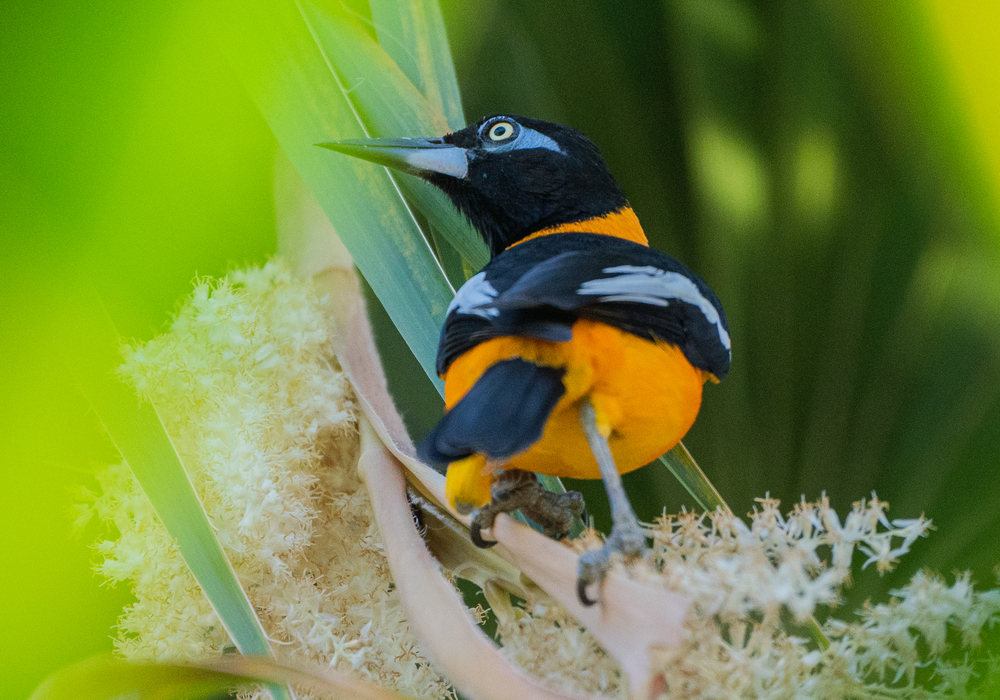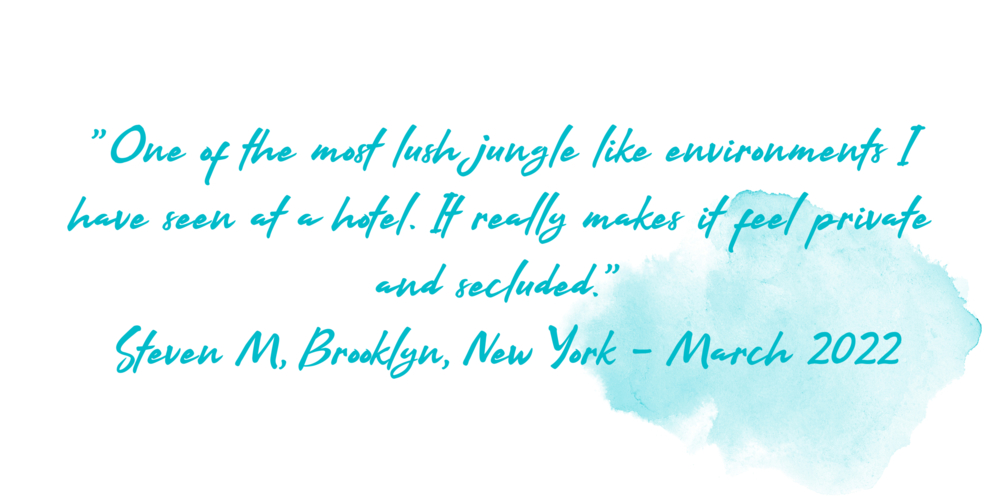 Barica Geel
Barica Geel (translation: yellow belly), or Bananaquit, is a small bird with a yellow belly. You could call it the sparrow of the tropics, decked out in brighter feathers befitting its Caribbean environs. This resident songbird is probably the most numerous in our gardens, and very common in the Palm Beach area. known as a sweet tooth
Fun fact: the local bistro downtown called Suikertuin (translated Sugar Garden) is named for the number of strategically placed bowls of sugar water in their courtyard, attracting bananaquits all day long.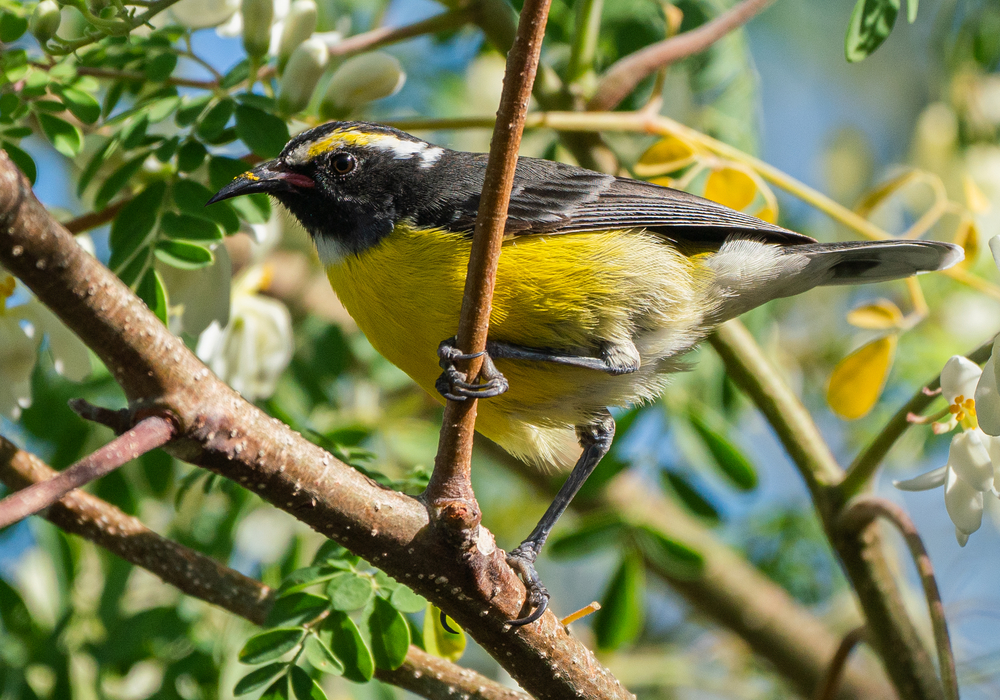 Blenchi
They say this small bird is a symbol of good luck so be on the lookout for Aruba's Blenchi, the hummingbird. Hummingbirds love flowers and blossoms, as they are nectar-drinking birds so what better place for them to turn to than our tropical oasis.
With its rapid wing moves (the fastest of any bird species) it might be hard to catch one with your camera. As you can see this one even turned his back to very trained bird photographer Armando. Our advice: stay patient and keep trying, but most of all, keep your eyes open and enjoy all the beauty of Aruba's nature right in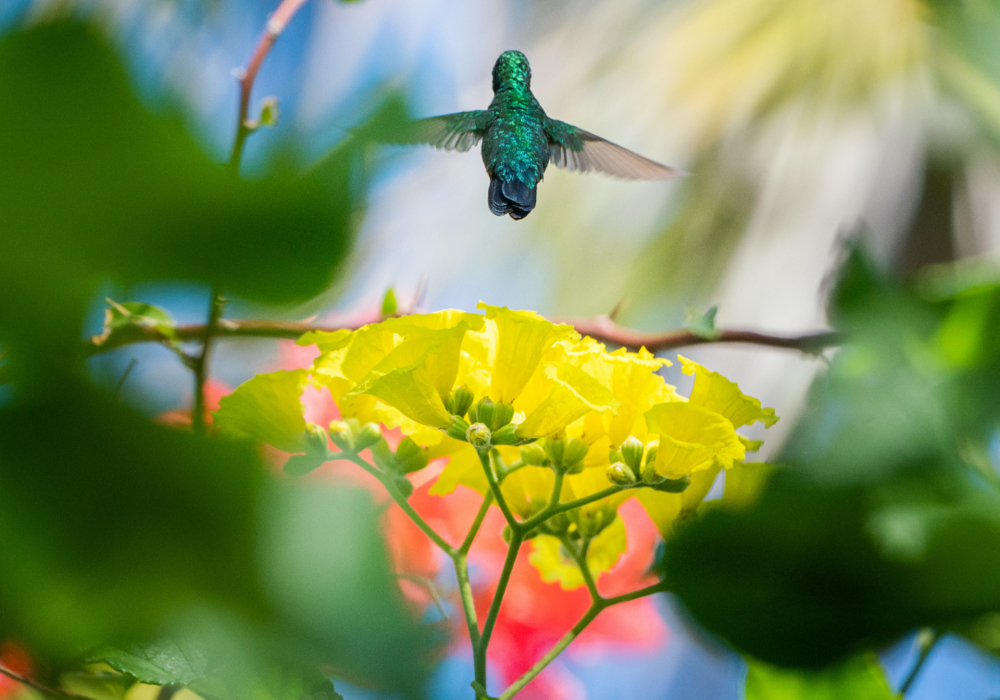 Barbulet
Lastly, we present you with the Barbulet, or butterfly. Where there is an abundance of flowers, there are butterflies. And you'll see plenty of those floating in the air throughout our gardens.
Fun fact: on a mere 5-minute car drive from Boardwalk you will find the Aruba Butterfly Farm. Totally unexpected amidst the hustle and bustle of the Palm Beach Strip, this tranquil gem offers tours through their gardens filled with hundreds of butterflies. Worthwhile!