Covid 19 Policies & Procedures
Traveler Health Requirements 
The Aruba Tourism Authority, the Government of Aruba and the Department of Health require travelers to Aruba to take note of the following information and travel advisory, including protocols in connection with the coronavirus ( COVID-19 ); 
Return testing
Guests who require proof of a negative Covid-19 test on return travel can test in their own casita or visit one of the nearby test locations.
Convenient testing in the comfort of your own casita
Results: PCR Test results available within 24 hours, Antigen test result available in 15 minutes. Medcare will send you the official test report as PDF-file by email.
Costs: Antigen test $50, PCR test $80.
Our concierge team will be happy to assist you in making an appointment at least 24 hours in advance. Please contact us at info@boardwalkaruba.com or call +297 5866654.
Health & Safety Procedures at Boardwalk Boutique Hotel Aruba
Boardwalk Boutique Hotel's new standard operating procedures focus on the health & safety of our guests and team members, it is our top priority. Here's an overview of the main steps we have taken to guarantee a safe stay with us:
Entry & Security. Boardwalk is a gated property; only registered guests and team members are allowed to enter the property. 
Housekeeping. Boardwalk Boutique Hotel has always ranked 5 out of 5 stars on our housekeeping service. We continue to work with renowned hospitality supplier Ecolab which includes intensive trainings for our housekeeping, supervisor and management staff to stay up to date with the latest cleaning and disinfecting guidance for hospitality. This guidance references CDC and WHO guidelines and is supplemented with Ecolab expertise. The disinfectants and all cleaning products being used at Boardwalk are listed on Environmental Protection Agency (EPA) List N6, and CDC recommendations and meet the criteria for use against SARS-CoV-2, the virus that causes COVID-19, and are effective against viruses, bacteria and other airborne and blood-borne pathogens. 
Our cleaning process includes using the EPA & CDC-approved disinfectants on all hard surfaces and allowing the solution to sit for the required time. This process additionally includes allotting for extra time during the housekeeping process and paying close attention to all high touch areas, including light & fan switches, including television remote controls, toilet seats and handles, door and furniture handles, water faucet handles, nightstands, telephones, temperature control panels and flooring. Upon check out each room will be thoroughly cleaned and disinfected using EPA & CDC approved disinfectants, cross-ventilated for at least 15 minutes and sealed upon completion. Only the new guest staying in a room will break the seal. Seals are ordered and will be implemented as soon as they arrive on island. 
Health check. Daily, all of our team members temperatures will be screened, and symptom related health questions asked. 
Hand Sanitizer & Sanitizing Stations. Hand sanitizer stations are available in each casita and throughout the property. Our hand sanitizer comes with a lotion element, making sure your hands remain moist. Sanitizing stations with disinfectant spray and towels are available throughout the property, at our two pool areas and at the Boardwalk beach area on Palm Beach as well. 
Social Distancing. Social distancing throughout the property is in effect, meaning all team members and hotel guests keep 6 feet or 2 meters apart from each other at all times. Hotel employees have been instructed to refrain from physical contact with guests and each other (i.e. handshakes, hugs, etc) and to maintain distance (at least 6-feet) from others when possible. 
Face Coverings. Guests are not required to wear gloves or masks. Housekeeping Team members are required to wear appropriate masks and gloves when entering guest rooms.  
Reminder Signs. Signage has been posted throughout the Back of the House to maintain heightened awareness amongst our team members, and to remind everyone of the proper way to wear, handle, dispose masks and face coverings, use gloves (in positions deemed appropriate by medical experts) and to wash their hands frequently throughout the day, for at least 20 seconds each time, and to use hand sanitizer frequently. 
Employee & Guest Health Concerns. Our team members have been given clear instructions on how to respond swiftly to all presumed cases of COVID-19 on property. We will be ready to provide support to our guests. Employees are instructed to stay home if they do not feel well and are instructed to contact a manager if they notice a coworker or guest displaying symptoms or complaining of a cough, fever, shortness of breath, chills, a new loss of taste or smell, repeated shaking with chills, muscle pain, headache, sore throat or other known symptoms of COVID-19. 
Employee safety protocols. Taking training on the new protocol is mandatory for each team member. The point of entry for staff is limited to one entry on property, allowing management to conduct health checks. All team members temperatures are taken on a daily basis, as well as screened for symptoms. When not meeting the health criteria, staff members are sent home and not allowed on property. Team members are equipped with face masks & gloves, provided by the hotel. 
Case Notification. If we are alerted to a presumptive case of COVID-19 at the hotel, we will work closely with the DVG (Department of Public Health in Aruba).
Aruba Health & Happiness code. The Aruba Tourism Authority in collaboration with stakeholders and the Department of Public Health have announced the implementation of a new 'Aruba Health & Happiness Code' on the island. This new certification program will ensure Aruba's visitors that the island will uphold the highest health and safety protocols throughout their entire stay.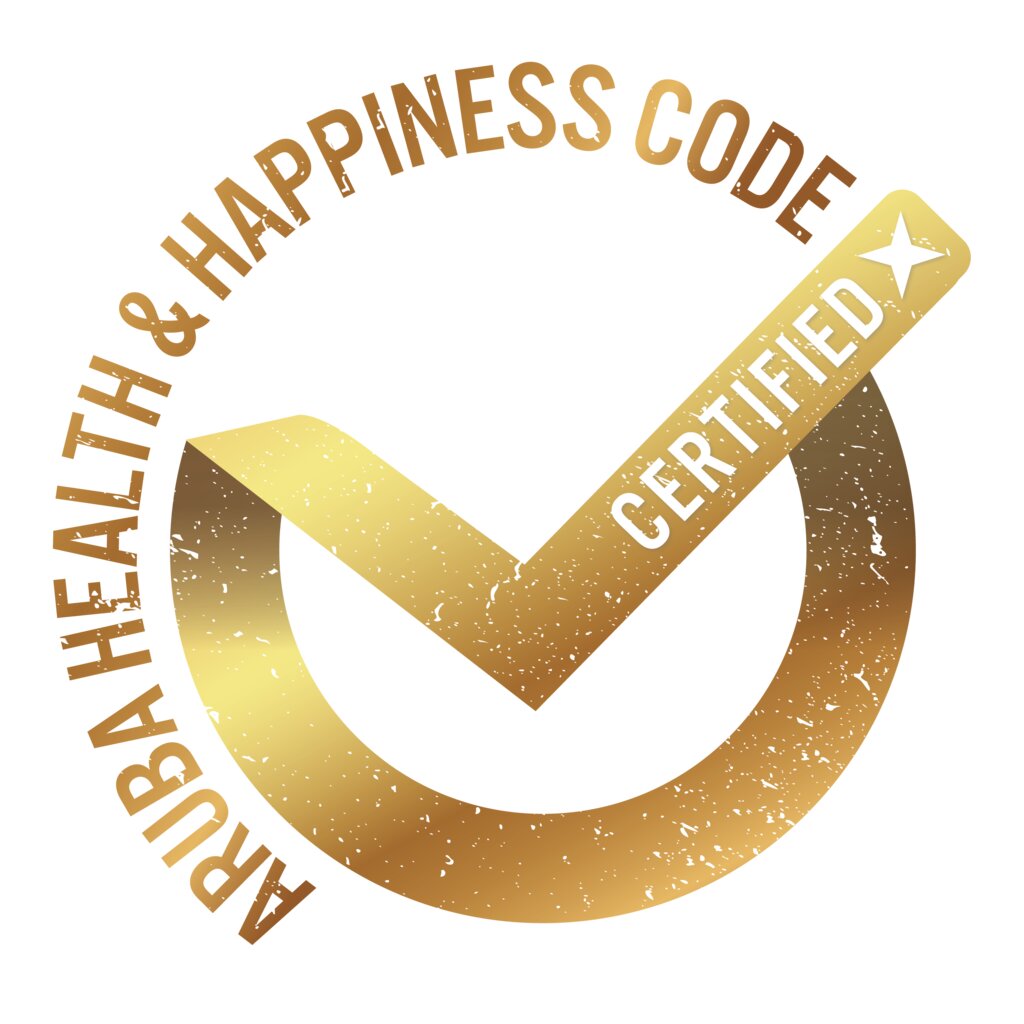 The objective of the new certification program is to improve the hygiene protocols across the island and to ensure all local tourism related businesses meet the required standards to earn the official 'Aruba Health & Happiness Code' seal (HH-Code). Boardwalk Boutique Hotel obtained its 'Aruba Health & Happiness Code' seal from the Department of Public Health, as a token of compliance with healthy and safe hotel operations. 
Guest journey at Boardwalk Boutique Hotel Aruba 
Prior to your stay
Online check-in. Check-in from the convenience of your home, prior to your travels. You will receive the online check-in email prior to your arrival.
Mobile key.  Let's go digital! You can access our gated property and open your casita with your own mobile device. Make sure to 1) download the "JustIN Mobile" app from Google Play or App store and 2) provide our team with the cell phone numbers of the mobile devices you plan to use. 24 hours prior to arrival we will send your digital key. Guest room keys are available, if preferred. 
You can access our gated property and open your casita with your phone. The mobile key application JustIn Salto has to be downloaded and 24 hours prior to arrival your digital key is sent to your device. Sanitized guest room keys are available upon arrival, if preferred. 
Pre-order. Breakfast, grocery delivery, BBQ boxes, cold pressed juices and much more are available for pre-ordering. We will place your order in your casita prior to your arrival, or have it delivered to you at the specified time. All food related deliveries can only be ordered through H&H certified vendors, pre-checked by the Public Department of Health.
Transportation. Boardwalk hotel guests have always appreciated driving around and the explore-on-your-own experience. We highly recommend renting your own rental car from pre-selected car rental companies in Aruba that carry the H&H health check seal, provided by the Department of Public Health. Please contact our concierge if you would like us to assist you with recommendations and reservations of your rental car in Aruba.
Coming to Boardwalk from the Airport by taxi? Please make sure to look for taxi's that carry the H&H certificate, meaning they comply with policies and procedures provided and checked by the Public Department of Health ( look for a sticker on the taxi door or windshield). 
Throughout your stay
Arrival. Smiles and positive vibes are part of the warm welcome you will receive upon arrival. Our welcome cocktail will be provided to you on a tray, for a touch free delivery. 
Check-in. Our touch free check-in process means you can start enjoying your vacation right away. Upon arrival at the hotel please visit the front desk to show your ED card boarding approval card to finalize your check-in process. Late arrivals can check-in the next day. 
Concierge services. Visit us at the front desk or chat with us; The wealth of local information previously enjoyed during a chat at our cozy lobby is digitalized. Moreover, our online concierge is available - daily between 8am & 8pm - for chats via the hotel's messenger system, which you are invited to start using upon completion of your booking. You can conveniently reserve beach and pool chairs, make restaurant reservations and book island activities via our online concierge. Prefer to chat in person? So do we! All measures are in place to assist you personally and safely in our Lobby.
Pool & Beach service.  Your personal lounge chair can be reserved 24 hrs in advanced and will be waiting for you pool or beach-side. All lounge chairs are disinfected and sealed after each use, and arranged with a proper distance to others, so you can tan and swim, worry-free. Yes that's right, social distancing has its perks too! 
Clean pool/beach towels will delivered to your patio daily at 8am, while dirty ones are collected from your patio.
Room service. Breakfast & lunch items can be ordered from Eduardo's Beach Shack, Boardwalk's F&B partner and Aruba's most famous outlet for healthy & fresh smoothies, acai bowls, fresh pressed juices and more. Eduardo's delivers your order to your casita and rest assured, all of Eduardo's staff members took a WHO training on food safety to adhere to the latest protocols and rules in food preparations and health standards.
Wellness services. While on property there are plenty of opportunities for you to rejuvenate, relax and focus on your wellbeing in our two pools, on our dedicated beach area, on a shaded yoga deck outdoors or on your private patio at your casita. Moreover, Boardwalk is conveniently located across from a paved exercise path that follows the breathtaking coastline of the Malmok area. It is safe and ideal for walks, runs, bike rides and other workouts, oceanfront! Lastly, across the street from Boardwalk Boutique Hotel you have access to all kinds of water sports, kite and windsurfing, SUP yoga and kayaking.
Interested in daily yoga? Consider our garden deck your own personal yoga or meditation sanctuary. Feel free to bring your own yoga mat for daily practice while streaming one of your favorite online classes.
Local experiences. Our team members are known for their extensive knowledge on any and all local adventures and experiences imaginable. We came up with some new and exciting local offerings that we can't wait to share with you upon arrival. Come see us at the Front Desk or make inquiries via the chat functionality of our online concierge portal. We can't wait to include you!
Laundry service. Detergent is available upon request to wash your facial mask. Laundry services  are available via outsourced dry cleaners on island and to be arranged with our concierge.
Why Boardwalk Hotel is your ideal place to vacation in Aruba Post Covid?
Private casita with your own kitchen and a large patio with your own BBQ and hammock
Housekeeping services with ECOLAB cleaning products proven effective on the COVID-19 virus 
Sanitizing stations available in all public areas, including lobby, pool and beach 
Hand sanitizer and Aruba Aloe soap products provided in each casita
Two pools with pre-reserved sanitized pool chairs and separate seating areas
Individual A/C unit in each casita
Individual entrance to your casita, no elevators nor shared staircases
Casitas promote an open-air lifestyle and offer plenty of ventilation
Gated property, only registered guests and team members allowed
Pre-reserved sanitized beach chairs and beach huts on Palm Beach
Fantastic wellness opportunities on and nearby the property; spa service, 2 pools, gym, yoga-deck, exercise path amongst the shoreline, etc.
Online check-in & out, mobile key and online, personalized concierge services
The healthiest breakfast and lunch options delivered to your casita by Eduardo's 
Grocery delivery service to your casita